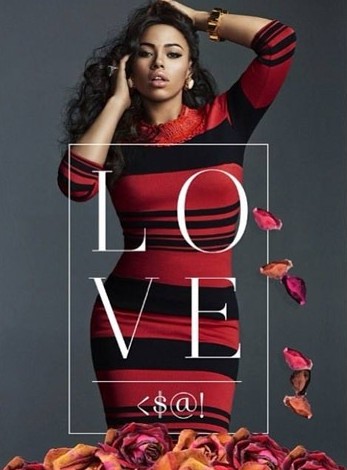 Following the success of her 2012 debut album, Perfectly Imperfect, R&B singer/songwriter, Elle Varner will return this year with her sophomore LP, 4 Letter Word. The new album will feature an eclectic, soulful and progressive sound with Elle revealing a personal side to her that will surely resonate with fans.
As a special treat to her fans, the songstress will provide a sneak peek of four new tracks over the next several weeks. Each of the new tracks will be dedicated to a different four letter word that expresses the sentiment of the song. The first track, "Cold Case" released last week, focused on the all important word, love. However, Elle is not singing its praises; instead she delivers a revenge laced tale of a relationship gone sour. Following the album teasers, the vocalist will release her official first single with 4 Letter Word set to be released later this summer.
Elle had the following to say about her upcoming release, "The album is a beautifully gut wrenching body of songs that I went to a very vulnerable place to create. The title is open to interpretation, hence the symbols used in the campaign – ">$a!" It's whatever you feel when you experience the album. Does ">$a!" stand for love? Pain? Life? That's for the listener to decide. 4 Letter Word has the kind of range that can't be embodied by a single word or phrase."
4 Letter Word is executive produced by hitmaking duo, Pop & Oak (Nicki Minaj, Big Sean), who contributed to Elle's debut project, producing her hit single "Refill," which received a 2013 Grammy Award nomination for "Best R&B Song."
Elle Varner released her debut album, Perfectly Imperfect in 2012, receiving a bevy of critical acclaim from such outlets as Rolling Stone, Associated Press, People and Entertainment Weekly. In addition, the LP arrived at #2 on the Billboard R&B Albums chart and #4 on the Billboard Top 200 chart. The project spawned the hit single "Refill," which hit top 10 on Billboard's Hot R&B/Hip-Hop singles chart. All this helped the NYU graduate receive both a Grammy & BET award nomination as well as a win at the 2012 Soul Train Awards for "Best New Artist."
With MTV Buzzworthy forecasting that Elle's upcoming release "should earn her a deserved spot in the pop&b mainstream," and "Cold Case" receiving a plethora of online praise, 4 Letter Word is destined to become a defining musical moment in 2014.