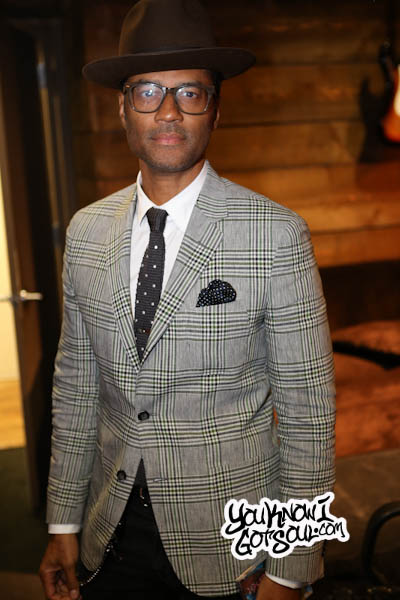 Eric Benet is truly one of a kind. 20 years following the release of his debut album, he's still crafting hit songs while keeping the authentic feeling in his music. It's almost ironic to look back and remember he named his debut "True to Myself" because he's made a career out of successfully doing just that while many of his peers have strayed. His upcoming self titled album (read our review here) is another testament to that fact as he's created the latest in a long line of impressive r&b albums. There aren't many who have been able to match his longevity, and the fact that he's headed out on yet another U.S theater tour, a rarity in r&b, is proof that he's on top of his game. YouKnowIGotSoul sat down with Eric Benet while on a recent promo run in NYC and discussed the creation of the "Eric Benet" album, the authentic sound he maintains, a potential album with Tamia, and much more.
"Eric Benet" is set to release on October 7th and is available for pre-order here.
YouKnowIGotSoul: Your new self titled album is coming out. We had a chance to hear an advance copy and we love the sound and the direction you went. It's really authentic Eric Benet. Talk about the creation of the album.
Eric Benet: It was something that I where I sat down with my partner Demonte, who I've been making music with since my first solo album "True to Myself", and I really wanted this album to be pure r&b without any attempt to be anything other than completely authentic and creative. I wanted it to be my own little r&b statement. I didn't want it to feel like anything out right now or I had done. However, one of the cool things about being in the industry so long is you tend to develop your own sound. It's like people can pretty much tell it's an Eric Benet song. I love that people can identify my music right away. I just love the fact that this record definitely has its own personality and still has its feet firmly planted in what people have come to identify as my sound.
YouKnowIGotSoul: What we noticed is that it kinda sounds like you picked up where you left off after "The One" from a few years back. What inspired you during the creation of this album?
Eric Benet: I like to go into the studio and start work on a project when it's time. I don't like to do it too early or too late. This particular album right here, it's going to be a couple of years to let it breathe and live. My thing about going into the studio with this record was, just being completely free to do what I do and expound on my sound. The interesting thing scheduling wise with this record, my wife and I are parents to a 4 year old and a 2 year old. It's really important for me to always be there for bath time and breakfast time and on the weekends. On this album, I really gave myself five hours a day throughout the week to work on the record. I would leave the house around noon and I'd make sure I was home around six. It's really an important time not to miss out on. It took a little bit longer to actually record the album for that reason, but man I just love the way it feels.
YouKnowIGotSoul: You came out of the gate with the first single "Sunshine" which has reached the Top 5 on Urban A/C radio. What's the feeling seeing how well it's been received and how fans are welcoming you back?
Eric Benet: It's interesting because it's one of those songs I did not know it was a single, let alone the first single. I don't do well at picking first single. My head of promotion, Ken Wilson, who is a veteran and legend in the radio promo world, he's done this before. He actually chose the single. The last time he did this for me was a song called "You're the Only One" and I had the same feeling about that one. That was on the "Love & Life" album. I remember on that album, we were listening to a lot of stuff, and then I just let him hear that one, and he immediately picked that as a single. It shot to number one. It was déjà vu all over again. We were listening to the whole record and he came to the studio in Hollywood and we were trying to figure out what the first single was. We thought we had picked a song, but then I played him this one which he hadn't heard yet. He just immediately said that was the single. Here we are. I think the song is number three this week and still going up. I can't be mad at that.
YouKnowIGotSoul: You've also got the special remix of the song with Tamia. You guys have created magic a few times before in your careers. What was it like coming together once again?
Eric Benet: Tamia is just amazing and incredible to work with. When we were in the studio, and I don't know, some people and experiences, it can be decades between when the next time happens, and when it does, it feels like you don't miss a beat. That's what it's like with Tamia. We had so much fun in the studio and it felt so great doing this. All we could talk about is figuring out how to do this Tamia and Eric Benet album. We're going to figure that out somehow, that has to happen, I think we owe that to the world.
YouKnowIGotSoul: Talk about some of the other features you have on the album.
Eric Benet: One of the dope things about this album was bringing the baddest cats we know to the studio and just vibing with them. Just some amazing musical, uninhibited things just happened. There's a song called "Holding On" that's got this dope poppy but still r&b rhythm. I asked MC Lyte, the legend, to grace us with a verse on it, and it feels incredible. I tend to like to write latin songs from time to time. Even though I don't speak Spanish, but I love the energy and passion in the music. I wrote an afro Cuban joint called "Run to Me". I asked the legendary horn player Arturo Sandoval to bless me on that, and he just did this amazing solo on that song. It was really important for me to write a lullaby for my youngest daughter Luna. My oldest daughter India has a couple songs written by dad. Lucia, on the last album "The One" has her own lullaby. So Luna needed to really have her musical love letter from her dad. It's one of my favorite pieces on the record. There's so much on this album. Usually when I master a record I leave it alone, but as soon as we mastered this record, I'm still listening to it, I just can't stop listening.
YouKnowIGotSoul: How important was it to keep the live instrumentation on the album, which you have consistently throughout? Now a days when you turn on the radio you hear a lot of electronic production and studio made sounds.
Eric Benet: I turn on the radio now and I don't have anything against a lot of sequenced and programmed and electronic music, a lot of it is dope and it's the future. It's what popular music has evolved to. For me, when I want to be emotionally moved by a vocal, I don't want to hear auto tune on it, I want to hear the beautiful imperfections. If I want to be moved by the track, I don't want it to be sequenced, I want it to be somebody playing the guitar or piano or a horn arrangement where you can hear the breath. You can almost smell the studio while listening to the music. For me, that's what moves me emotionally, that's what I came from. I think that's always going to work best for me.
YouKnowIGotSoul: Whenever we talk about Eric Benet among r&b fans or even among us on the site, we love to talk about your trajectory. Many 90's r&b artists peaked at the start of their career and have tailed off since in terms of mainstream popularity. You've been able to maintain a consistent level of success that many of your peers haven't been able to find. What's been the formula?
Eric Benet: Thank you, I really appreciate you saying that. I think the one thing for me that's been working is just authenticity. I don't really chase trends and fads because they are fleeting. I think the one thing that never goes away is soul and emotion and vulnerability and finding your strength in our vulnerability. I think when I apply all of that to music, it somehow just ends up being classic. It's the sum of a bunch of things that never go away. You can listen to Ella Fitzgerald right now and you can hear every bit of emotion. You can listen to Donny Hathaway and it's going to probably move you more than anything on the radio right now. It was recorded with so much authentic, real and raw emotion and talent. I think when you write and record from that place, you're not thinking of what's hot right now or what kids are listening to. I don't know if that's a formula but I just try and get better and better at me with every album.
YouKnowIGotSoul: You've mastered being authentic, and then you also had your label where you helped Goapele and Calvin Richardson put out authentic albums. What is your reaction when you hear your peers on the radio trying trendy sounds?
Eric Benet: I can't really speak on what other artists are doing, but I can just speak on what works for me. What's working for me is like when I go into the studio, I'm trying to get goosebumps. I'm trying to laugh uncontrollably with whoever I'm making a song with because whatever we just listened to that we just came up with is so dope. I'm chasing that feeling in the studio, not like a trend or what's hot on the radio at the moment. It just seems like the more I do that, the better I get at what I do. I'm going to keep doing that.
YouKnowIGotSoul: Talk about the upcoming tour you've got with Lalah Hathaway and Anthony Hamilton.
Eric Benet: If you've never heard Lalah Hathaway live, you're missing an event. She is unbelievably talented. Anthony Hamilton is just so dope live and entertaining and soulful. For those who have never seen me live, you kinda need to check me out. I treat every time I walk on the stage like it's the performance of my life. I think that whatever you do, if you're a singer, a rapper, an architect, dentist, treat that like when you're doing it, your whole career depends on that moment. That's what I like to do. I like to leave all of my soul on the stage where I perform. It's going to be an amazing tour.
YouKnowIGotSoul: Anything you'd like to add?
Eric Benet: I'd just like to say thank you. This is the 20th anniversary of my debut album "True to Myself". It seems an appropriate time to say thank you to everyone for having my back and feeling my music over the years. I'll see you in another 20 years. I'm going to keep doing this. Thank you.