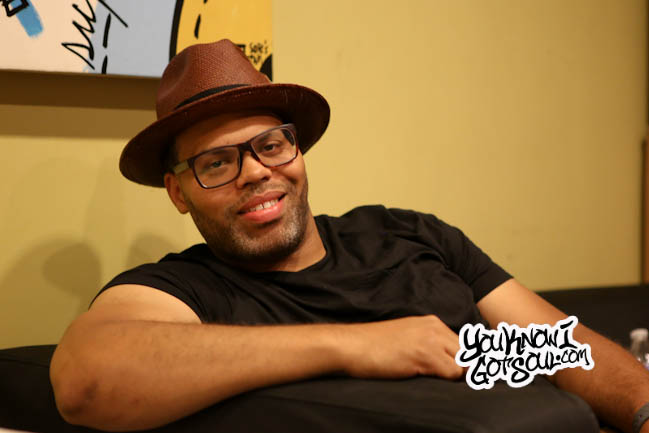 To the delight of fans, Eric Roberson and Phonte finally got together on the long talked about collaborative album and it's already been receiving rave reviews. The album is called "Tigallerro" and features two of the most dynamic artists we have in soul music coming together to create a musical masterpiece, just like they've done on previous collaborations. The success of Eric Roberson over the past decade and a half has allowed him to pursue passion projects like this, and also like the Sol Village r&b showcase he's been hosting for the past 13 years and giving back to artists who deserve a spotlight. We sat down with Eric at a recent Sol Village show and discussed the new album "Tigallerro", the chemistry he has with Phonte, how Sol Village originally started, his next solo album, and more.
YouKnowIGotSoul: Talk about your new album "Tigallerro" with Phonte. I know you guys have been talking about doing this for a while. How did it come together?
Eric Roberson: We've been talking about it for years. We said we were going to do it two years ago and first publicly talked about it. From the time we first met each other, just like minded dudes, we became really good friends. Whenever I was working on something, it was a no brainer to give him a call. Whenever he was working on something, it was no brainer to give me a call. We built a collaboration just off of that for years. Then we did a few shows together and they were pretty crazy. So it was no time better than now. We were going to do it last year, then life just got crazy. I think I had throat surgery a year and a half ago, and that definitely derailed us from doing it last year. I just had a baby and he was on tour, so we didn't know if we were going to do it. But we got it done and it was bonkers. It's easy when you have somebody musically like that who you trust and vice versa, you just get in and try to make the best songs you can make. Before you knew it we were done.
YouKnowIGotSoul: I think what's dope is that you both are dynamic artists and bring unique skills to the table. Talk about your creative chemistry and what each of you bring into the creation of the music.
Eric Roberson: It's interesting because I think on my projects, I'm running point, and it's very easy. On his projects, he's running point. When it's a group, somebody still has to kinda run point. I think there were songs where I ran point and songs where he ran point. At the same time, it's a trust factor. It was like "If it's dope, let's just get it done." So it was nice. You want to push each other to make things great. Making an album is never easy, but it was easier than probably expected. I think our blend is a lot better than I expected, with both of us singing at the same time. It was dope. I will say that we started and shot out like 10+ ideas that were amazing before we even settled on the sound. I think once we figured that out, the rest was easy. I think getting started was the hardest part. "My Kinda Lady" was the first song we did. When we did that one, we were kinda like "Ok, that's it, let's go that way." The rest of the album was pretty easy.
YouKnowIGotSoul: We can't stop listening to "Thru the Night" and "Sometimes", it just varies which is the favorite at the moment. Sonically, what was the direction you tried to go with this project? Who were some of the producers who contributed.
Eric Roberson: I will say this, Zo and Nikolay did almost like post production on different things. They probably helped to connect the dots. There was one song, "Waiting for You", which is a combination of Rich Medina, Parish from King, and Stro who did that one. It was different producers. It was only one producer who did two songs on the album. I think Zo and Nikolay did a great job of like if a bass was needed on a bridge, adding co-production throughout to make it feel the same.
YouKnowIGotSoul: Let's talk about the Sol Village showcase you host each month here at SOB's and have been since it began 13 years ago. What made you create this event?
Eric Roberson: It always goes back to when I was a songwriter trying to become an artist. I was calling venues to try to do a show. I was calling SOB's and I couldn't get booked. We just said, "How much does the venue cost?" We rented the venue and did our own concert. I said if they wouldn't book me, I was going to book myself. The concert was so successful that from that point on they were booking me. There was a young lady named Erika Elliott who handled the booking at SOB's. One day I was doing a show and she asked if there were other artists like me who had been trying to get their own show. I told her there were plenty. She pitched the showcase idea and asked if I'd host it and I said "I guess so!" It was a beautiful decision. I was honored and I think a lot of amazing things have happened on that stage. The crazy thing is there is only one other act who's been on that stage more than I have now. I'm trying to get that number 1 spot! But there is a Brazilian band who was doing 4 nights a week for 6 years, so it will be hard to catch them! We've been doing this for 13 years, every month showcasing 4 to 6 acts, when you think about how many people have graced the stage. We've had some who have really gone onto bigger and better things. That was the whole reason, to really shine a light on something that doesn't really get showcased.
YouKnowIGotSoul: Reflect on your career for a moment on all of the success you've had that has allowed you to pursue passion projects like Sol Village and like the "Tigallerro" album. What does it mean to you?
Eric Roberson: A lot of it is dedication. If you think about Sol Village being every third Wednesday for 13 years, and that's through getting married and having kids. I don't live in New York, I live in South Jersey, so it's a two hour ride here and back. It's a dedication but it's something I wanted to do. It's like giving back. That's for every project. When we did the "Tigallerro" album, I didn't care if it sold 500 records or 500,000. That's my brother, let's just do some music! Hopefully somebody would feel it. I think that's the same thing with Sol Village or any project I work on. Even as a songwriter, I can't think of an artist I've written for that I wouldn't have bought their album anyway. I've been very fortunate to work with people that I'm fans of. I would have probably been on that record studying the credits. I've been real fortunate with that. A lot of times I pick passion projects but at the end of the day, I don't think much of what's going to work, I want to think about how it feels to do the work.
YouKnowIGotSoul: As a pioneer in the indie r&b music scene, what advice would you give to a young artist aspiring to be the next Eric Roberson?
Eric Roberson: There's nothing better than now. Understand the now. Don't even worry about five seconds later, worry about now. When you sit and write a song, sit and write the best song you can write, just try and write it and be connected. I'll tell you the best advice I can give you. I can't tell you how many times I've walked into Sol Village and I see an artist doing soundcheck and they've got their bookbag on, they've got a hat, they've got a beat up t-shirt and a swag to them. They kill the soundcheck and are natural. Then they come downstairs in the dressing room and take off themselves and put on what a stylist may have given them and a whole bunch of make up or new sneakers that don't feel comfortable. When they get on stage, they don't have that same swag they had during soundcheck. I think that's a valuable lesson. I had a show here many, many years ago before Sol Village and it wasn't a good show. I remember my friends at the time when I had walked off of that stage, we were talking and they told me I had missed that night. They thought I tried too hard. It was during the days when a stylist gave me a leather jacket and it was uncomfortable. I was trying to win over so bad, and I realized never again. I get on stage with a dirty t-shirt. I'd rather you walk away and say "He had on a horrible outfit but he was killing!" than "He had a horrible show, but his outfit was dope!" Sol Village has been great. Being a host here has allowed me to do some wild stuff. Lay down on the floor, pour water all over myself, make up songs! That looseness came from this stage. If you saw my stage 15 years ago, it wasn't that. I was barely talking and definitely not joking. When it came to this show, I'd try anything just to try it. Of course that would leak into other things and it made me a better performer and writer.
YouKnowIGotSoul: What can we expect next from Eric Roberson?
Eric Roberson: My next solo album, which I might have titled but I won't leak it yet, will be out early 2017. I'm excited about it. It's probably 80% done, just want to see if I can find some more goosebumps.
YouKnowIGotSoul: Anything you'd like to add?
Eric Roberson: Thank you. I wouldn't be here if it wasn't for the love man. At no point do I take that lightly.