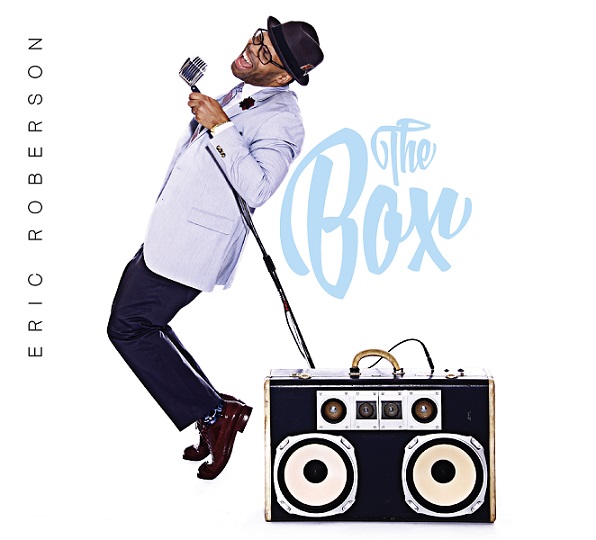 What a wonderful way to kickoff your weekend, than with the unveiling of Eric Roberson's NEW album cover for his 10th album, The Box, out on August 12th. iTunes has officially added Eric's new album on their website for pre-sale. If you order your album TODAY, you get "The Cycle" featuring Pharoahe Monch TODAY!!!
The Box pays homage to the first place Eric learned to appreciate music……At home. Eric comes from a musical family and his sister's boombox AKA The Box quickly became the family centerpiece of entertainment. At first, he began to listen and study the musical sounds he was hearing and would sit in his room and flip through record after record of musical artists from different genres: hip-hop, gospel, soul, jazz, rock and whatever else he could find in the stack of albums. Different genres of music taught Eric about musicianship, songwriting and performance. The first time he heard Commissioned, he was emotionally moved by the lyrics. Listening and watching Stevie Wonder taught Eric about musicianship and production and Tribe Called Quest made Eric instantly say to himself, "This is the way music should be" at the age of 15. To this day, Eric still loves to incorporate a combination and mash up of all of these musical flavors he heard as a child with The Box.
When asked what inspired The Box's album cover, Eric says "If you look at the picture I'm dressed in a mature and traditional way with my personal flair added to it…. but beside me I have a boom box. That's the sound of the album. Mature with a b-boy flair. Fashion and music are two things I love and take very seriously. I want the viewer to see this cover as a reflection of the passion, effort and love that we put into the album and the maturity of its content".
Eric will also be VERY busy this summer on The Box tour. Here are the current tour dates, with more to come:
July 25 – Amos' Southend (Charlotte, NC)
July 26 – The Speakeasy (Richmond, VA)
July 27 – Motorco (Durham, NC)
Aug. 13 – City Winery (Chicago, IL)
Aug. 14 – B.B. King's (New York, NY)
Aug. 15 – Howard Theatre (Washington, DC)
Aug. 16 – Howard Theatre (Washington, DC)
Aug. 17 – World Cafe Live (Philadelphia, PA)
Aug. 22 – CenterStage (Atlanta, GA)
Aug 29- Sep 1 – Cancun Music Festival (Cancun, Mexico)
Sept. 24 – Plush (St. Louis, MO)​
Oct. 10 – Yoshi's (Oakland, CA)
Oct. 11 – Yoshi's (Oakland, CA)