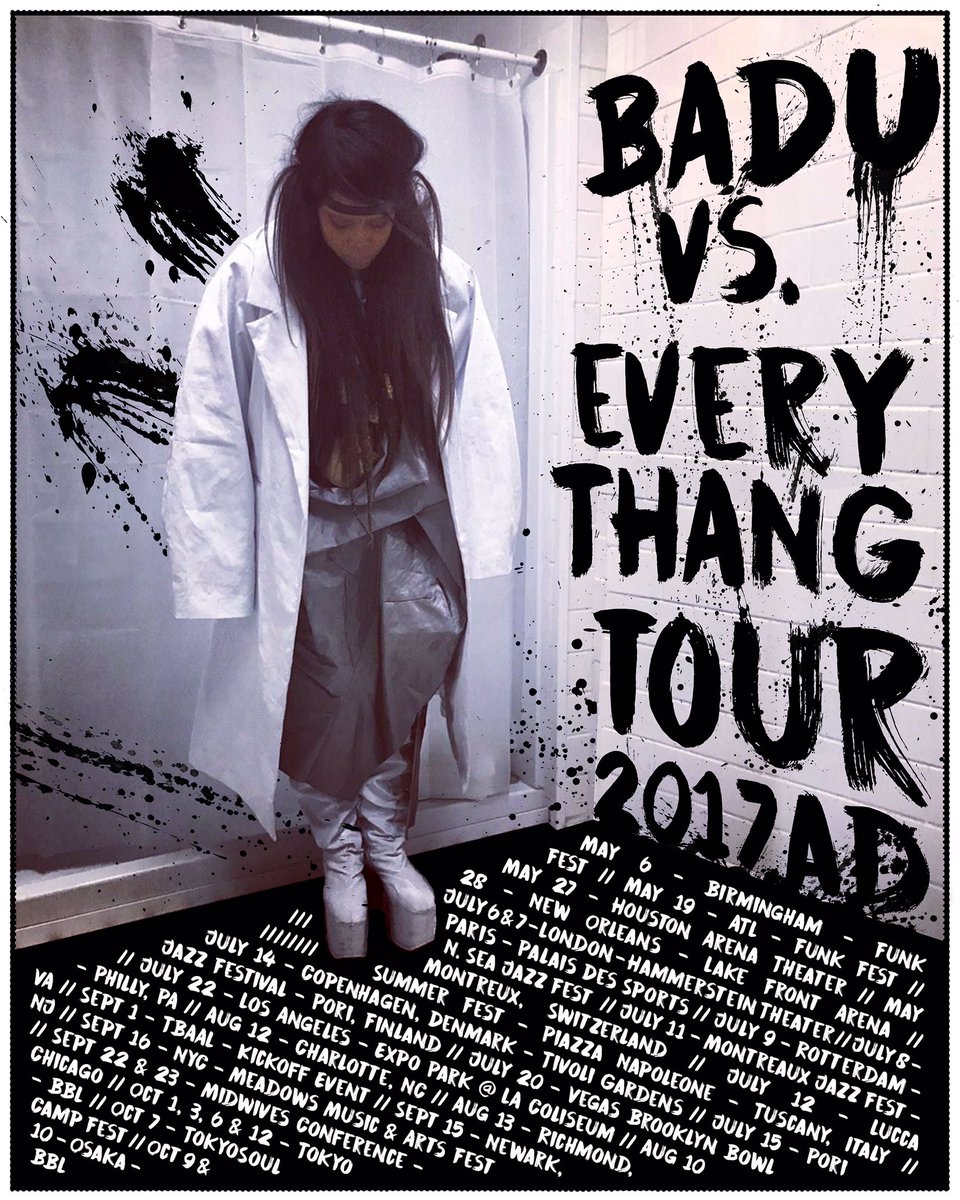 Erykah Badu may not have a new album out, but that's not going to stop her from sharing her timeless catalog with the world.
The legendary singer took to her social media accounts to share a discrete post announcing her upcoming "Badu Vs. Every Thang Tour" and the dates which are to follow.
The trek will kick off May 6th in Birmingham, Alabama, before taking her across the world before wrapping up in Japan in October.
Badu's last full length album "New Amerykah Part Two" came back in 2010, and she also released the mixtape "But You Caint Use My Phone" in 2015.
Check out the full slate of dates below.
Erykah Badu "Badu Vs. Every Thang Tour" Dates
Erykah Badu 2017 Tour Dates:
05/06 – Birmingham, AL @ Funk Fest
05/19 – Atlanta, GA @ Funk Fest
05/27 – Houston, TX @ Houston Arena Theater
05/28 – New Orleans, LA @ Lake Front Arena
07/06 – London, UK @ Hammerstein Theater
07/07 – London, UK @ Hammerstein Theater
07/08 – Paris, FR @ Palais des Sports
07/09 – Rotterdam, NL @ North Sea Jazz Fest
07/11 – Montreaux, CH @ Montreaux Jazz Fest
07/12 – Tuscany, IT @ Lucca Summer Fest
07/14 – Copenhagen, DK @ Tivoli Gardens
07/15 – Pori, FI @ Pori Jazz Festival
07/20 – Las Vegas, NV @ Brooklyn Bowl
07/22 – Los Angeles, CA @ FYF Fest
08/10 – Philadelphia, PA @ TBA
08/12 – Charlotte, NC @ Charlotte Funk Fest
08/13 – Richmond, VA @ TBA
09/01 – Dallas, TX @ TBAAL Riverfront Jazz Festival
09/15 – Newark, NJ @ TBA
09/16 – New York, NY @ The Meadows Music and Arts Festival
09/22-23 – Chicago, IL @ Midwives Conference
10/01-12 – Tokyo, JP @ Camp Fest
10/09-10 – Osaka, JP @ BBL