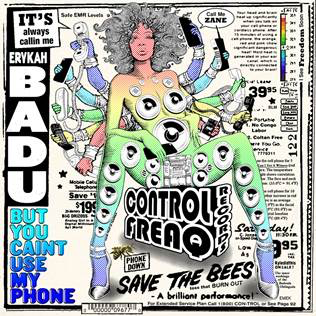 This coming Friday, November 27th, Grammy winning artist and r&b legend Erykah Badu is set to release her long awaited new project "But You Caint Use My Phone". This mixtape is her first project since the release of her album "New Amerykah Part Two (Return of the Ankh)" back in 2010. "But You Caint Use My Phone" will be available only on iTunes for one full week and will stream on Apple Music. It will be available at all major online retailers on December 4th.
The title of the mixtape references Erykah Badu's epic song "Tyrone" which was on her live album released in 1997. Included in "But You Can't Use My Phone" is her remix of Drake's "Hotline Bling" which she titled as "Cell U Lar Device". The entire project was created and produced alongside Zach Witnessin and written and recorded in Badu's hometown of Dallas, TX during a 12 day span. The mixtape includes a few surprise guest appearances who all recorded their vocals with Badu in her bedroom studio.
Badu recently hosted the 2015 Soul Train Awards which is set to air this coming Sunday. During the Awards, Badu gave her first televised live performance of the song included on the mixtape called "Phone Down". Check out the full tracklist from the mixtape below.
Erykah Badu "But You Caint Use My Phone" Mixtape Track List
1. Caint Use My Phone Suite
2. Hi
3. Cell U Lar Device
4. Phone Down
5. U Use To Call Me
6. Mr. Telephone Man
7. U Don't Have To Call
8. Whats Yo Phone Number
9. Dial'afreaq
10. I'll Call U Back
11. Hello