We were in attendance today at the TLC press conference previewing their new music, scenes from their new biopic, as well as the special announcement that Lil' Mama will be a guest performer at their upcoming show date in Hershey, PA. Their manager opened up the press conference, discussing how difficult it was for them after Left Eye passed, the years or mourning, and how the group went into a tailspin and almost ended. After T-Boz and Chilli were introduced, they explained how rejuvenated they were and ready to take this next step in the TLC story. Discussing the biopic, they talked about how closely they worked with the team and that they backed it 100%. The group then took questions from the audience and talked about everything from their influence over the years to their feelings on current music to never wanting to replace Left Eye. Finally, the brought out Lil' Mama (who is playing Left Eye in the biopic) and made the announcement she'd be a guest performer at their upcoming show. It's a pretty exciting time for TLC fans, so this is definitely a story to follow. Check out photos from the event and the full press release below.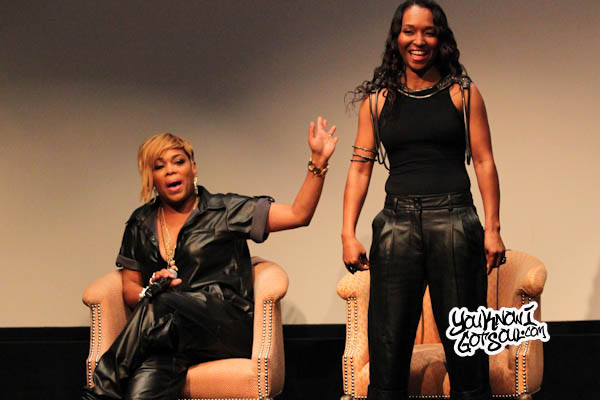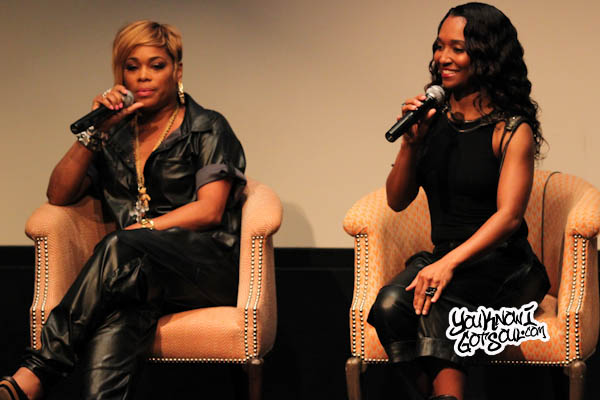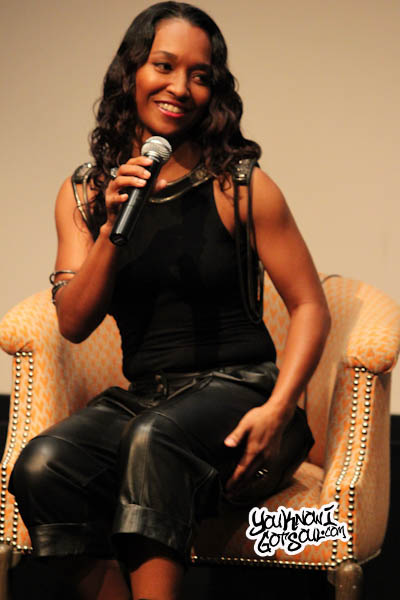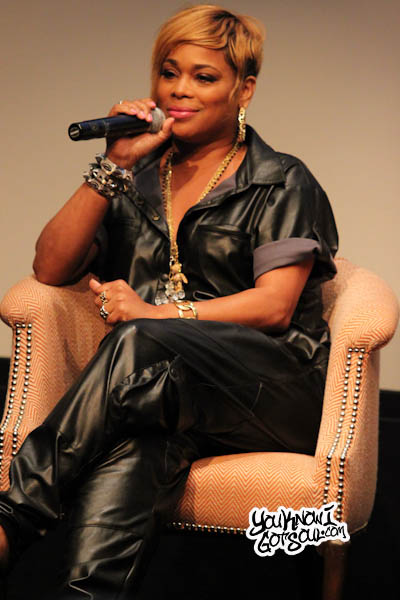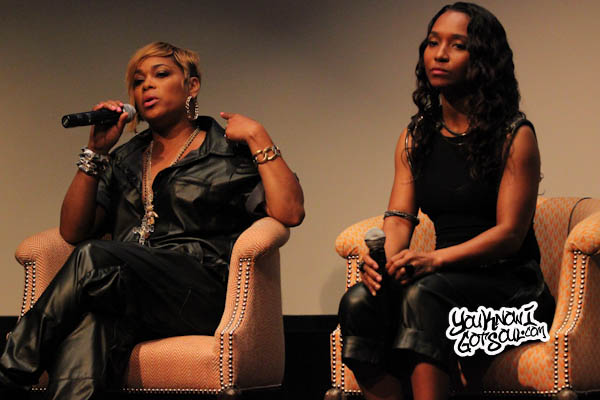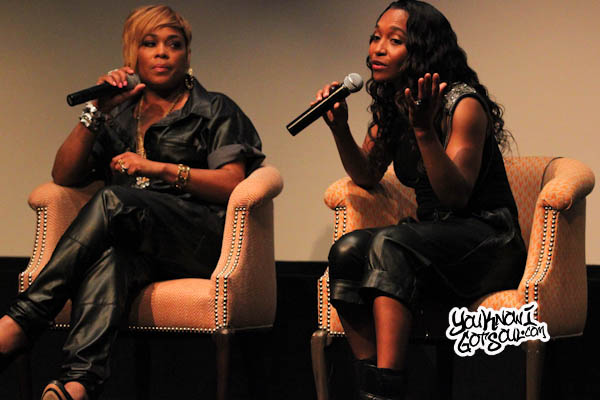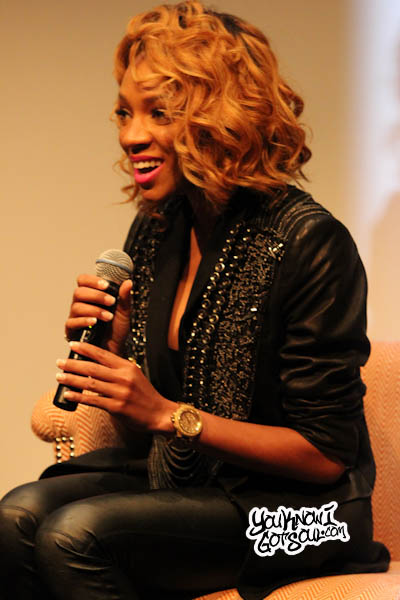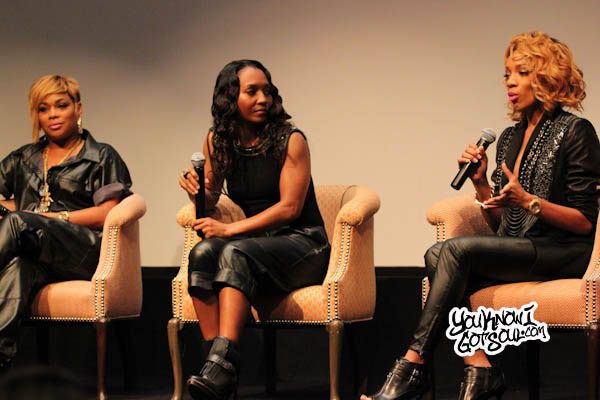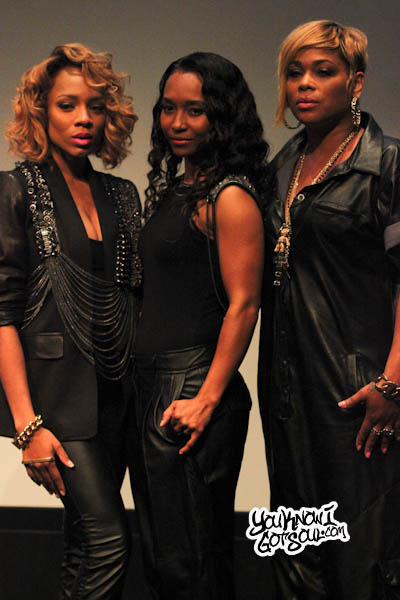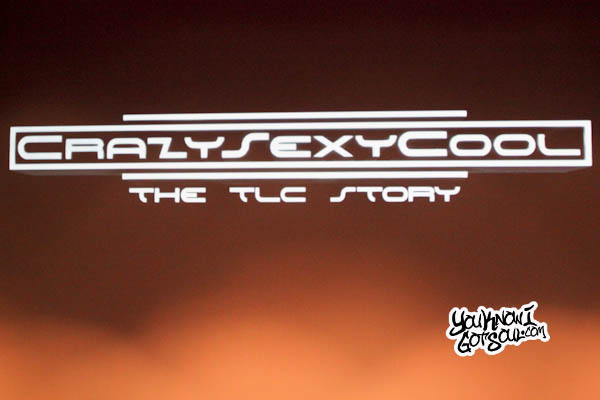 TLC,the best-selling female group in music history, return to the spotlight with a series of exciting events, including an album, a biopic, and a reunion performance, ushering in the next phase of the group's illustrious career, which saw Rozonda "Chilli" Thomas, Tionne "T-Boz" Watkins, and Lisa "Left Eye" Lopes sell 65 million albums worldwide and become cultural icons in the process.
As part of their next stage, TLC have reunited with their mentor L.A. Reid, who originally signed thegroup to his LaFace Records in 1991. Reid has re-signed them to the LaFace name under Epic Records, which will release an album on October 15th. The yet-to-be-titled collection will feature the group's most beloved and biggest singles, plus four brand-new songs, including "Meant To Be," which was written by Ne-Yo and will be used during the closing credits of the upcoming VH1 Original Movie, CrazySexyCool: The TLC Story. Another song, "Posh Life," was produced and co-written by Grammy Award-winner Dallas Austin (who co-produced TLC's CrazySexyCool and FanMail) and Lady Gaga.
"It gives me great pleasure to welcome TLC back into the LaFace/Epic Records family," comments L.A. Reid. "TLC is still the most important girl band of all time."
On Monday, October 21st, VH1 will premiere its scripted original movie CrazySexyCool: The TLC Story, which was written by screenwriter Kate Lanier (What's Love Got To Do With It, Set it Off) and directed by Charles Stone III (Drumline, Paid in Full), with Thomas and Watkins serving as executive producers. The film, which chronicles TLC's humble beginnings in Atlanta and unprecedented rise to fame in the '90s, stars KeKe Palmer (Akeela & The Bee) as Chilli, Drew Sidora (Step Up) as T-Boz, and Lil Mama (America's Best Dance Crew) as Left Eye, who died in a car crash in 2002.
Lil Mama, who will be featured on the new material on the album, will also join Thomas and Watkins to performduring the group's July 27th reunion performance at this year's Mixtape Festival, presented by VH1, which takes place at Hersheypark Stadium in Hershey Park, PA. (Click here for more info.)
"For ten years we have been mourning the death of our sister Lisa, and although we have discussed the option of bringing in someone to perform with us, it never felt right at the time," says Chilli. "Watching Lil Mama on the set of our movie CrazySexyCool: The TLC Story reminded us of Lisa's spirit, and, for the first time since her passing, we felt everything come together in an organic way." Adds T-Boz: "Lil Mama's authentic style, although very different from Lisa's, got our creative juices flowing. By bringing her in, we will continue to keep TLC's music alive for a new generation of fans. We are thrilled to be writing this new chapter in the TLC story."
"Lisa Lopes was a one-of-kind performer who cannot be replaced," says Lil Mama. "I am grateful to Chilli and T-Boz for the confidence they had in me to portray her in the film and to invite me to perform and record with them and pay tribute to her incredible talent."
TLC shot to superstardom in the '90s thanks to a series of best-selling albums, including 1992's quadruple platinum Ooooooohhh… On the TLC Tip, 1994's Diamond-certified CrazySexyCool (which has sold over 23 million copies worldwide and is the best-selling album by a girl group in the U.S.), and 1999's FanMail, which debuted at No. 1 on the Billboard chart and has been certified 6x-platinum. Thegroup has racked up ten Top 10 singles, four No. 1 singles (including "Creep," "Waterfalls," "No Scrubs," and "Unpretty"), and four Grammy Awards, and was ranked the seventh most successful act of the '90s by Billboard. Through their very public and high-profile success, turmoil and tragedy, TLC left an indelible stamp of female empowerment that changed the face of the music industry forever.