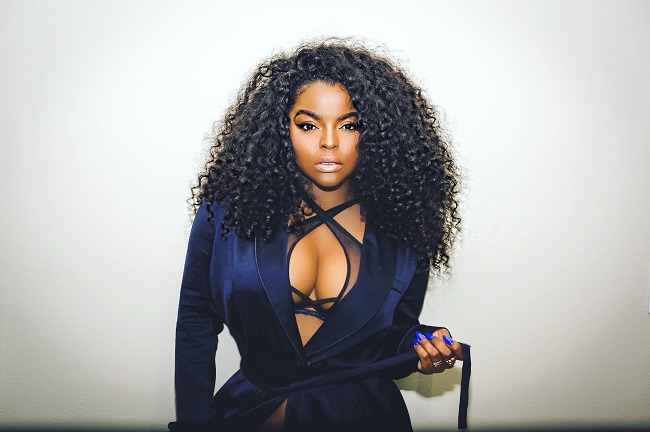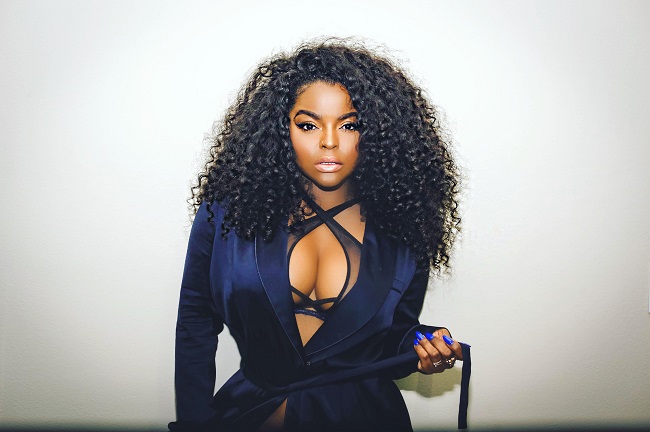 Known for her potent and melodic voice, Asiahn recently spoke with YouKnowIGotSoul & Neo Elite, where she opened-up about her transformative musical journey and how she grew into being authentically, and unapologetically herself. The three-time GRAMMY® Award-nominated singer and songwriter, established herself as an in-demand writer, working with big names ranging from Jennifer Lopez and Pitbull, to Drake and Lil Wayne. She also graced the track "Just Another Day" in Dr. Dre's gold-selling blockbuster album Compton.
More recently, Asiahn came to life as an artist on her 2017 debut Love Train EP, which attracted tastemaker acclaim and drew passionate responses among fans. The vibrant artist has just dropped two singles this fall, "NOLA" and "Like You" from her upcoming debut album, Love Train 2.
Asiahn sat down with us to talk everything music, heartbreak, Anime and authenticity.
We started the conversation with Asiahn's journey of musical self-discovery, which in many ways began with the symbolic return to her birth name, Asiahn (pronounced Aah-Zee-Yahn). As a writer, Asiahn had adopted the moniker "Asia Bryant," so when she began working on releasing her own music, it was important for her to break away from the pseudonym, which was created to make her name more easily pronounceable: "This project is 100% who I am, 100% me, so it might as well be my 100% real name."
Since you just reappeared as an artist, can you talk to us about how that journey has been for you so far, and how it's different now?
It's been amazing, actually. When I put out Love Train, I got with Cardiak, he produced the whole thing . . .and my whole new album as well. But I met him working with Dr. Dre on the Compton album. And I was like yo, I want to do an album, I want to do a project, and he was like let's do it . . . So, I put out songs by myself independent, put it up into a core, let it get distributed . . . I just promoted it on my Instagram and my Twitter and then just dropped it . . . the word of mouth is what caught that project on, and it showed me that people would accept me exactly as who I am and what I sound like and what is musically me. For me it was just a confirmation . . . that I can still be successful as an artist. I feel like when I was writing, the only thing I lacked was creativity to be myself and do my own music and be on stage and that's really the core of where my heart is.
One of Asiahn's most recent singles, "NOLA," has just hit over a million streams on Spotify. The track is emotionally charged and seamlessly blends the depth and spirit of authentic R&B with the current sounds of today.
Talking about NOLA, what was the inspiration behind the record?
To tell you the inspiration behind the record, we have to go back a little bit. Love Train the EP was basically a journey . . . through a relationship and love . . . In the EP we went from . . . getting out of a relationship with somebody . . . where you're like fuck them, forget them . . . but you're not being honest with yourself and really being honest with the fact that you still love that person . . . anger and pain is what covers that up, so with Love Train the EP it unravels that. And makes you get to the truth of what you feel. And then you can get to the point where you are like ok I do still love this person, and I do want to give this another try . . . and the last song on that EP is "Lead," so you're letting that person take the lead. You say you've changed, you're saying you want to do this again, ok I'll let you take the lead.
So, with Love Train 2, the new album, it picks up where that . . . EP leaves off and we go through a whole other journey . . . where . . . you don't even know where it's going to go [Asiahn then clarifies that she of course knows where we're going, but listeners have to keep riding the love train to see the next phase of the journey she's created for us] . . . Somewhere in that journey, I figure out that . . . okay well, shit, there's no love in LA . . . Even when I'm saying that, I mean it about the location, but then not even about the location, because there's so many people who feel like there's no love wherever they are. It's actually like wherever your heart was broken, wherever you've gone through this pain, and wherever you're in a place where it's a façade. I remember when I first moved to LA, I thought it was supposed to be you know unicorns, rainbows, palm trees and beaches . . . but you don't really get the light shown on how many homeless people there are here and how many . . . shady vibes . . .Those things are everywhere but the homeless dynamic here is to a whole other parallel that I've never experienced. So, I wanted to take… my art and be able to showcase how . . . this is literally the city of lost Angele. . . . You know in the video I show homeless people and I show so many different things that people don't actually see about LA. And then I'm actually talking about being heartbroken and not being able to find a genuine person because there's a lot of actors here, there's a lot of actors everywhere, who will . . . portray to be one person and then end up being a completely different person and that's what I feel like is what NOLA encompasses and where it comes from.
How have you navigated that?
. . . I am a very energy driven person . . . I am very unapologetic about my peace of mind and my space and the energy that I allow into it. So, I think the way that I've stayed away from it . . . is that I feel like I have such a repellent around me . . . I manifest those things and I really pay attention to when someone is giving off the wrong vibe. I won't even work with those people if you have bad energy because it's that serious to me. And that's how I've been able to navigate and then still be successful. Because there's still a lot of great people in LA, there are still a lot of great people in the music industry, but there's also a lot of bad . . .You just have to really stand firm in what your beliefs are and that's the way you do it.
. . .It's amazing what thanking your mind will do . . . Before love train, before when I was just writing all the time I feel like I was somewhat of a different person. And it took a heartbreak for me to find who I really was and really get into energy and really figure out what that meant . . . It keeps me very sane . . . and grounded . . . because I'm aware that anything that happens in my life is based off of my choices and the energy and things that I allow. So, when you know that you can't do anything but hold yourself accountable . . . and check yourself at all points and make sure that you're not the one making something negative happen around you . . . it really works.
How do you preserve your mental sanity on a daily basis?
. . . I pray daily. . .I actually have a cross tattooed on my hand so every time I see it, I'm reminded to be grateful. . . because I know that even if something bad happens or if something doesn't come through like I thought it would, it's not a bad thing . . . that just means that wasn't for me, and that may have been for somebody else, and that's somebody else's blessing. And how could I ever be mad at something being someone else's blessing. . . I read a lot, I watch a lot of Anime . . . I'm like an Anime head. . . all my [Hulu and Netflix] suggestions are Anime, literally.
Does Anime influence any of the music, or any of the concepts that you see? Is there any tie over at all?
Well you know I really love Anime because of how creative they are. Like they have Anime's about everything . . . you name it . . . and it's all real, so realistic it's crazy. But I love the creativity that is there. . . Whereas I feel a lot of the cartoons we have here, it's very one track, and it's not super creative. And I like to stay on the brim of creativity, like all the way on the edge just so that I can go as far as I want or I can dial it back if I need to. But I just love the stories they tell. . . I don't know I just love it . . . it keeps my mind open and I love having an open mind, because that's the best way to be a writer—or the best writer or the best artist—because that means I can reach more people if I have an open mind and I'm not judgmental, I'm not just one track . . .
You talked earlier about being part of Dre's Compton project, were you actually in the studio with him during that time?
Yeah . . . Actually, the first song that I did . . . we did so many songs for that project, I mean, when you workin with Dre, you just gotta know it's gonna be a lot of songs, because he, you know he wants the best of the best of the best and I learned a lot from him for sure. But the very first song I did with him was "Just Another Day," featuring The Game in the studio that night. And it was crazy because The Game and him, hadn't really been speaking. So, at this point he was letting him come in and talk to him for the first time and . . .Game wanted to play some of his new music for him. So, I was like yo should I leave? And he's like no, no, no stay . . . I was nervous, I was like, man I don't know what's about to happen, but I'm here. And he came in and he played his songs and then they chopped it up and it became back to that whole love feeling, which I love about Dre, he's very peaceful and all about that love . . . and then he was like 'you know what, I want to play something.' So, Dre plays this beat and Game was like vibing with him or whatever and he was like yo, we've got way too many talented motherfuckers in this room right now to not make a hit. That's literally what he said. And Dre pointed at all of us . . . and I literally had a hook like within less than 5 minutes of them doing that whole thing. Like I wrote the hook and Game was writing and then Game did his verse and it just so happens that what I was saying in the hook matched what he was saying in the hook and I hadn't heard his verse . . . so it was like a whole magical moment like how did this even happen, how did we end up on the same subject. And it just attests to how the universe works . . . So, Game laid his stuff, and I was like yo I got a verse. Dre was like play it, so I was like oh ok, so I played it and "Just Another Day" . . . became the only song off the Compton album that made it into the Straight Out of Compton movie.
Is there anything that you took from your experiences working with Dre that you apply now to your own music?
Of course, . . . being authentic and just being 100% authentically you and making sure the message that you're trying to send in your music is of you. And just being a perfectionist and even while being a perfectionist knowing that there's something magical about rawness and not being perfect in music.
What's something that you know now that you didn't know at the beginning of your career?
Who I was. When I first started music, like I said I was 15. I didn't know what I wanted to do . . . I was like doing pop, I was doing all types of stuff . . . I was with a label and they kind of were trying to morph me into something that I wasn't—and that's no shade, against them at all—they were just trying to find my sound as well, you know . . . and when you're dealing with a child how are you supposed to find out what their sound is supposed to be if they don't even know who they are. And I think that's the difference with who I was as an artist "Asia Bryant" and who I am as an artist as Asiahn . . . it even shows in the name. Asia is a made-up name—that was made up stuff, that was a contrived artist, that was a built artist . . . But now I'm just me and I am very unapologetic about it. Take me as who I am, if you like my music cool, if you don't, cool, I appreciate you listening anyway. But this is me and this is what I have to give to the world and to the universe and I feel like there are things that I've been through and the way I'm able to portray that in my music. I help myself heal and I'm helping other people heal as well and I feel like we need a lot of love and healing in the world so that's always my goal when I'm making something. My goal in the music that I make is always to make you feel—feel whatever that is. I don't like to make mundane music that doesn't make you feel anything. I want you to think . . . I want everybody to be happy and have love in their lives, whatever that looks like. That's my ultimate goal with my music in general.
What are your upcoming goals and what are you working on in the near future?
I am amped up about dropping my first album, my first album ever. I've dropped EP's but I've never dropped an album. . . so I'm very excited for Love Train 2 to come out. . .
Touring is coming up and I am really excited about that because I love being on stage. It's like my favorite place . . . I'm like a whole other person on stage.
What is it about the stage that has made it your favorite part about this whole game?
You know, it's weird because I am talking about authenticity when I'm creating music, but when you go on stage you almost become like an actor . . . because I have to transport myself back into a time when I felt that way, so when I'm delivering the song to the audience they can feel how I felt in that moment. You know what I mean, and I feel like there's something so special about it like, there's something so special about when I'm singing and everybody is singing my words back at me. That's crazy, it's like intense, there's something so magical about being in front of people, being able to reach out and touch them . . . and to say thank you for listening, thank you for singing along with me, thank you for riding with me, there's something magical about congregating and bringing groups of people together who would never be together in a regular situation, just because they like your music . . . that's dope to me.
Keep up with Asiahn and her music @iamasiahn across all social platforms.
INSTAGRAM | TWITTER | FACEBOOK
Interview by Zeplyn Tillman, written by Amelia Oliver