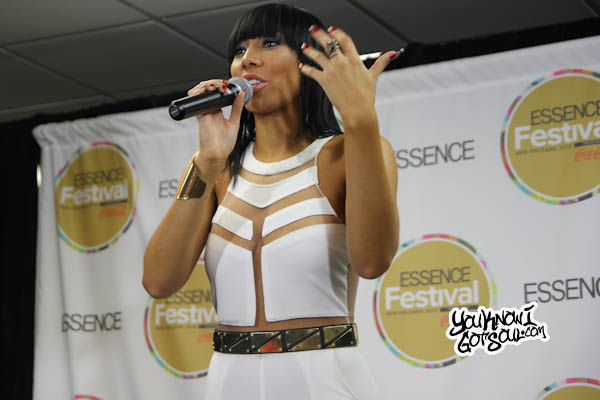 As our coverage of the Essence Music Festival Press Room rolls on, we got a chance to ask a question to one of our favorite artists on the verge, Bridget Kelly. She made a big statement by performing in the Essence Festival last year, and she's accomplished so much in the time since. After performing in the Festival for her 2nd straight year, we asked her to reflect on how that journey has been over the past year. Check out her response below.
YouKnowIGotSoul: You performed at Essence last year, and now you're back again this year. How do you feel your career has progressed since the last time you were here?
Bridget Kelly: This is has probably been the most incredible year of my life, truthfully. I thought nothing could top singing "Empire State of Mind" on stage with Jay-Z and I gotta say being on tour with Mary J. Blige this summer is up there too. It's just phenomenal for me, I'm big on female empowerment and being a voice for women in my records. To just continue to be allowed to perform and speak my mind and tell my story and also relate to other women as well is really a humbling experience. Of course, having the new single with Kendrick Lamar and having all of these incredible co-signs, it's been amazing and really surreal for me. Really what I love the most is getting to come out to festivals like this and starting a show with 10 people in front of me and then by the end having hundreds of people in front of me. It just means that my music is reaching people. To know that that's what's going on every time I hit a stage is really phenomenal.