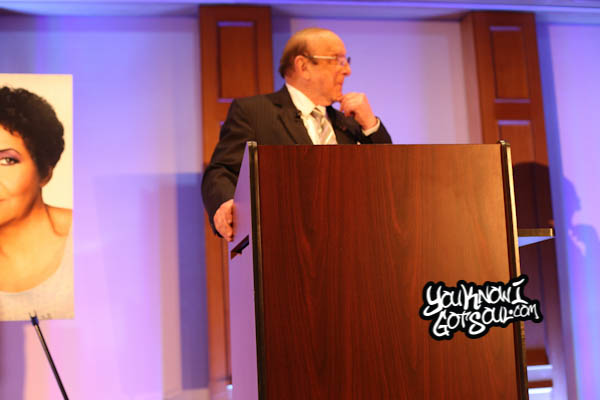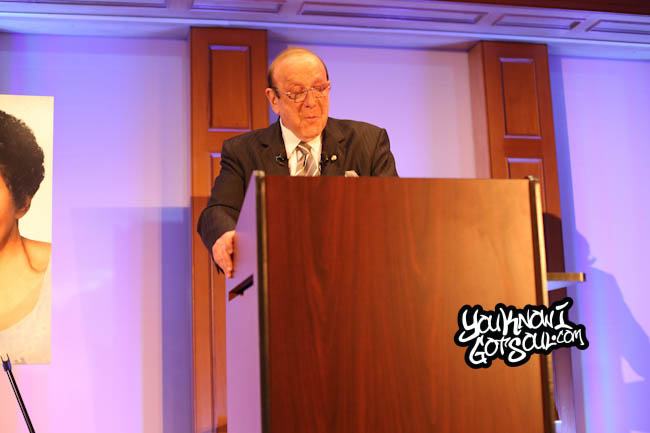 Last night in NYC, Clive Davis introduced members of the media to Aretha Franklin's new cover album "Aretha Franklin Sings the Great Diva Classics". After guests were seated in the Sony Club on the top floor of the Sony Building in Midtown, Clive entered the room to a rousing standing ovation from everyone in the room. He talked about how monumental it would be for this album to be successful at this point in Aretha's career and that music was desperately missing a voice like it's had in the past with Aretha, Whitney, and others. Clive went on to discuss how the intention of this album was to re-create old classics along with newer classics in a way that only the Queen of Soul could. At this point, each song on the 10 track album was played in its entirety.
It was quickly evident that Aretha intended to put her own spin on this project. During her cover of Gloria Gaynor's "I Will Survive", the beat infectiously flipped into Destiny's Child "Survivor' to add some youthful flair to this classic. Aretha's cover of "Rolling in the Deep" blends with "Aint No Mountain High Enough" towards the end, merging two classics and two generations. On her cover of Alicia Keys' "No One", Harvey Mason Jr. produced a reggae tinged beat that provides a great spin on the original. Then we had the Whitney Houston classic "I'm Every Woman" blended with Aretha's original "Respect", which was a way of paying tribute to her God Daughter. Finally, Andre 3000 took his left of center approach to a meeting with Clive and added his production to a remake of Sinead O'Connor's "Nothing Compares to You".
Clive emphasized that this project almost never got completed, as Aretha was sick a few years ago, and it wasn't clear she'd record again. However, he went on to emphasize how impressed he was with her vocals at this age and that her upper register was as strong as ever. In addition to production from Andre 3000 and Harvey Mason Jr., Babyface also contributed his production to multiple songs. One thing that is clear from listening to this album is that it's not a typical cover album; Aretha Franklin was determined to put her stamp on it and she did just that. Listening to the album, you'll hear how this legendary artist used her creativity and vocal brilliance to breathe new life into ten timeless classics.