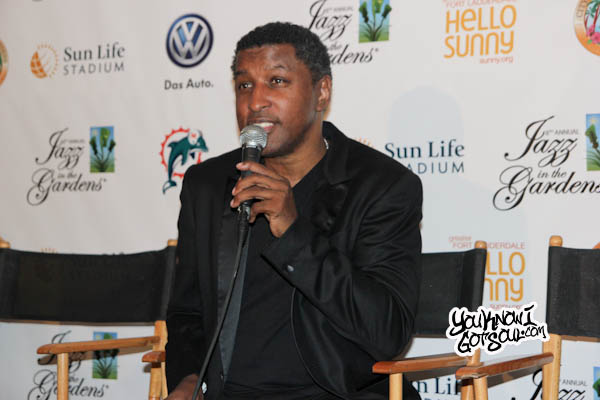 Since Babyface released his "Grown & Sexy" album in 2005, he's been pretty much out of the spotlight as an artist (save for his cover album "Playlist" in 2007). After having success doing this for the better part of three decades, can we blame him for slowing down?
After all, this is a man who has won ten Grammy Awards, been a part of 26 #1 hits, a helped drive the career of countless others. Most recently, he was nominated for another Grammy for his writing on Anthony Hamilton's "Pray for Me" this year. But the question still remains, does he have anything left to prove as an artist?
For that reason, when we had the opportunity to pose a question to Babyface during the Jazz in the Gardens press conference, we had to inquire. Does a man who's accomplished more than just about anyone in r&b, now in his mid 50's, still have a desire to keep it going? Well, a man of few words, he didn't give us much, but he certainly made it clear that he's not done yet. This also coincides with the rumors that he's working on his first new project since "Playlist". Definitely a good sign for music lovers!
Check out footage from the press conference below.