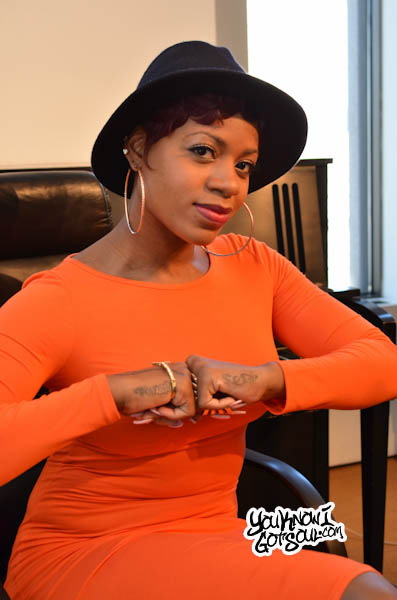 When Fantasia is ready to release the follow up to her 2010 album "Back to Me", the project will surely be marked as a "comeback album" and she'll definitely be looking to make a big impact. Part of that reason is the personal issues she's undergone over the years and how the media has portrayed her in a negative light. However, from the sounds of things, she's in a much better place in life and almost finished with the new album.
In an interview with producer Harmony, who worked with her on all but two songs on the album, YouKnowIGotSoul exclusively learned some details on the project.
"She really wanted to make an impact because she felt this was her chance to tell her side of the story. The one thing I said to her was that we were going to change the way she came across. She's such a normal star. She's such a beautiful woman and has so much to give when it comes to love and music. She was like "I love Tina Turner and Gladys Knight" so we were like "Why don't we make you a modern day Tina Turner/Gladys Knight?" So what we did was we took her away from her typical Urban audience and we gave her a bit of an open sound."
With so much of her life being spread in the media, it seems that unfortunately she's never been able to tell her side of the story. Fortunately for her, she was able to use this project as an outlet and get some things off of her chest.
"One of the things I loved about what we did with this album is that we told the truth. We didn't hide anything", Harmony went on to add. "She has a song where she's telling a dude "Without me, where would you be?" She has a song that's like "Two days have gone by, I haven't cried yet. I pray this means I'm over you." It's really open and vulnerable. I think a lot of women are going to love her because of her honesty. I feel a lot of women are going to be able to find healing from her story."
In addition, we should expect a big time collaboration on the album that will come off as completely unexpected. As Harmony put it:
"We have a collaboration record that's subject to be a very big record. It's with two female artists who I can't disclose yet because they have to confirm everything, but the collaboration will be big. It hasn't been done since "The Boy Is Mine" by Brandy and Monica."
By all indications, the album is complete and in the final stages of the mixing process. We can expect the single very soon and the album should release in early 2013.