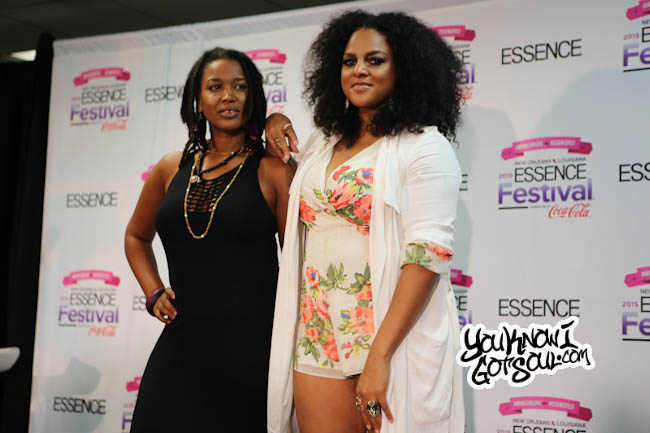 Live from the 2015 Essence Festival press room, we got a chance to pose a question to Floetry during the Q&A segment of their appearance for the media. The topic was on their chemistry on stage now that they've reunited after so many years of performing solo, and how it's been reconnecting performance wise.
Floetry (The Floacist): In the timeout, I didn't do as much on the road during my solo time. Marsha spent more time on the road than before, where she wanted to be in the studio..
Floetry (Marsha Ambrosius): I didn't want to be an artist, she made me do it! She made me the songstress. I was over getting on stage, being a performance poet. It gave me a sense of freedom on my side of the stage, just being myself.
Floetry (The Floacist): Not that we don't understand where the question comes from, but there is so much more to our lives than just what maybe the consumer may take. There is so much in what we've done in that time that is so enriching. I'm a firm bleiever that everything goes the way it's supposed to. Sometimes you have to grow to submit to that reality and understand it. Coming back together, if anything I'd say we're stronger from walking those paths.
Floetry (Marsha Ambrosius): Remember Thundercats? When you put that sword in the air, it will come! We just play our roles, we know what we bring to the table!