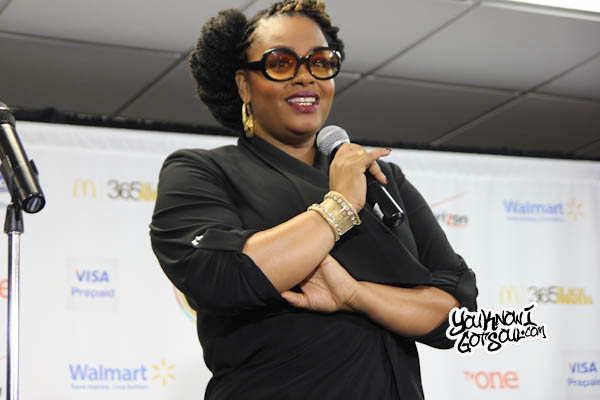 We just wrapped up coverage from day one of the 2013 Essence Music Festival in New Orleans, and we're proud to present you with some of the coverage we did in the press room also. During Jill Scott's appearance, we got a chance to pose a question to her about her upcoming music projects. To our surprise, she's got not only one, but two albums in the works, including a "Lullaby" album. Check out some exclusive details below.
YouKnowIGotSoul: You've been doing some big things in film and television lately. Can you give us an update on the progress of your next album?
Jill Scott: I'm doing two albums. One is the the "Lullaby" album which is created with Little John Roberts who is currently on tour with Ne-Yo. He is one of the most amazing drummers I've come across. He's just a really brilliant drummer, he's also my son's father. Also Robert Glasper who is an incredible musician as well as Derek Hodge on bass. Andre Harris as well, we did the record together in four days. I don't think I've ever had his much fun. The record is intended to help you sleep. All the things you get fed about your life, your beauty, your capacity and your failure, all of that stuff you don't have based on what you see on the television, the record is intended to deprogram you. There's a lot of true from the heart lyrics and I couldn't write them until I was pregnant and understood live and love. That album will come out this year. The next record is a lot different from the "Lullaby" album. The "Lullaby" is for adults as well as infants, particularly all of those who have new babies and they aren't sleeping. Turn the album up, walk out the room, let them learn how to go to sleep. With these words behind them and the lyrics that are meant to be encouraging and nurturing to the spirit. Not only will I believe that they will wake up feeling healthy and rested, but grown ups as well. The next record is slightly different. I don't want to tell you the name of the record right now, but I am very proud of the record so far. 9th Wonder, Aaron Pierce, it's so much I want to tell you, but I don't want to give it away either, so you'll have to just trust me. It will be different on your ears because I can't stay in the same place or I'll die. I have to keep moving and I'm very excited about the next project.