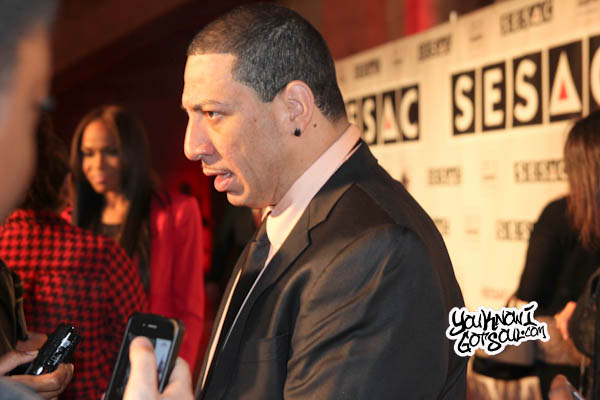 Wrapping up our coverage of the 2013 Sesac Pop Awards in NYC, we bring you the final segment of red carpet interviews which comes courtesy of Kid Capri. We got a couple of minutes to talk to him and discussed what he's got planned with his record label, and his memories of Big L and helping to create his debut single "Put it On". Check out his responses below.
YouKnowIGotSoul: Talk about some of the upcoming projects you have on your record label.
Kid Capri: I'm looking to sign in the future some other artists. I have some other people in mind I'm looking at right now. I know it's going to be a tough find because I know there's a lot of them out there. They seem to fall into my lap so it's just the matter of making the right decision.
YouKnowIGotSoul: Take us back to 1995 and working with Big L and creating his debut single "Put it On".
Kid Capri: That was my man. I had met Big L, Buckwild, Diamond D, Joe, the whole Diggin in the Crates (D.I.T.C.) crew. The way he rhymed on the records, you'd think that he was a killer and straight gangster. If you met him, he was a totally different person, he was like a little brother. It was just sad to see him go like that, especially for something that wasn't even his fault. I used to always tell him "You're a star, don't stay in these streets." But he just loved the streets so much that he wanted to be around them so much. That's cool and honorable. The streets don't love you back like that and it's a sad thing that he's gone so soon and we didn't really get to see how far he could go. Being that he was so great, the fans automatically took his next album Gold. With the "Put it On" record, I try to give it as much life as I can at my shows, I feed it to the crowd, I sing the hook still and everything like that. He was definitely a great artist.