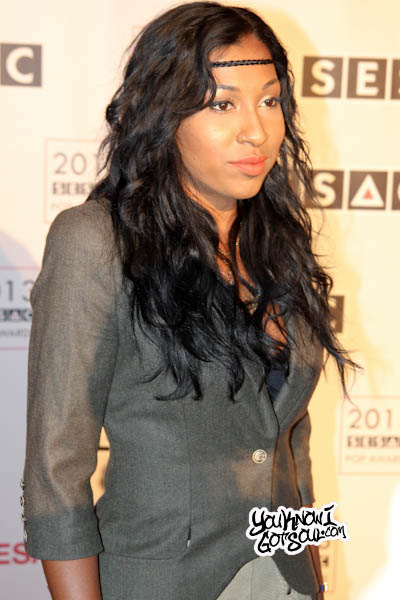 As our coverage from the 2013 Sesac Pop Awards in NY rolls on, here's a quick interview we did with Melanie Fiona on the red carpet. We talked to her about her recent Glenn Lewis collaboration and the importance of collaborating with fellow Canadians, how much pride she takes in honing her craft as a true entertainer, and how she feels about being a role model to young women. Also, we didn't have a chance to get into it, but if you listen close it sounds like she's already at work on her next album and the follow up to "The MF Life". Check out the video below.
YouKnowIGotSoul: You just had this Glenn Lewis collaboration come out who happens to be a fellow Canadian, and you've always made a point to collaborate with fellow Canadians. How important is that for you to keep that going?
Melanie Fiona: Very important. I think it's a responsibility we have as Canadians in any large market to really unite and represent for Canadian artists. I think we do it well.
YouKnowIGotSoul: Not only are you a dynamic vocalist, but also songwriter and performer. How much pride do you take in honing your craft and being a true musician?
Melanie Fiona: It's everything. The ultimate goal is to be happy and in order to be happy you have to be happy with yourself and whatever definition of success that is for you. For me, it's just to continue making great music and to continue growing as an artist, songwriter and singer so that my fan base continues to grow and my fans grow with me. It's important and it's a really, really amazing gift as an artist in an industry to have the creative control that I do. It's a blessing and I hope this time around my fans are looking forward to that [new album].
YouKnowIGotSoul: Your music encompasses all of the things a female goes through in love from a man cheating to female empowerment. How do you feel about being a role model to young women growing up?
Melanie Fiona: I think it's a big responsibility and one that I'm not afraid of. I think the thing about me is I'm never afraid to say that I'm human and that's the point of showing the good and the bad. I just hope that women of all ages, young, old, my age, will just be able to identify that we are very similar. It's important to know that we're not alone and I think that that's the most important thing. Regardless of what I'm going through, there's someone else going through the same thing.