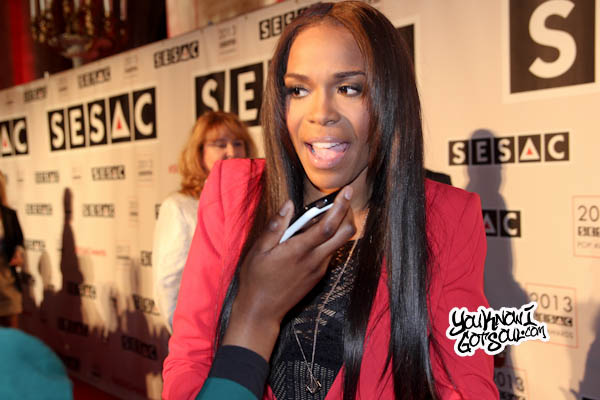 During the Sesac Pop Awards in NY, Michelle Williams was being honored and we got a chance to chat with her on the red carpet. Her new gospel album is scheduled to release later this year, so we talked to her about recording gospel music versus recording pop music and the differences there. Additionally, she's had a lot of success acting on stage through the years, and we to got her take on what the creative process for acting is compared to recording. Check out what Michelle Williams had to share with us below.
YouKnowIGotSoul: Pretty soon you'll be releasing a new Gospel album. How does your creative process differ between creating a Gospel album and a Pop album?
Michelle Williams: With this record, even though I knew it would be faith based, I still wanted to make sure that I wrote what was going on in the heart. Whether it's Gospel or R&B, we all have struggles, Christian or not, somebody broke your heart. How did you deal with it? Some of us have been depressed, how did you deal with it? Love doesn't get you based on your religion. I just want to speak to everybody and inspire but also tell them about the God that has saved me and helped me overcome the stuff that I've conquered. That's all I want to do.
YouKnowIGotSoul: You've been successful as an actor as well. How much different for you is the process between acting and recording?
Michelle Williams: Well lately I've been able to do musicals and sing so that's been a lot of fun. The acting is almost therapeutic as well because every show that I do, some of it has to do with where I'm at during that moment and I really, really love how involved I am night after night. Eight shows a week is no joke, and I've probably been doing that since February. I've probably done about 200 shows already this year. I'm really happy; I've been getting a lot of stuff off of my chest!