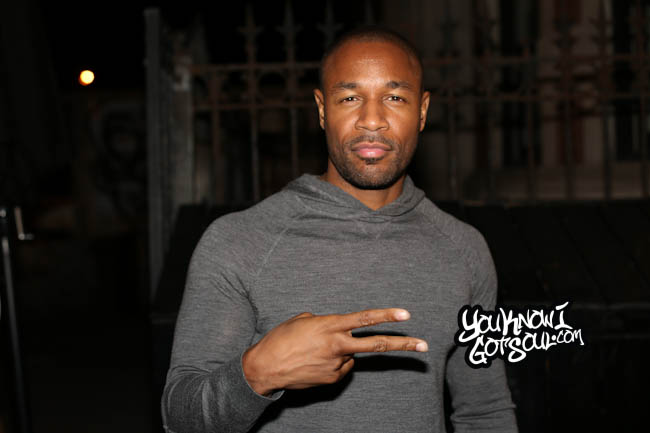 Tank has made a career on crooning about heartache and pain, and millions of fans adore him for being so real. As he recorded his upcoming 6th album "Stronger", he was in a good place in his life and love life, so we'll get a fresh perspective from the "General of R&B". The first single "You're My Star" is an indication of where he's going sonically; good tempo, classic soul, and live instrumentation. However, it wasn't until a mutual friend introduced him to Justin Timberlake and he spoke with him that he felt reassured about his musical direction. Dead set on bringing respectable music back to the radio, he makes a bold statement on how he has no interest in catering to the sounds of mainstream radio. YouKnowIGotSoul sat down with him after his recent "Stronger" album listening event in NYC and discussed all of these things. Check it out!
YouKnowIGotSoul: We're here at the listening session for your new album "Stronger". You mentioned tonight that "You're My Star" kinda set the tone for the rest of the album. Talk about the sound overall.
Tank: It's back to that classic r&b, live musicians, good lyricism, good energy. Back in the day, we had great tempo for our music and the subject matter brought families together. These songs were played at the picnics and family reunions. When the family was in the same room at the same time and when the song came on everybody would be like "Oohh that's my song!" and they all started doing the "Mashed Potato" or whatever it was. It's time to have those moments again. It's time for people to feel music again, not just hear it for a couple of weeks and forget about it the next month. To have some music actually define a space and time, that's what I'm trying to do.
YouKnowIGotSoul: Something interesting you mentioned was that after you recorded each song, you went back and remixed them, and included that on the album. Is that similar to what you did on "Sex, Love & Pain" with the interludes?
Tank: It's a little different. In "Sex, Love & Pain", those were complete interludes. What I'm doing on "Stronger" is the song is just more into another space. Sometimes it changes totally, sometimes we take elements from the original song and put it into that transition. I really got the concept from Jodeci with "The Show, The Hotel, The After Party" . Devante just took all of the songs, and all of the songs had a movie in between them. It all took you into the next song. The last person to do that was Justin Timberlake on a few of his albums. I thought that would be a cool concept. Even though we only have 11 songs, this is to kinda give you 11 more.
YouKnowIGotSoul: You talked about how when recording this album, you were in a good place compared to your previous albums where you weren't in such a good place in your life or relationship. Talk about that.
Tank: I've always written from the aspect of pain and heartache. I can't say that it's been a bad thing because it's been the thing that's kept me here this long. People do go through a lot of things, people get their heart broken everyday and I've been able to speak to those people. I've been able to meet them where they were. Now I kinda want to let them know there's a better space on the other side of it. There's light at the end of the tunnel. This is that light. This album let's them know that on the other side of all that heartache and pain, there's a little sunshine. When you're at peace with everything that's happened and everything that you've gone through and you understand the lessons and you take from it and you build and you grow and you become stronger, this is what it feels like and sounds like. This is how it's written, this is how it's sang. That's what this album represents. This is the tempo that goes with it. It's just my life. My albums and my songs have always been my life. It's just been a documentation of everything I've been going through. This one is no different.
YouKnowIGotSoul: You talked about the fact that in the past you've always felt a need to prove your artistry but at the same time try and be commercial viable. That's a difficult situation to be in as an artist and many go through it. Was it different this time around?
Tank: You know, after so many years of studying and understanding and doing a couple of things right and doing a couple of things wrong, and finding the balance, it wasn't anything that anyone had to tell me. It was just something that I just needed a little push direction wise. I just needed a little confirmation. My manager J. Valentine and Craig Kallman, a lot of guys in my corner, my friend Jason Bonner and even Justin Timberlake, they told me "Do what you do best and the rest will take care of itself. Don't second guess it." When I talked to Justin about his record making process, he said "A lot of what you hear is not us in the studio going back and forth about what we should do, it's us in the studio encouraging each other." That's kinda what I needed from my friends and people in my circle and my immediate team, just that encouragement to say that "This is the right way. You've had it all along, let's not hide it any longer. Let's rock with it."
YouKnowIGotSoul: You spoke tonight about Justin Timberlake and how he impacted this album. You mentioned you went to multiple shows of his and observed how much support he got. You made a bold statement about how you'd like to see the same support for r&b artists. Can you expand on that?
Tank: Well, it's like I said, I want some respectable music to be mainstream. I want some good subject matter to be mainstream. That's just what I want. When it comes to empowering the people that are coming after us, the children that are listening the music now, the musicians that are coming up now, the artists that are making music now; what direction are we leading them in? Where are we going? Where do we want them to go? Some of the stuff that I'm hearing, I don't want that for my kids and hopefully they don't want it for their kids. This is the first step in me fighting that fight, and there are a lot of other artists that feel that way; they've been trying to make their money and get off the shelf. The record company only hears one thing and they're putting them through the cookie cutter process of "We need a song like that because that song is working". This again is another step in the direction of encouraging my artist peers that we can do this and it will work and inspiring a new generation to do something good with their music.
YouKnowIGotSoul: Anything you'd like to add?
Tank: "Stronger" this Summer. "You're My Star" search, looking for someone to sing with me at the Essence Fest main stage, waiting on you!