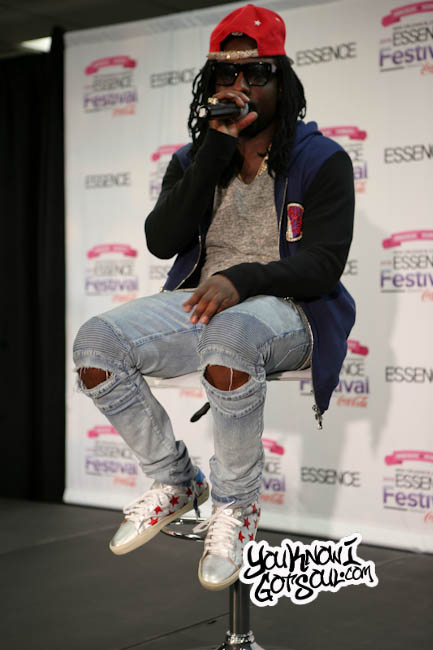 Wale has been holding the torch for r&b from the hip hop side of things for years now. While r&b has taken a backseat to hip-hop in the mainstream, Wale has always made sure to come up with some quality collaborations and always seems to get the best out of the r&b artist when he does. His current single "The Matrimony" is a great example because we're hearing Usher like we haven't heard him in years. YouKnowIGotSoul asked Wale about his love for R&B during the 2015 Essence Festival, check out what he had to say.
YouKnowIGotSoul: You've had some great R&B collaborations over the years, and you always seem to bring out the best in the artist you're collaborating with. How are you able to do that?
Wale: A lot of the hooks to those r&b songs, I wrote or co-wrote. I've got a thing where I understand the feeling of a song. I'm just blessed foreal. I've got like five #1's and "The Matrimony" is on the way to being my sixth #1. I've always done it my way. I didn't get a Jay-Z feature or major look. I really just did it from the ground up. I'm just blessed that all of the fans are rocking with me and they understand. I really think the generation now is de-sensitized to love. If anybody here is 25 or older, you understand that when we were younger, we had real live r&b records playing in rotation. Some of those songs accelerated your feelings towards somebody. You'd have a song that you associated with somebody and every time you'd hear it, you'd think about that person. I don't think there's an acceleration with "Bands Make her Dance". *Laughs* If you're in sixth grade, the kids know it from radio, but they don't really know it. I think the younger kids are almost de-sensitized to it because there is not much r&b on the radio or even black love which I think is such a beautiful thing. We are the most depressed people on the planet; but to find someone who know what you go through and go through what you go through, that's love and that's beautiful. We don't have that anymore. It's a blurred line of auto tune and uptempo. I just be trying to make sure people aren't forgetting all of that.