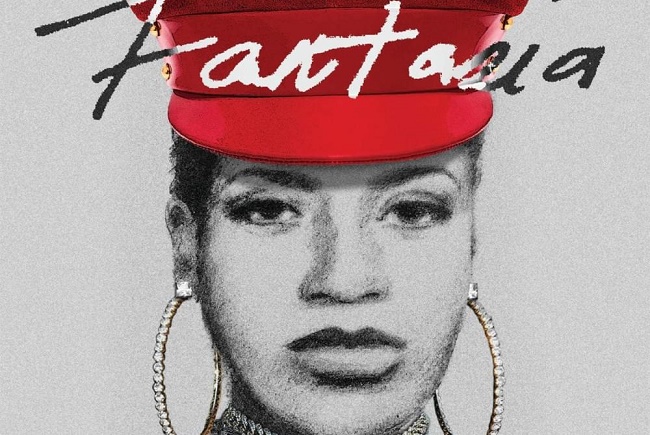 Fantasia is finally back with her new album "Sketchbook" which is due out October 11th. The supreme vocalist recently departed from RCA/J Records after calling that major label home for 15 years. She's now an independent artist with a lot to prove as she finally has the creative license that she's been craving for. Along with the new music, she also has R&B fans excited about her upcoming tour as she will be co-headlining it with R&B favorites Robin Thicke and Tank as well as rising R&B star Bonfyre. YouKnowIGotSoul had a chance to talk to Fantasia about her upcoming album, her tour, some of the challenges she faced when she was signed to a label as well as her early beginnings with her cousins K-Ci & JoJo.
YouKnowIGotSoul: Talk about how your cousins K-Ci & JoJo's success influence you growing up.
Fantasia: To me it started before the K-Ci & JoJo era. They started in Gospel and they had a group called Little Cedric And The Hailey Singers. That was with K-Ci, JoJo, my father, my Uncle Randall and a couple more cats from North Carolina. I was introduced to their Gospel music before their R&B because my mother would let me listen to certain things. When I was little, social media wasn't a thing and we couldn't YouTube so we had cassette tapes. They would show us how K-Ci would go out, perform and sing. I was like "I want to be just like him when I grow up". I just told him that the other day because he was at the house the other day and we got together. We cooked, talked and shared music and he's about to come out with his album and the music is amazing. His story is amazing, but I looked at him and said "I remember I was a little kid and everyone was outside and surrounded you". I told him "I want to go with you and sing" and he was like "You don't want to do this!". Before he was getting ready to leave the house the other day, I was in the room working on tour stuff and I was a bit overwhelmed and I was like "I know exactly what you mean now". This music industry is not easy and at times it's not fun, but if you never lose your passion for what you do, that's where the fun will come. We were just kicking it and chopping it up about that, but I learned most from him from that Gospel side and whenever I was introduced to Jodeci, I was blown away even more because he's a true entertainer.
YouKnowIGotSoul: You're about to go on tour with Robin Thicke, Tank and The Bonfyre. I think what's cool about this tour is you guys all have new music out, so it's not necessarily a nostalgia tour. What makes you excited about this tour?
Fantasia: I love the diversity! I've always been a Robin Thicke fan. Of course I've been able to perform with Tank, but never Robin and of course meeting Bonfyre! The diversity, the different sounds, the passion for music and what everybody brings to the table? I love that! That's what makes me the most excited. You've got different genres, sounds, black and white. We are coming together as brothers and sisters. Robin has so much soul! I've been a fan of Robin since his first album and I was telling him that when we met. He happens to be a big Jodeci fan, so we were all just talking. I was telling him when I went on the Kanye West tour after I had won American Idol, all we played was Robin Thicke's album on the tour bus. That was the album when he had long hair and he was riding his bike through the city. That was the album for me and I respect the vocal and gift. Then hearing Bonfyre and Tank? It's a movement, it's a story and it's almost like a Broadway show. You never know what voice or character you're going to get, but you're going to get a show and that's what this is.
YouKnowIGotSoul: You made a big career transition as you've departed from RCA and now you're an independent artist. You've been with RCA/J Records for your whole career, so were there any fears once you made the decision to part ways with them?
Fantasia: No fear at all babe, I promise you. There's none at all. I've been doing this for 15 years and I know it's a lot sometimes. I've had to sit back and look at everything I've been through and think "How can I do this better?". It taught me a lot and I'm free now to be able to do what I've always wanted to do. When I won Idol, I was 19 years old and I had some of the best behind me. I had Clive Davis who is one of the best. I have to be honest, I was sitting in a theater room with my husband not too long ago and we were about to watch the movie about Clive and I was like "Man, I don't know if I can watch it right now". I felt like our relationship had gotten tampered because I was so young, I didn't know anything. I had a lot of people speaking for me and running my career that I feel like I almost lost a father figure and somebody I looked up to so much and I still do. I believe that relationship will come back. I won Idol at 19 and I had Clive at first. He drifted away and then I ended up here and there. You have to think, I'm from North Carolina so I didn't know who I was supposed to be with. I didn't know what was right or wrong. I was just saying yes to everyone who said they loved me and I lost a lot by doing that. Now I'm a woman that is very wise and very in control and will not allow certain things to happen that happened in the beginning. If anybody would have told me "You need to watch out", I probably would have done it. But now I'm at a place where I know what I want musically and I know what my fans want musically. I've been hitting that stage for years, so we're bringing them melodies, sounds and lyrics that they're going to vibe to because people see the growth in Fantasia. They see where I'm at right now and they see the determination in my eyes and the fact that there's a sound that was given to me since I was a little girl and that's coming out. Now there's no one standing over me saying "You can't do this or that", it's just me.
YouKnowIGotSoul: We were initially concerned when you decided to go independent because a lot of R&B artists have struggled after leaving the major label situation, but once we heard "Enough" we felt a lot better.
Fantasia: I don't really look at myself as just an R&B artist and that's why we came out with Rock Soul, that's my label. When I was on American Idol, we didn't just do R&B and when people grew to love me, it wasn't just for R&B music. We did songs like "Summertime" and I covered Bonnie Raitt, Elton John, Elvis Presley, Stevie Wonder and Whitney Houston. I felt like that was the problem right there, it was like after I won Idol, they tried stamp me in a place and my gift couldn't be just that. Even after winning Idol, going out to do Broadway and going to perform with the Kennedy Center with the National Symphony Orchestra doing nothing but Jazz, those are a lot of things that the world didn't get to see me do. They didn't get to see the gift be broader than what it was because all they heard was "Free Yourself" and "Truth Is". They never got to hear all the things my heart musically was hungry for because that's what I grew up doing. That's what Rock Soul is, so thank God for that because I'm not just R&B. That's what saves us because when you hear "Enough", it doesn't sound anything like "PTSD", "Holy Ghost", "Looking For You" or "Take Off". It's an album that is Rock Soul. What I mean by that is it's a genre with a little bit of everything. I've got a Jazz joint because I'm not just an R&B artist.
YouKnowIGotSoul: In another interview, you called your last album "The Definition Of…" trash which surprised a lot of fans. Can you expand on that?
Fantasia: It wasn't an album I was too much invested in. I felt it was an album that was rushed and it was my last album with RCA. "When I Met You" was like the biggest and "No Time For It" was a cute record too because I was in a place where I had no time for drama. As far as an album and as far as sitting down and writing and wanting the music to go a certain way, we didn't have that opportunity. I had to go into the studio and create a rushed album of what they wanted. I did it because I've always been a team player and I've never been that type of person to say "I'm not going to do this". I think that's why RCA was willing to let me walk. There's no bad blood and there's nothing negative because I never gave them any problems. But this new "Sketchbook" album is strictly me. Javon Hill and the rest of the boys went into the studio with me and we were like "Let's start from scratch and create!". That's what we did.
YouKnowIGotSoul: How are you going to measure the success of this project as an independent artist?
Fantasia: I don't wake up every morning or go to bed at night trying to figure out how big I can be. I'm trying to figure out how many people I can bless through my music. I'm a mother now, so I look at things differently. I'm big on my mediation, prayer time and just waking up and enjoying that we woke up to see another day. The world is changing and that's all I'm going to say. I don't get caught up in "How many albums am I going to sell?". I'll just say this album is going to just be what it's supposed to do. My life and ride will demonstrate what peace, joy and happiness look like because I've been through way too much. So at this point in my life, I think it's going to do great. I'm on the phone with you and that's a blessing because we're independent. We're promoting, going on tour and dropping a new album on October 11th. I think we're doing pretty darn good and I'm just going to leave it at that!
YouKnowIGotSoul: A lot of fans are asking if you're going to be dropping a live DVD.
Fantasia: *Laughs* That's cute. I'm going to drop some videos soon for this album that I think are very creative. I put a lot of blood, sweat and tears into these videos. It was a lot of hurting feet! *Laughs* I challenged myself to do some things I've never done in these videos and I've got to do a live DVD and album. Who knows? Maybe that'll come next, but I have to!