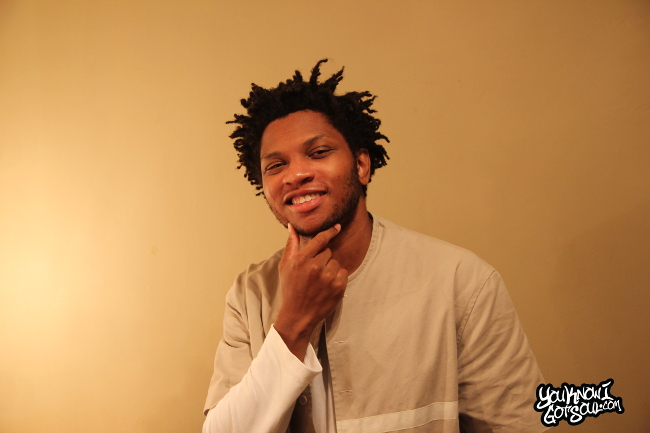 In all of our years of covering R&B, we've been able to discover new artists and their music has become part of our daily soundtrack. R&B artist Gallant is definitely one of those as his power vocals and unique sound turned us into big fans. After releasing his Grammy nominated debut album "Ology", Gallant is set to drop his sophomore album "Sweet Insomnia" with a brand new focus. Recently he released his new single "Sleep On It" which featured an appearance from R&B legend Ginuwine and he's also been on the road with Sabrina Claudio. YouKnowIGotSoul had a chance to interview Gallant to talk about the upcoming album, his creative process as well as his early beginnings which includes a cameo from us.
YouKnowIGotSoul: You dropped the new single "Sleep On It" which has a early 2000's sound to it. Talk about how that song came together for you.
Gallant: I was sitting on my couch watching the new 2019 Duck Tales and I had two or three more songs I needed to fill in on the album. I started singing the melody of "Sleep On It" but I didn't know the lyrics to it. I wanted it to be like a slow jam, almost wedding song type of vibe, but I wanted the lyrics to just dig a little deeper and have more of a bittersweet theme that I was trying to experiment with on the album as a whole. I took it over to my boy Stint's house, he lives ten minutes away from me. Jeff Gitty and Boy Matthews came through and we just jammed on it for a day. I feel like sometimes that works from the voice note thing to wax and most of the time it's wack and you're like "That didn't work as an idea". Somehow at the end of the day we had "Sleep On It" in its entirety and it was surreal for me to listen to it back and realize that I had made one of my childhood dreams come true by making a song that sounded like that.
YouKnowIGotSoul: We're at a time in R&B where you're allowed to make any type of song that you want. A few years ago, you probably wouldn't have been able to make a 2000's sounding record. Do you feel that way too?
Gallant: Absolutely. I feel like when I was first putting my music on the internet, people were afraid of the R&B label because it still meant contemporary mainstream R&B. People were trying to subvert all those stereotypes and hammer in the fact that they were trying to present a more unique image of what R&B sounded like, so that's why we had the Alternative R&B label for so long. I feel like that label is now embraced by the mainstream in such a beautiful way because people are doing so many different shades of R&B. Even people who aren't traditionally R&B artists and that's really allowed the whole genre to explode. R&B is a badge of pride in 2019 and it'll be in 2020 as well.
YouKnowIGotSoul: A lot of fans were excited to see Ginuwine in your music video for "Sleep On it". How did that happen?
Gallant: That was crazy. Ginuwine is the greatest of all time. I hit him up on the DMs and I was like "I have this song which is inspired by the "So Anxious" era and that whole sound that you helped bring to the forefront". To my surprise he responded in a really positive way. We flew him out and he was such a G on set. It was crazy to shoot the shit with him and honestly we had the exact same conversation about R&B music too. Just to see him in such a positive headspace about where everything is headed and agreeing to star in my music video, it was crazy to me. It was such an honor.
YouKnowIGotSoul: You've dropped a couple of other records off the project including "Compromise", "Crimes and "Sharpest Edges" which all have different sounds. Is it tough for you to create a project and try to figure out which direction and sound to go in?
Gallant: Yeah it's tough. I think with this album specifically, I went through three different versions of it. I started an album called "Effigy" right after "Ology" came out and it just didn't feel right. I wrote "Ology" to put it out, but I didn't expect that many people to hear it. It was just something I did for me just to make a playlist of music that I wanted to hear and couldn't find anywhere else. It took me awhile to find purpose with that album. When I really started "Sweet Insomnia" the way it is now, I think that was last November, there were some songs that were on the outskirts of what I wanted to do. It was an experimental or electronic sound but not in an ambient way, I wanted to do it more with dusty old synths that you would find under your childhood bedroom which made me think of late 80's and early 90's. But I also wanted to take a more 2000's approach to songwriting which led me to the big group vocals on everything. Then for some reason I had listened to a bunch of those YouTube channels with music to relax, study or chill to. It's the raccoon dude who is sitting around the bed studying. I realized I could hear that kind of cowboy vibe with a rap verse on top, but I didn't hear it with R&B vocals. I took those three ingredients, sat with my boy Stint and we just tried to make it as cohesive as possible. There are some songs like with those singles that hit different points, but I feel like the album as a whole hopefully brings it all together.
YouKnowIGotSoul: You're coming off a Grammy nominated album with "Ology", so what was the mindset with this new project?
Gallant: It took me awhile to feel right about it. I always like to make stuff that feels like it's for me, so if I can't sit and listen to a song over and over, then it just doesn't seem like it's right. I would never phone something in, but I always wanted to try some new things. There are a lot more stories on the album and the whole thing just feels like my childhood. The intro track is called "401" which was my area code growing up in the Columbia, Maryland. I wanted to keep it really short and concise, but at the same time not have it feel too short. There are 13 tracks and a few short tracks on it. I really wanted to expand on the idea that I had coming off the song "Doesn't Matter" from last year which was basically the bittersweetness of everything. It was hard for me to sleep during the process. I think I would go to session from 1 to 6 and then from 7 to 4 AM, I'd keep making the vocals as tight as I possible could. I have a video game room in my house, so I'd play Persona 5 from 4 to 7 AM and then I'd go to bed and wake up at noon. It was hard for me to break out of that, but it inspired me to make the synths a little de-tuned and the kicks are a little lazy. Everything feels like you're walking in a dream except you're awake and then lyrically everything is bittersweet, so the title "Sweet Insomnia" just popped into my head and seemed like it was the best way to describe that whole process and experience.
YouKnowIGotSoul: We found a music submission that you sent to us back in 2012. Take me back to those early beginnings.
Gallant: I'm surprised that I have my name in it because around this time, I had a moniker and a bunch of fake e-mails accounts with different names. I'd pretend to be my own publicist and I'd send it and be like "Check out this song!". Blogs were everything and that's how I found all my new music. I guess this is right when I decided I'd had enough of New York. I was at NYU in an individualized study program. I decided I needed a change of scenery and it wasn't really happening. I moved to Los Angeles in North Hollywood and lived on a mattress on the floor. I would just spend all the late nights sending a bunch of e-mails to the blogs that I was fucking with at the time and hoping they would fuck with me. That's crazy that you found this!
YouKnowIGotSoul: A lot of artists were submitting music to the blogs during that time. What do you think made you stand out from that the million that did the same thing?
Gallant: That's a tricky question. *Laughs* I don't know, I'm just lucky people responded. This is probably one of a million emails that I sent to Tom. *Laughs* The blogs were such a crazy time and I was just lucky to be able to coast it. A lot of people do it a lot quicker too.
YouKnowIGotSoul: Were there times during that period that you felt you had to make trendier music?
Gallant: The pressure was there for sure, but I could never do something that I don't like. If I can't listen to it over and over, it's not going to exist. I guess there's a chance what's trendy will line up with that, but maybe not. But I'll never phone anything in or make any kind of music that didn't speak to my soul.
YouKnowIGotSoul: Anything you'd like to add?
Gallant: I can't believe you guys dug this up from 2012. I guess thank you for rocking with me for as long as you have and hopefully I see you on the "Sweet Insomnia" tour next year.