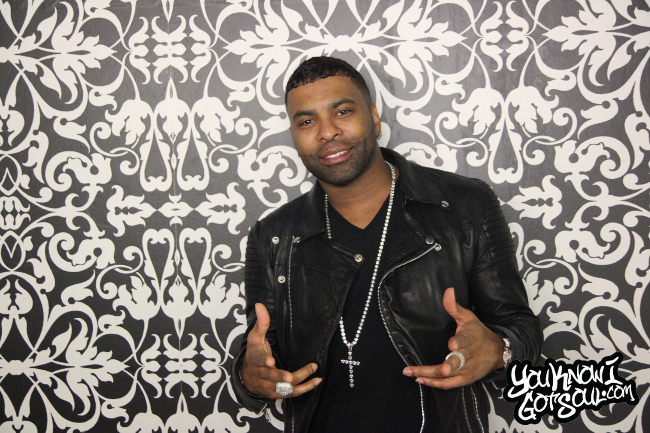 After a successful debut album alongside his TGT group members Tyrese and Tank, it looks like Ginuwine is finally ready to come out with a solo album again. New music from Ginuwine is always great, but what makes this project even better is that Ginuwine will be linking back up with Timbaland. They had a brief reunion on "Get Involved" back in 2009, but it looks like this time it's the real deal. A lot of people may not realize that Ginuwine hasn't put out a solo album since "Elgin" which came out in 2011. That hasn't kept him out of the spotlight though as he's been able to do tour all over the world thanks to his extensive list of hits. Now with TGT's status being questionable at best, it looks like right now is the perfect time for Ginuwine to re-establish himself as one of the premiere male artists. He's only been making hits since he came out with "Pony" back in 1996. YouKnowIGotSoul had a chance to talk to him about his upcoming project "Same Ol' G", linking back up with Timbaland and his decision to go into the Urban AC route early on in his career.
YouKnowIGotSoul: Talk about the new album that you're working right now.
Ginuwine: The album is in the works right now. I changed the name a few times, but I think I'm goign to stick with "Same Ol' G". We haven't really gotten any direction yet. I'm just in the studio working and that's what it is. Once I'm in the studio, it kind of formulates while I'm in there. A lot of producers always say "what direction are you going in?" and I don't know. I'm just doing music. Right now it's going well. It's a little slow, but it's expected because I haven't been in the studio for a minute.
YouKnowIGotSoul: Previously you were working on the album "Old School Young". Are those songs going to be on the project?
Ginuwine: Nah, I think I'm going to start all over. I love the name "Old School Young". I came up with a few names as a matter of fact and that was one of them. "Same Ol' G" was another one and everyone was like "I think you should use that one". Everyone knows that name, so I stuck with "Same Ol' G".
YouKnowIGotSoul: You've mentioned that you'll be linking up with Timbaland on this project. How did you guys link back up?
Ginuwine: He actually called me. He's in and out, Tim is crazy sometimes. *Laughs* That's my man, that's one of my great friends. He's one of the producers ever, if not the best. But he's really busy and I'm so used to do things the way we used to do like locking down the studio for two months. I can't have him for two months because he's doing too many things, so hopefully we'll be able to get in there for a week. If not, I'll continue and I'm pretty sure he wants the best for me.
YouKnowIGotSoul: With the TGT album you guys put out, it was a very grown album. Your last two albums have been very Urban AC as well, so where do you see yourself going with this album?
Ginuwine: Pretty much the same way. I'm not going to try to be too young because at the end of the day, I'm not 20 anymore. I don't want to sound corny or look corny doing young things. All the stuff that the kids are doing, that's not my place. I believe that everyone followed me back then, they're still here. That's who I'm trying to talk to and relate to. All the trap music and all of that, it's great but I can't do that. *Laughs* I'm going to stay vintage Ginuwine and stay at the place that got me here. That's what people want.
YouKnowIGotSoul: What makes your chemistry with Timbaland so good?
Ginuwine: Well I think me trying to prove myself was probably one of the elements of working with him that will be the dynamic of the whole project. He's been with the greats like Jay Z and Justin Timberlake. I think him just being there will bring the best out of me as an artist. I'm so used to me and him, Aaliyah, Missy Elliott and all of us. We were just family and that's what I'm used to, but now it's just different. I respect Tim for what he's done and him just being there will bring me to another height. I'll bring myself to anther height when it comes to writing and just performing vocally.
YouKnowIGotSoul: R&B fans tend to box an artist into a certain era. When you announced that you were reuniting with Timbaland, everyone thought it was going to be 1996. It's like when Jodeci came back, everyone thought it was going to be 1995 again but the new album sounded a little different. How tough is that for you as an artist?
Ginuwine: It's very hard because right now you just don't know what a hit is. Sometimes I listen to the radio and I can't believe some of the stuff that I'm hearing that everyone is loving. So it's a task that we've got to conquer and we have to make sure that we pass the test. But I want to tell everybody that you won't hear me trying to pop bottles in the club and all that kind of stuff. It's just not me and I think as long as you stay within your element and your age bracket, sure you're going a couple of young folks and teens, but that's not who I'm focused on. I'm really not. I love whoever supports, but I'm just not going to try and go back there because times have changed. If you don't move with the times, you'll get left off. I'm trying to change with the times.
YouKnowIGotSoul: You started moving into that Urban AC lane during "Back II Da Basics" which was right after a massive hit like "In Those Jeans". How hard was that transition for you?
Ginuwine: It's not hard at all. It's normal because that's what you're living. Every CD that I've been part of and helped write, it's what I was living and what I was doing and how I viewed things. It was about the struggles, temptations and everything I was going through. So now it's nothing different because I am where I am now. I think that's what people will be attracted to.
YouKnowIGotSoul: You always perform the hits at your shows and most of them are from 1996-2003, so is it ever tough for you as an artist because there are some people that don't know you've put out new music since then?
Ginuwine: I look at it like when Prince said that he wasn't going to do any of the old songs, he was just going to the new songs. People are not going to your show to see that. They're coming to see the hits. That's a positive and a negative because you only have 45-60 minutes to do anything. Thank god I have an extensive catalog. I have to do the songs everyone knows, but every once in awhile I'll throw in a little something that everyone will remember like "Oh he did that?". Actually I don't do 6-7 of the songs that came out with videos and singles, so it's kind of a good thing and a bad thing.