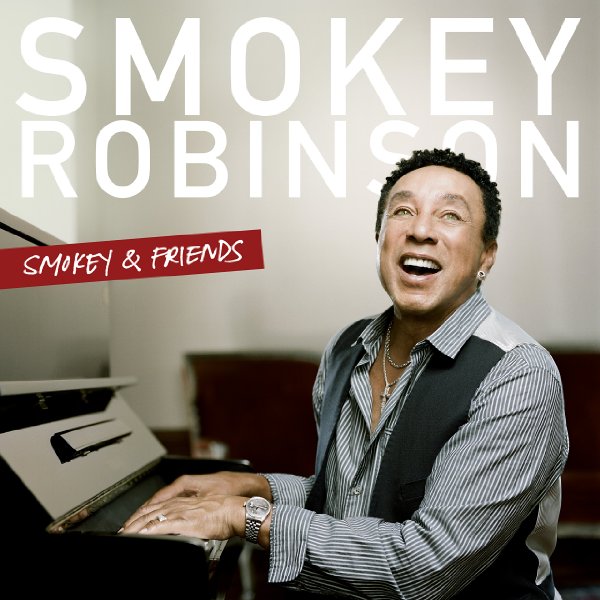 YouKnowIGotSoul has your chance to win a copy of Smokey Robinson's new album "Smokey & Friends". Simply tell us your favorite Smokey Robinson song to be entered! More about the album below.
More About the Album
The release date for "Smokey & Friends," the new duets album from legendary Motown icon and Grammy® award-winning singer-songwriter, Smokey Robinson has been moved up to August 19 on Verve Records. The album will be made available at all physical and digital retail outlets nationwide. To pre-order "Smokey & Friends" on Amazon.com click HERE.
The track listing for "Smokey & Friends" features Robinson alongside a celebrated roster of contemporary and classic artists who revisit the best loved songs from Robinson's unmatched catalog of hits including those he has written for his solo career, his Rock and Roll Hall of Fame group, The Miracles, as well as hits he wrote for others, including Marvin Gaye and The Temptations.
On the Randy Jackson-produced set, Robinson is joined by old friends like James Taylor, Sir Elton John, Aerosmith's Steven Tyler, Sheryl Crow, and Mary J. Blige, as well as with some of today's hottest new artists including John Legend, John Mayer, Miguel, Aloe Blacc, JC Chasez, CeeLo, Ledisi and Jessie J.
Robinson and his guests pay homage to the timeless originals, while creating new versions that feel instantaneously contemporary and classic. Robinson and John turn "The Tracks of My Tears" into an organ-drenched call and response; while Legend's graceful piano playing adds a new elegance to "Quiet Storm." On "My Girl," Miguel, Aloe Blacc, and 'N Sync's JC Chasez match The Temptation's unforgettable harmonies, as John Mayer recreates the song's instantly recognizable opening guitar riffs. The album's 11 tracks will delight longtime Robinson fans, as well as introduce these ageless songs to younger listeners not necessarily familiar with the enduring melodies and lyrics.