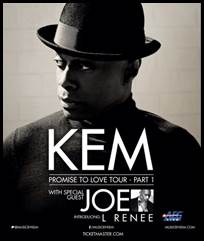 YouKnowIGotSoul has your exclusive opportunity to win tickets to see Kem on his "Promise to Love" tour with Joe in the city of your choice! All you've got to do is RT our link on Twitter or share our post on FB to be entered to win! Eligible cities to win a pair of tickets to are below.
Ft Lauderdale, FL Broward Center for the Performing Arts Fri. Nov. 14
Tampa, FL Straz Center's Carol Morsani Hall Sat. Nov. 15
Augusta, GA William B. Bell Auditorium Sun. Nov. 16
Charleston, SC N. Charleston Performing Arts Center Thu. Nov. 20
Charlotte, NC Ovens Auditorium Fri. Nov. 21
Greensboro, NC Greensboro Special Events Center Sun. Nov. 23
Richmond, VA Altria Theater Sat. Nov. 29
Tickets are also currently on sale for the tour here.
More Information on the Tour:
Two-time GRAMMY®-Nominated Motown Recording Artist KEM has announced dates for his 2014 "PROMISE TO LOVE TOUR – Part 1," with special guest, Joe and Kemistry Records artist, L Renee.
KEM's "PROMISE TO LOVE TOUR – Part 1" will hit 8 cities at concert halls this November, while his full U.S. Headlining "PROMISE TO LOVE TOUR" will launch in the Fall of 2015. The tour takes its name from the title of KEM's newest chart-topping CD, 'PROMISE TO LOVE,' with "Part 1" beginning on November 14, 2014 at Ft. Lauderdale's Broward Center. Tickets go on sale on Friday, October 3 at 10:00amET at ticketmaster.com.
KEM's galvanizing live performances have captivated audiences for years and have catapulted him into the ranks as one of music's top touring acts. KEM promises to deliver an unforgettable experience to audiences that will include his classic hits such as "Love Calls," "I Can't Stop Loving You," "Share My Life" and "Why Would You Stay," along with new favorites from 'PROMISE TO LOVE,' including the dynamic lead single, "It's You," which spent four weeks at #1 on UAC charts, "Nobody" and the CD's title track, "Promise To Love."
KEM's 'PROMISE TO LOVE' CD debuted at #1 on the R&B Albums chart, it soared to #3 on Billboard's Top 200 chart and is the singer/songwriter/producer's second #1 debut on the R&B chart. 'PROMISE TO LOVE' is powered by the UAC chart-topping single, "It's You," and includes guest appearances from Snoop Dogg on "Downtown," Ron Isley on "My Favorite Thing," and Kemistry Records Artist, L Renee, with her debut single on "Don't Say Goodbye."
KEM wowed a national audience with a mesmerizing performance of "It's You" on Good Morning America on August 26, and recently returned from a September trip to South Africa, including two shows in Johannesburg and a tour of Capetown. He appeared in a compelling interview and performance in an episode of InterludesLIVE on TV ONE on September 27, and will perform "Nobody," the second single from 'PROMISE TO LOVE,' on the Steve Harvey TV show on Friday, October 10. KEM will head back out on the road on a 25-city tour with Charlie Wilson in February & March of 2015.
The Deluxe Edition of the album is also available, which includes two bonus tracks, "Moments" and "Don't Say Goodbye," the debut single from Kemistry Records Artist, L Renee. An Exclusive Deluxe Edition of the album is available only at Target stores, which includes the bonus tracks on the Deluxe Edition, along with 2 exclusive songs: "I Believe In Your Love" and "In The Meantime."