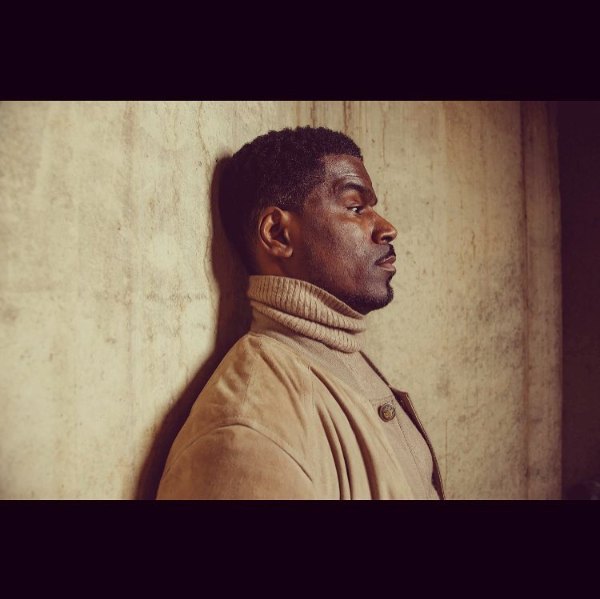 When you talk about Glenn Lewis, you're talking about one of the most unheralded vocalists of his generation. Not only that, but he's one you want to hear from often, and unfortunately the music industry hasn't always allowed that to happen. That's why it was such a great surprise when DJ Jazzy Jeff announced that Glenn would be singing on every song on his PlayList Retreat created "Chasing Goosebumps" album. The project didn't disappoint one bit, and in fact it just added to the anticipation of a new Glenn Lewis album in full. We had a chance to interview Glenn to discuss his role in the "Chasing Goosebumps" album, as well as his progress on a new album, the trials and tribulations he's faced in the industry, and much more.
YouKnowIGotSoul: Talk about how you originally became a part of DJ Jazzy Jeff's PlayList Retreat to create the album "Chasing Goosebumps".
Glenn Lewis: Basically, the ins and outs and ups and downs of the industry, I had been in since my Sony/Epic days. I'd always been working on music and just trying to elevate and show evolution as an artist and been in and out of different situations that for one reason or another, the stars wouldn't align. After a while, I got emotionally exhausted because I would imagine like any other artist, I really love what I do and I pour everything into what I do at every opportunity. Not to be morbid, but you never know when it will be your last. So you want to give your everything. I just love it anyway so I just pour my heart out in the booth and on paper writing and performing these songs. I needed to sort of retreat and just kinda get back to basics. Coming back home to Toronto and getting in with family, I started contemplating that maybe sometimes life has a way of inadvertently suggesting you need to go in a different direction. I also felt like I'm not one dimensional, so maybe I needed to figure out something else. Maybe it's time to get into management and impart things with younger artists. I've always thought that, because taking on an artist you're literally taking on a life. You want to make sure that you yourself are organized enough to be able to keep someone focused on the right things. That was always a big deal to me, and I was always reluctant, because I wanted to make sure if I stepped into that arena, I knew what I was doing. Long story short, I was just at this crossroads.
DJ Jazzy Jeff has been a constant in my life since before even getting my deal at Epic. He's been a solid character in the scene. Somebody that understands that there are people attached to this. Many people in the industry view artists and what they do as expendable, he's always had a compassion, care and concern for the people that he works with. I could relate because it's the whole idea of relationships being your greatest resource. It's not about what they can necessarily do for you, but just how special the people that we cross paths with in life are. Jeff's always been exemplary of that. I got a call. He hit me up, and was like "Man what are you doing?" and I said "Nothing". He said he was putting on these retreats, and he told me about the second annual one that he had in August of 2016. He told me this was the first year he'd have artists and songwriters. Before it was just DJ's and producers. He really wanted me to be there. So I came down and it was overwhelming. Everybody I met down there, in one way or another, they were kind of in similar spaces. They didn't know what to do next. Things had sort of changed.
It ended up being very therapeutic because I got a chance to connect with people I admired and we remind each other of being creative again and how special what it is we do is. Out of the four days of the retreat, there was a 48 hour challenge where for everybody that was there, they were broken off into groups, and it resulted in 18 different groups. We had this treasure hunt where we were given clues to find a USB and it had four instrumentals on it. We had to chop those up and create and write a song and perform it. We did so and we looked up and there was an 18 song album. Jeff was inspired by it. Several weeks after the retreat, he wanted to do something unprecedented. He wanted to create an album in 7 days. He'd do this thing two times out of the year. He'd have the retreat in August and then have these sessions in January and February to start off the year. The way he explained it to me, I didn't even quite understand it. I thought it was a compilation project, but he told me he wanted me to do the whole thing! *Laughs* I got down there and I had no idea how this was going to work. It was crazy because most of it was organized but some of it we had to figure out on the fly. Amazingly, I got there and we were all huddled. He said the objective was to chase goosebumps. All the music we grew up loving, we need to create whatever the classics are for tomorrow. We need to have that kind of mindset where we are aiming for creative stuff that makes us feel good. That home cooked meal, that space from song to song where we try to create the soundtrack of lives for a generation today going forward. Everybody just locked in. It was the most amazing thing.
YouKnowIGotSoul: We were so excited to hear that you were singing on all of these songs. We've been anticipating new music from you for a while and all of the sudden this came out. How were you able to pull this off in seven days?
Glenn Lewis: The energy was so high. We were having so much fun. There was Jeff and his wife and family, they provided food. It was amazing. It was just so comfortable. Everyone was in such a great space and I was even surprised because I literally went from 0 to being thrown right in. Not even just thrown right in, but in trying to pull this off in that space of time, but strangely we were aware of it. I can only speak for myself, and it wasn't necessarily strenuous for me. Basically I was performing three to four songs a day. The workload was shared in such a way where it made it relatively smooth as far as getting things done. There were moments where there were little hitches. There were two main rooms. The main studio and a smaller studio. Sometimes we'd have to get our communication together, but for the most part, Jeff just made me priority in recording the records. For the most part, everything went really smooth. The doing three to four songs a day, it was a lot. Funny enough, I only started to really feel it the last day. With the hours I'd be putting in, we'd be getting up at 10 or 11:30 in the morning, because we'd be going down at 6 in the morning. It was a bit of a sweat shop kind of vibe. *Laughs* It was amazing. The energy was so high and just cranking out records and we looked up and we had 18 done. I've never experienced anything like that. What made it easy is that we were all pushing that way. You almost didn't notice the time going by.
YouKnowIGotSoul: Your last album "Moment of Truth" came out back in 2013. Have you worked on any new music for a new album?
Glenn Lewis: I haven't yet. Jeff and I have talked about it. Now this is the collective. But Jeff told me people would expect an album from me after this. He said we'd work it out. I did a couple of songs while I was there that there's a chance they could end up on the new project. Knowing me, I love being in the moment, so in beginning the process of creating the album, I don't know what will come out of that. All this to say, probably start the project later on this year. I think Jeff was talking about the possibilities of around anywhere between September and November to maybe start a new project.
YouKnowIGotSoul: Reflect back on the "Moment of Truth" album. How do you look back upon it?
Glenn Lewis: It was a cool project. The people that I was working with, it was kind of a collaborative effort. I would say the only thing that I was a little disappointed in was there was a certain space I was in creatively that I didn't get a chance to fully express on that album. It was the kind of situation where everyone had their ideas of what kind of an album I should do. I ended up compromising in ways I shouldn't have. "Moment of Truth" was sort of safe. I did these love songs which were cool, and it's a feel good project, but I think funny enough although I ended up collaborating a lot on "Chasing Goosebumps", I felt it was a lot closer to my voice and the kind of album I would have wanted to create. The way that we came together, a lot of the material for "Chasing Goosebumps" was out of the conversations we were having. With people like Eric Roberson and Aaron Camper and Carvin Haggins. Those became the songs rather than with "Moment of Truth", it's a light hearted album, but I felt a bit of substance and depth was missing. It's still good music.
YouKnowIGotSoul: With all you've been through in the industry so far. You've had a bunch of ups and downs with shelved albums and delayed projects. You talked earlier about how you've been through some turbulence in the industry. How do you view it now?
Glenn Lewis: I'm only human so to a certain extend there was disappointment. I had gotten to the point where I couldn't watch award shows and I didn't listen to music like I used to. I also didn't sing like I used to. I used to sing pretty regularly around the house, and then I just stopped. I think all in all, I'm not disenchanted, I understand that this is life. For a working individual or in any aspect of life wherever you are on the planet, this is what it is, the peaks and valleys. It's the valleys that really put things in perspective and help you to appreciate what you do have. Jeff cut right to the heart of the matter and said "Listen, it's not the music, it's the music industry and the things that come with it." There's a lot of unnecessary dialogue and a lot of people saying no and why something can't work. They can't really even explain it to you. They give a compelling argument for why a particular thing won't work, and the problem with that is, if you never try you'll never know. They end up being proven correct. Now as a result of my experiences, I've sort of developed a different type of acceptance and appreciation for everyone that stuck through it with me. Fans that would send e-mails saying they miss my voice and music. It was always hard because I wanted to, and all of the sudden I was in the position I understood what happens to other artists. Artists I loved coming up, and I'd wonder where they went, now I understood it. I couldn't do it by myself. I just didn't have the right team at the time.
All I ever wanted to do is make music that would carry the torch and inspire and get people through their days. I wanted to let them know they're not by yourself, everybody goes through stuff. Create more solutions rather than reflect on problems. That's what it's always been about for me. I take the lessons from it and don't get discouraged.
Photo Credit: Dexter Cohen