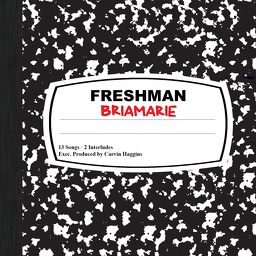 When we were introduced to BriaMarie a few years back, we had a feeling we were meeting someone special. After all, she was being presented by Carvin Haggins, who along with his production partner Ivan Barias, have had a huge impact on r&b over the past decade. In the initial interview we did with BriaMarie along with Carvin & Ivan that night, you can hear her discuss her journey towards creating ethical music.
As many of her peers look to imitate what's popular on radio, it's obvious that BriaMarie is more interested in building a movement that makes a positive contribution to the culture. When you listen to her debut album "Freshman" that Carvin Haggins executive produced, it's clear they went against the grain and created something very meaningful here.
The album is called "Freshman", and the subject matter of the body of work is very conceptual. As BriaMarie masterfully chronicles many of the thoughts going through the brain of a young school student, most will find it extremely relatable. We couldn't help but notice the subtle tributes to Lauryn Hill's "The Miseducation of Lauryn Hill" throughout the album, especially with BriaMarie beautifully meshing her talents in singing and rapping. With an amazing backdrop provided by Carvin Haggins, who had a hand in the creation of each song, the production sounds like a modern version of the Philly Soul sound he helped make famous.
Although the album is sequenced very well and flows from start to finish, there are some real standouts on the project. The first single "Tell the DJ" is a fun and breezy song that is sure to get you grooving. It's especially compelling because it's proof you don't have to sing about getting drunk and turning up to make a fun party song in 2015. "#L2LU" is a very inspirational song where we really get a taste of BriaMarie's amazing vocal talent. "Dopamine" is a masterpiece with lyrics so vivid that it will take you back to the first time you had a crush.
Possibly the most impressive part of "Freshman" is that it is such a pure body of work; this is who BriaMarie is and nothing is forced. In a time when we hear so many artists struggling to find who they are and chase a sound for the moment, Carvin and BriaMarie managed to organically create a project that we can still be proud of 20 years from now. If you're interested in a fresh project from a talented new artist who's interested in making a positive impact on the music scene, than "Freshman" is for you.
"Freshman" is available for Pre-Order on iTunes now!