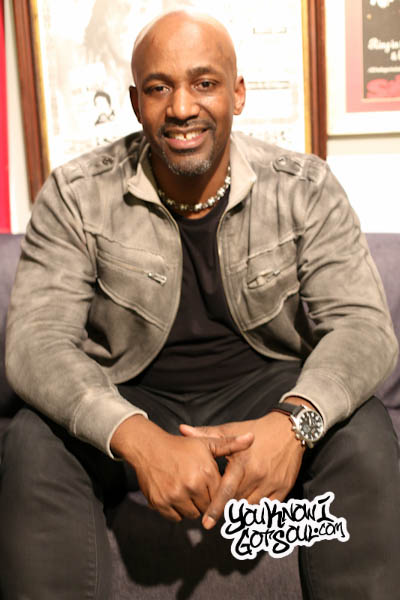 Last week, we had the honor of featuring veteran Gordon Chambers in our monthly Sol Village show. The night was a celebration of his recently released fourth album "Surrender", which came out over five years since his previous project. The album is a testimony to overcoming adversity and serves as a inspiration to anyone that has the opportunity to hear it. For a man who's not only accomplished so much in the music industry, but also overcome a lot as well, who better to tell it. We had the opportunity to sit down with Gordon for an interview prior to his performance and discussed the creation of "Surrender", overcoming tragedy, what he sees in upcoming writers in producers, his previous success as a writer, and much more.
YouKnowIGotSoul: The new album "Surrender" is out now. Tell us about it.
Gordon Chambers: Well, first I just want to thank your site for really supporting this album. You've supported the singles and the album from day one. I really appreciate you being there for me. This is a very spiritual and inspirational album. It's r&b and you can dance to it. I love Mali Music very much, because he's inspirational and cool. I remember growing up listening to BeBe and CeCe Winans albums. They were inspirational but they were cool, you could still play it like an r&b album. That was what I wanted to do with this album. "Surrender" in the spiritual sense, don't fight the flow of things, surrender to what's happening, even when it's something that feels like it's bad. When you surrender to God, or to your higher power, you know that it's going to be ok. When I say surrender, I think I'm talking about faith and perseverance and trust. Life is easier when you have those things in your life to lean upon rather than thinking that you fight all of your battles alone. During the past five years in the making of this album I had a lot of battles. I was grieving the loss of six family members, two friends, one ex. I had friendship break ups which can be very painful when you've been close and you part your separate ways. I made this album in my early 40's where I was thinking where I fight into this ever changing record industry. I really questioned a lot of times my self worth and my place. The songs that I chose to put on this album were songs that I felt were true and honest and transparent. I wanted to talk about what I was experiencing. I felt like if deep inside I was bold and brave enough to share the wounds and peel back the cuts, that I would be healed and other people who had listened to the music would be healed. That's exactly how people are responding and I'm very proud of that.
YouKnowIGotSoul: It had been over five years since your last album. How did you know this was the time to come forward with the new album?
Gordon Chambers: I had been working on this album very slowly but surely. After "Sincere", I felt like that was enough. I had done three solo albums and being an independent artist is so hard. Did I really want to do this anymore? Do people really want this from me anymore? I was really questioning that. I met songwriters. I met a songwriter named Ken Pem. I met him at the gym and he came up to me asking if I was Gordon Chambers and said he was a huge fan of my work. He knew one of my producing partners Troy Taylor. He sent me some songs and one of them hit my heart so deeply that I needed to record it. I just recorded it for fun. There was another songwriter named Jamal Brookens, who two of his songs were on my album. I met his manager at an SOB's event. What happened was just me listening to songs as a songwriter for feedback. I recorded some of it just for fun. Steff Reed wrote the first single "I Made It" which I recorded with Eric Roberson. It was just another song I recorded just to see how it feels. Once I got my feet wet with those three songs, I checked what else I had in my catalog. I went way back. I went to songs I wrote many years ago, some of them in college, that I had never published or had given to another artist. I thought some of them fit the theme. I did over a song called "One Voice" which was recorded by Brandy, because I felt it fit today's political times. So I had about six songs done with different producers and I had half of an album. I thought about doing an EP, but I'm not really an EP artist, my fans would have wanted an album from me. It's been five damn years already. What I did to get the rest of the album was I called another friend, Shedrick Mitchell, one of the most amazing musicians in New York. I told him I wanted to cut some songs. We sat in his apartment, got up some arrangements, and we recorded like 7 or 8 songs in 6 hours. The songs came out amazing. The arrangements were amazing, the band was fabulous. I went and put backing on those and that became the album. Then I started mixing it slowly but surely.
Watch the video above to hear Gordon talk more about the album and his history in music.