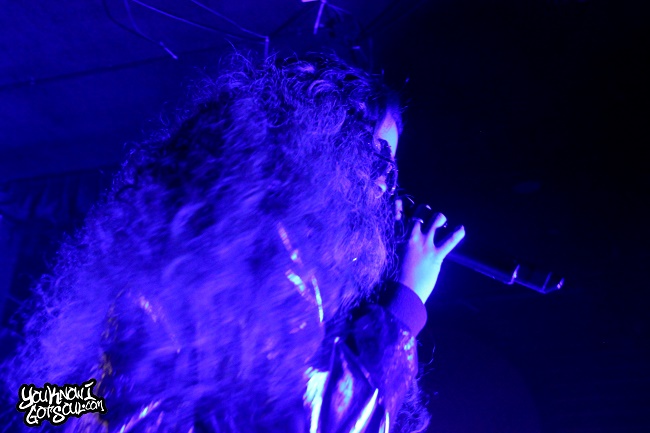 Even though it's been a little more than a year since H.E.R. came out with her debut project "Volume 1", the singer has quickly turned into one of the most popular R&B artists today. Her unique approach with career was viewed as risky at first because her appearance was unknown to the public, but that gamble has paid off as she's been able to create a massive following based on her music alone thanks to the buzz from her projects "Volume 1" and "Volume 2". YouKnowIGotSoul had a chance to interview H.E.R. during her sold out "Lights On" tour to talk about her journey in the music industry, her collaboration with Daniel Caesar on the song "Best Part" as well as her approach and marketing behind her "Volume 1" and "Volume 2" projects.
YouKnowIGotSoul: Talk about the journey and what that's been like for you over the last year or so.
H.E.R.: I released "Volume 1" in September of 2016 and since then, I've gotten so much love and a lot has happened. I just got off tour with Bryson Tiller and now I'm headlining my own tour. I released the "The B Sides" and everyone has been loving that, so I'm just about to work on my album now. Everyone is falling into place for me. I'm feeling really blessed.
YouKnowIGotSoul: When you first started this "H.E.R." campaign, you wanted everyone to just focus on the music but of course your Instagram was always full of "Who is she?" comments. It seems like we're now at that point where we don't see those comments as much anymore and everyone is just focusing on the music.
H.E.R.: I appreciate that. I think that everything went as planned and I'm getting the respect and the appreciation just from my music and that's exactly what I wanted. I'm just thankful for that.
YouKnowIGotSoul: You have the duet "Best Part" with Daniel Caesar. Talk about creation of that song.
H.E.R.: I was actually in a session with DJ Camper and it ended kind of early. I was in the studio and Daniel Caesar came in with Tunji from RCA. That was our first time meeting and he was like "I'm a fan of your music" and I told him I was a fan of his music too. We just started playing our new stuff. I was playing him some stuff from "Volume 2" which hadn't been released yet and he was so into it. We just picked up our guitars and we started talking. That's how "Best Part" came to be. We ended up in the studio until 4 AM. It was really organic.
YouKnowIGotSoul: Your EPs had no features on it. Daniel Caesar is one of your first collaborations, so how selective are you with collaborating at this point in your career?
H.E.R.: I think I'm open to collaboration. I just have to always find myself and make sure I zone in on what it is I want to do and just be in touch with my emotions. Sometimes as an artist it's hard to open up to other people emotionally and that's the kind of artist I am. I like to talk before I write or get into any kind of creation. I just want to talk about my life and my feelings. I'm definitely open to collaboration and I'm definitely looking forward to working with a lot of different people this upcoming year.
YouKnowIGotSoul: Another song you put out is "Rather Be" and it's an interesting song because lot of your records have been really vibe driven, but this is the one song where you really showcased your vocals. Talk about the approach with that record.
H.E.R.: I actually wrote that song when I was 16. It was really an emotional record. I wrote it on keys and I think it was just pure vocals and emotion. I think that's what that was. I decided to put it on the "B Sides" project since it didn't go on "Volume 1" or "Volume 2".
YouKnowIGotSoul: What was the response for that song? You are in that fine line between what's modern and what's classic and here you are coming with a classic ballad.
H.E.R.: I didn't expect people to really love that song. When I ask people what their favorite song is on the "B Sides", they always say "Rather Be", so people are really loving that song. Couples especially love that song.
YouKnowIGotSoul: For a lot of new fans who are seeing you for the first time, I'm sure they're surprised to see you picking up all these different instruments and performing live. But for a lot of your fans that have followed you from even before the "H.E.R." era, they've known about this talent for a long time. Of course there's a difference between knowing someone's talent and celebrating it. At this point it seems like people are starting to celebrate your talents.
H.E.R.: I just honestly just go on stage and have a good time. It's something I've been doing for a long time as far as playing instruments. I've been around a lot of older musicians my entire life and a lot of artists, so just seeing the instruments displayed in a different way through "Volume 1" and "Volume 2", it's just different. I don't think it's being celebrated differently, I think they're now just seeing it differently. I just like to have a good time.
YouKnowIGotSoul: Can you bring me back to where you were in your career before the "H.E.R." era? It didn't seem like you were able to establish yourself as an artist until the "H.E.R." era came along.
H.E.R.: Honestly I wasn't trying to establish myself as a real artist. I never put out a project or anything before "Volume 1". I was just growing up. It was the evolution of woman and I needed to grow. There was only frustration in all of the things that happen when you're growing up as a young woman. I've been signed for a really long time, but there was never that angst of "I need to put out music". I was told myself to trust the process and I knew I wasn't ready when I was 13, 15 or 17. I had to find myself and I've always been H.E.R. That was just the breakthrough and the representation of all those years. I was working and that was really the evolution of me when I finally came out. It wasn't "Okay, now I'm doing to do this". Having "Volume 1" and "Volume 2". showcasing my emotions and finding myself has always been the plan since I got signed. It wasn't so much of a switch up, it was more about me being ready and now I can showcase exactly what I want to do and people can get to know the real me.
YouKnowIGotSoul: So when you look at some of the music you created before "Volume 1", what are some thoughts that come to mind? Are those songs that might still come out?
H.E.R.: I've been recording for so many years. Like I said, it was really the evolution of me. Some of the songs were made when I was 16, so all of these songs are a collection of stuff that I went through throughout the years. I guess the earlier stuff won't make sense because I was so young and I'm in a different place now, so I finally found those songs that were cohesive and fit into the world of now but were still me.
YouKnowIGotSoul: With everything that has happened with your career so far, what are you most proud of when it comes to this "H.E.R." era?
H.E.R.: I'm proud of just building that fanbase and that love for music. In this era, we're in this anti-star world and it's really not about the looks and association. It's about the music and people are free to do whatever they want and people will accept it as long as they're true to themselves. I'm just proud that I've been able to stay true to who I am and be truly honest in my music.
YouKnowIGotSoul: There's a lot of talk online about this artist named H.I.M. If you could clear the air, is there any connection between you and him?
H.E.R.: No, not at all.
YouKnowIGotSoul: Bryson Tiller has said that you'll be the person to bring R&B back. One thing I really appreciate about you is that you really champion R&B where as lot of artists shy away from the R&B title, so do you feel like there's a responsibility on you to bring R&B to the new generation?
H.E.R.: I think R&B is doing that on its own. I don't think I have a responsibility, but R&B is everything. It's just about being in touch with that and being proud of calling it R&B. I'll always be R&B at the core no matter what I do. I think Rihanna is R&B at the core, but she's still able to do other things. She's still Rihanna so R&B lives in everything and everyone. There's music like mine, SZA, Sabrina Claudio and Kehlani that really pay homage to 90's R&B and showcase that vibe and that aura.
YouKnowIGotSoul: What can we expect moving forward?
H.E.R.: I'm hoping January or February, I'm going to lock in and really focus on getting the best album after "Volume 1" and "Volume 2". It's going to be really hard for me because I feel I set the bar pretty high for myself, but I'm excited. Me and Camper will definitely do some stuff.