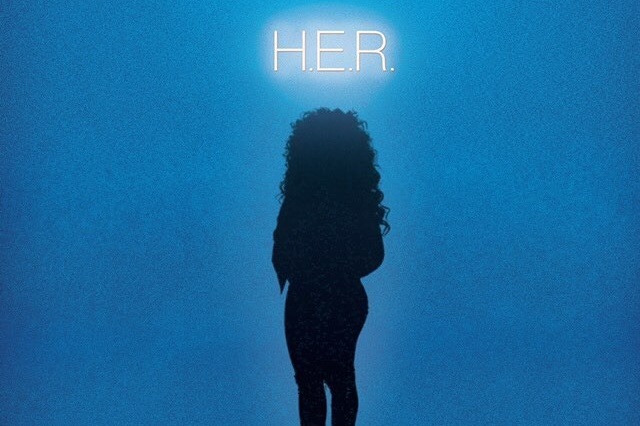 Simply put, H.E.R. has been a breath of fresh air for R&B. Ever since releasing "Volume 1" late last year, fans have been trying to learn more about the faceless artist. Her mystique has obviously helped her generate some buzz as a new artist, but it's songs like "Losing" and "Focus" that have helped propel her to new heights. With help from DJ Camper, H.E.R. is on her way to becoming one of the top stars in R&B with her understanding of old school R&B along with her trendier sounds. YouKnowIGotSoul had a chance to talk to the mysterious artist about the release of her two projects, her chemistry with DJ Camper and the importance of real instruments in her music.
YouKnowIGotSoul: You've really created quite a buzz over the last year, but talk about the birth of H.E.R.
H.E.R.: I guess it's really been a process throughout the past 5 years of my life. It was just stuff that I went through and being able to be in the studio for so long and developing as an artist, but also going through these things, I was able to go into the studio and talk about it with my producers DJ Camper and Swagg. It just organically turned into this dark period and I wanted to really express that in music and be low key about it, but it ended up turning into something else which I'm so grateful for. It was something that I was going through and it ended up translating.
YouKnowIGotSoul: Talk about the creative process between you and DJ Camper. He's one of the top R&B producers in the game right now and he's done a lot for other artists, but your sound with him is very distinctive.
H.E.R.: Camper came and I had one song written in keys and he was like "I have a dope idea for it as far as the track". He came and made the track and it was really awesome. It's really organic. We're in the studio talking and we're vibing. Sometimes he's on keys and sometimes I am, but we just vibe together and see what happens.
YouKnowIGotSoul: Your sound is a fusion of the current sounds as well as the classic R&B production. How were you able to bring both sounds together?
H.E.R.: That was definitely intentional because I'm such a lover of old school music like 90's R&B and the 70's. I'm a huge Prince and Stevie Wonder fan. They write amazing love songs and they're so in touch with how they feel. That's what I've always wanted to do. I want to write amazing songs that people can relate to and I think that's so important. It has a lot to do with the production and listening to current stuff. I'm a huge fan of Bryson Tiller, Jhene Aiko and Miguel. Those influences mixed my background listening to the old school artists just meshed together and I had the right people around me to bring it all together in a cohesive project.
YouKnowIGotSoul: You're a younger artist and of course you have your younger fans, but I know a lot of Urban AC fans love your music as well. Did you expect that?
H.E.R.: Not at all. I didn't expect it at all and I appreciated that. I feel like people call me an old soul and it's just showing that older women can relate to the music. It's amazing.
YouKnowIGotSoul: Vocally I hear a lot of influences like Alicia Keys, Brandy and Jazmine Sullivan. Talk about these influences and the importance of them to your career.
H.E.R.: My manager Jeff Robinson managed Alicia Keys and Brandy. Those were my big sisters growing up too even on a personal level and I looked up to them. I've always loved Jazmine Sullivan and great vocalists. My two background singers are gospel singers and I've looked up to them my entire life. I've always been a fan of great singers.
YouKnowIGotSoul: "Volume 1" started off slow, but it took off in a big way shortly after. In terms of your timeline, did "Volume 1" go as fast as you expected?
H.E.R.: Honestly it went a lot faster than I expected. I didn't really expect much. I was just creating music and I just wanted people to organically love it. It was mostly for me. Yeah, I didn't expect all the attention it got. It happened really quickly and it's still surreal to me, so I can't even tell you how I'm feeling about it. I'm still in shock, but I'm just grateful.
YouKnowIGotSoul: Individually the songs on "Volume 1" are great, but it's collectively and the way that the project was sequenced that really caught our attention. You started the project off with "Losing" which is the one everyone grabbed onto right away, was that done intentionally?
H.E.R.: I guess so! It was the most personal song and I felt like it was the right song to release first.
YouKnowIGotSoul: "Focus" is a song that everyone seems to love, so talk about the creation of that song.
H.E.R.: I guess I was going through something and it needed to be said. I just knew the females would really mess with that song and relate to it, but even just the tempo and the vibe, you can relax and sip some wine to it.
YouKnowIGotSoul: What was your mindset like when you were creating "Volume 2"? Obviously it wasn't going to be the same as "Volume 1" in terms of feeling because that was your introduction, so what was the approach?
H.E.R.: My approach was more optimistic. It was definitely more optimistic about love and life. It's a lot brighter, but still vulnerable.
YouKnowIGotSoul: What were you trying to do with "Volume 2"?
H.E.R.: Nothing was too intentional on "Volume 2" because I think some artists when they have a popular project, they try too hard to do something else. I just created what I was feeling at the time and that's when you get the best music. When you don;t have expectations and you don't listen to other people, that's when you make the best music. It's a vibe and I had to listen to my heart on the second one.
YouKnowIGotSoul: As we were getting ready for your performance, we were trying to figure out how your music was going to translate live because your songs are very dark and moody. However we saw you on stage playing the keys and guitar. How important is the live instrumentation in your career?
H.E.R.: It's so important. I feel like that might be what separates me from a lot of people because I care so much about live instrumentation and the dynamics of the show. I'm super heavily involved in my show and creating the transitions from songs. That's important to me and it matters. A lot of artists forget that process.
YouKnowIGotSoul: You've hidden your identity because you wanted everything to be about the music. What's the feedback been like from your peers with this approach you're taking?
H.E.R.: At first they didn't get it. They were like "Why would you do that?" but I just felt like it was necessary and it was what I really wanted to do, so I could be whoever I wanted to be. I want people to accept and love the music before trying to get into who I hang out with and what I wear. The music is who I am. You should be able to get to know someone with your eyes closed. That's what the concept is.
YouKnowIGotSoul: What do you think is the key to keeping this momentum that you have?
H.E.R.: Just keep creating music and not think too hard about it. Also just stay true to myself and live life. It's all about creating.
YouKnowIGotSoul: What's next for you?
H.E.R.: Definitely an album and my own tour coming up!