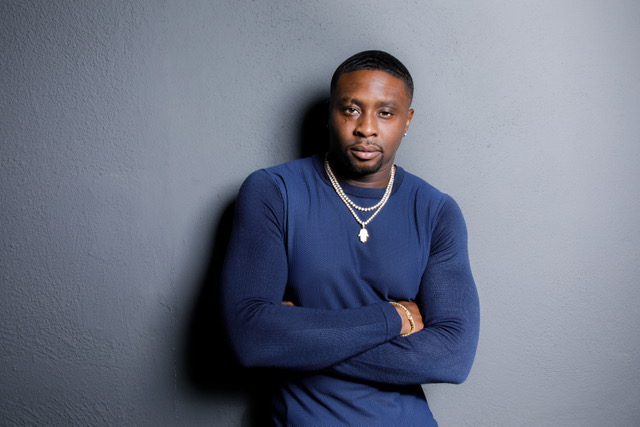 As R&B has gone through its up and downs over the past decade, we have seen many producers disappear from the scene. One producer who is still doing major damage is Harmony Samuels (better known as H-Money) as he's continued to evolve with the genre. From his early work with Chris Brown, Fantasia and Ariana Grande, Harmony is showing no signs of slowing down as his work with Major, Robin Thicke and new R&B singer The Bonfyre has really caught everyone's attention. YouKnowIGotSoul had a chance to speak to the producer on his upcoming work with The Bonfyre, his work on Robin Thicke's new single "When You Love Somebody" and his thoughts on where R&B has been these last few years and what he sees as the future for the genre.
YouKnowIGotSoul: Talk about working with Robin Thicke on "When You Love Somebody" because that song is everything we love about R&B.
Harmony Samuels: I mean Robin Thicke is a musical genius. His experience in the music business and as a musicianship is second to none. He embodies music and when we were working with him, I think it was a match made in heaven because we're exactly the same way. When he saw the team all picking up instruments and playing, he was just excited. We actually had this string patch and I started feeling this groove on the bass guitar and Robin Thicke jumped in on the keyst. Then the rest of the team jumped in and before you know it, we had this beautiful ambience of music. It feels like a live band because it somewhat is. We just modernized it to make sure it fit with today's music scene, but we wanted to capture the essence of the 70's and 80's with the live instrumentation. Robin is a real soul man, so he wants to hear those instruments go.
YouKnowIGotSoul: How was the collaboration process with him? Both of you guys have some hits under your belt.
Harmony Samuels: His energy and mine are similar in the sense that we both just love music. It's not about the plaques on the wall, we went straight to the music! It wasn't "What have you done?", it was straight music. He wanted to hear the music that we've worked on and I wanted to hear some of his which was incredible. He was like "You get it!". Funny enough, ten years ago when I was discovered by Rodney Jerkins, I met him then when he was working with Rodney at the time. I always said "I can't wait to work with him one day" and that day came! It's incredible and we have such an amazing relationship. When he was finishing the record off, he made changes just to make it better. He would sit down and say "I can make it better". That's why it sounds so perfect, he spent so much time on it. He facetimed me one time at 11:30 at night and I was about to head home and he was like "Yo man, I think we should make some changes. Can we pull up the session?". he was like "Add them chords and put bass in here" and this is all going down on FaceTime. We went and did that until 2 AM. He was a bundle of joy and he loves his family. Working with him is definitely inspirational and we've got so many more records to come too, so I'm excited about that.
YouKnowIGotSoul: Another artist you've been working with heavily is The Bonfyre. Her debut reminded us of the work that you did with Ariana Grande early on, but the new song "U Say" with 6LACK is completely different. Talk about what you're doing with her right now.
Harmony Samuels: We didn't know what was going on with Bonfyre when we made that first EP. We wanted to have a mixture and "Ready To Love" was one of the popular ones, but "Automatic" ended up being a number one record. We figured out her initial audience and now "U Say" is the record that will make people pay attention to who she is. The feature with 6LACK is the perfect marriage between two millennial artists because he has his singing rap and then Bonfyre comes with her soulful vibes. We just wanted to mix both worlds and there's still throwback R&B in it, but we definitely went for a more futuristic sound with it. "U Say" is such a powerful song and the message behind it, it's so relatable for both males and females. Bonfyre always said she wanted to talk about the relationship she never talked about. I think "U Say" was one of those songs that touched on issues that she had experienced and a lot of us have too. It's amazing to see the reaction to it and I think we're going to see a lot of Bonfyre because of this song. The album sounds amazing and she has some real strong records coming.
YouKnowIGotSoul: Will her project sound more like "Ready To Love" or "U Say"?
Harmony Samuels: Not so much "Ready To Love" because that may be a little too Pop for her. We're going to the dark side this time. There are a few groove up-tempos, but the sound is a little darker and a little more mature. It's heavy on the drums and definitely some great electric collaborations are coming because Bonfyre is an interesting one. She can blend between the old and young. She's on tour with Tank, Fantasia and Robin Thicke but she's also in tuned with Lucky Daye, 6LACK, H.E.R. and that circle. She has an interesting trajectory and the music kind of works on both spectrums. I'm very excited for her and really interested to see what people say about this album. The one thing I love is that she has great songs. They are songs you can sing along to and that's the one thing I love about her, she's definitely telling her story.
YouKnowIGotSoul: You gave Ariana Grande her initial sound and now you're doing it with The Bonfyre. Of course you also have your artist Major as well. Is it exciting for you to be the startup to these artists' careers?
Harmony Samuels: It's always exciting because it's that risk. You're betting on yourself and your team. You're betting on your talent and you're the wildcard that no one is paying attention to. I did it with Ariana Grande and I remember one executive called me and was like "You messed up my whole schedule. I have to pull my female artist down because this Ariana Grande song literally has changed the face of Pop music". It's the same thing with Major. He came out and no one saw him coming with this huge ballad called "Why I Love You". It changed the trajectory of music. It's the same thing with The Bonfyre, no one expected her to hold that space and it confused people like "Who is she? Where did she come from?". I love doing it because it keeps the ground fresh and the game open. I love creating opportunities for those that haven't made it. Somebody like Barry Gordy when he had Motown, they were just creating hits for people that no one knew and they became colossal superstars. That's really the goal, it's about opening the doors for people who might not have it.
YouKnowIGotSoul: You've been in the game for a minute now. Talk about what you've seen as the evolution of R&B over the last few years.
Harmony Samuels: We're seeing so many beautiful artists come to life. We've seen so many cultural acts really come to life. Soul and R&B music have really been given a new space. In 2012-2013, people were telling me R&B was dead and no one listened to it anymore. We were advocates for it and we stuck by it, so we gave birth to Ariana Grande. Now we have H.E.R., Ella Mai, Sabrina Claudio and so many more R&B acts. I think it's going to go mainstream very soon and we are still involved in it. There's still so much space and growth with R&B. What happens with R&B as always, it grows and goes mainstream and then Pop fades again. That's where we are with it and I really believe that the thing that's happening right now is an opportunity being created for new acts to have a chance. We may have a new Usher, Chris Brown, Beyonce or Rihanna. We didn't have an Ella Mai four years ago and now she's one of the biggest R&B stars in the world. Also being involved with the Afrobeat side of things and blending that type of genre. We did Rotimi's single called "Love Riddim", so R&B and Afrobeat could grow into something too. I'm really excited about where R&B is going and I think it's going to become the new language for Pop music for this generation.
YouKnowIGotSoul: How have you continued to push with your career as R&B has changed so much from the 90's?
Harmony Samuels: You have to evolve. I used to complain as well like "This isn't R&B". Timbaland told me that I have to evolve with music. You can't fight it because the kids are the future. You have to listen to it, evolve with it and then improve it. Songs are two minutes long right now, but in the Motown days, those songs were two minutes long too. History is just repeating itself, so now it's just "I'll make better records in the two minutes and make it great". That's what we've been doing and it's actually interesting because in streaming language, it's actually better for a song to be two minutes and a half long. You keep a person listening. Sometimes when a song is too long, you don't want to listen to that song again. I've noticed I can listen to a song 30 times in a row because it's short. I think for streaming purposes and it's the new way for music, it actually makes mathematical sense. The new songs that are coming out from us, they are no longer than three minutes but they're going to be some of the dopest three minutes you're going to get with bridges and all. It'll be like a journey in those three minutes. You just have to evolve your mind. Some things you can't change, some things you just have to adjust to.
YouKnowIGotSoul: Who else are you working with?
Harmony Samuels: We've got Janet Jackson right now. She's evolved into this iconic legend, so we're just matching that legend with the music. "Made For Now" was a universal record that worked across the world. We're going to continue that universal walk. I know Bruno and SZA are on table for collaborations with her, so we're excited for that. Our main thing that we're working on is her songs. It's not easy working with Janet because she's so iconic and so genre-less. She can go from R&B to Pop to Rock and she can fit in it because it's all Janet. We're trying to make sure those pieces all work and make sense. We're also working with DRAM and 2 Chainz. We're working with Lucky Daye as well. I'm working on my label too. It's my own little Motown and Major is the first artist on there. We've signed some new acts that we're really excited about.