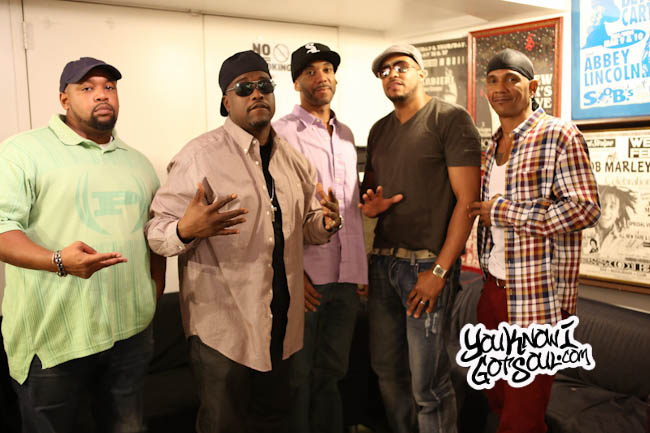 It would have been very easy for Hi-Five to call it quits as a group and cease to exist following all of the ups and downs they've had in their career. Most notable was the tragic passing of original group member Tony Thompson, who was working on new music with the group before he left us. It's now over 25 years since the group's breakout hit "I Like the Way (The Kissing Game)" and they're still moving forward. They released a new EP in 2014, and are working towards a new album. YouKnowIGotSoul sat down with the group prior to their performance at our Sol Village show in NYC and discussed the obstacles they've faced, creating new music now vs the new jack swing era, moving on without Tony Thompson, and much more.
YouKnowIGotSoul: Talk about the new single "Kit Kat" you have out which you just released the video for.
Hi-Five: The song came up in a writing session. We felt it was the right song for Hi-Five. We got in the studio and everything snowballed and evolved from there. We made it happen.
YouKnowIGotSoul: What new music do you guys currently have in the works?
Hi-Five: Definitely a new project in the works. New songs, new singles. We're just on the grind trying to make this comeback a real viable situation.
YouKnowIGotSoul: Talk about the comeback and what's gone into it. How much of a challenge has it been?
Hi-Five: It's definitely been a challenge, being out of the game for a while. We've made good music that people still listen to, so they have certain expectations. We try to bridge the gap to keep the fans up to date and caring. We're working, we're still trying to put good music out that the fans can enjoy 20 more years later.
YouKnowIGotSoul: Talk about the evolution of the group throughout the years.
Hi-Five: We definitely have been through member changes over the years. We've had many obstacles. Being an original member from day one, it's definitely been an experience. It's good to have brothers around me that like to do music. We have good chemistry and we want to keep the legacy alive.
YouKnowIGotSoul: Talk about how adding new members and growing as individuals has led to the evolution of where your music is at now.
Hi-Five: It definitely applies to being a teenager back then, and being a couple of years older now! *Laughs* We're able to talk about different subjects that we weren't before. As far as the sound, we try to keep the same format and tone and quality.
YouKnowIGotSoul: You guys talked about keeping the Hi-Five legacy alive and keeping it going, was there ever a point where that wasn't going to be a reality?
Hi-Five: We definitely dealt with the obstacles we had, we lost sight of some things and lost focus. But God's will, things brought us back together.
YouKnowIGotSoul: Talk about what the EP you guys released a few years back allowed you to accomplish.
Hi-Five: We were able to accomplish a lot. It enabled us to reach back to our fans and let them know we have new music and material we're working on. We were able to open a lot of other doors as well. We were just knocking on the door. We wanted to thank you guys, because you've been behind us for a minute.
YouKnowIGotSoul: Talk about the New Jack Swing era which you guys came out of. There are still fans to this day who crave that sound and hold it as one of the best times in r&b. What was it like coming out of that era?
Hi-Five: It's like no other. It was fun. Back in those days, music was music, the whole game was fun. The whole industry. Touring was better, there were real tours. There wasn't a lot of flying, you were getting on a bus going city to city. We were able to open doors with the EP, and let the fans know we're still working the EP. "Kit Kat" is on the EP as well. A lot of people don't know the EP is out, so we were able to still capitalize and continue to use the music we have out. It's still fresh and new to a lot of people.
YouKnowIGotSoul: Talk about working this project, in comparison to working an album in the 90's.
Hi-Five: We're still adapting. Technology changes everything. We were signed to Jive Records and RCA. Those are big companies. Right now we're independent. So we see all the work that's done. It's big money that goes into it.
YouKnowIGotSoul: Being successful in that New Jack Swing era, how important is it to keep some of those elements in your new music?
Hi-Five: Very important. We have our own style, so we like to make sure we stay with that. We're updating it a bit, but for the most part, we keep it the way we've done it back in the day. That's how we've got that sound when you hear it today. We keep it Hi-Five.
YouKnowIGotSoul: How special is it to you guys that here we are a couple of decades after your debut and you're still in demand and people still want to hear your music?
Hi-Five: It's just a blessing. It's a great feeling. We like to take our fans back to when New Jack Swing was first introduced. The feeling that you get from it. That's what we want to do, take them back to a real place.
YouKnowIGotSoul: Talk about what it was like moving on as a group without Tony Thompson.
Hi-Five: Still to this day, it weighs heavy on me. I just have to remember I'm doing this to keep his legacy alive and keep good music generating from that. It's very difficult because that's a brother and family member that passed on. It's very tough even today. If we don't do music and shows, then there's a chance you'll forget. Now, the legacy is dying. So that's not cool. So we have to keep putting out music so his legacy and our legacy continues. Hi-Five is part of our legacy. To sit there and do nothing won't do justice to us or the fans who helped make us number one. We owe it to the fans to continue to do the music because if it wasn't for them we wouldn't be here. Also, it was his dying wish. Before he passed away, we were working on a new Hi-Five album. It's only right to continue to do that.
YouKnowIGotSoul: Anything you'd like to add?
Hi-Five: Thank you for your time. Thank you to all the fans. Make sure you reach out to us on Facebook, Twitter and Instagram. @OfficialHiFive