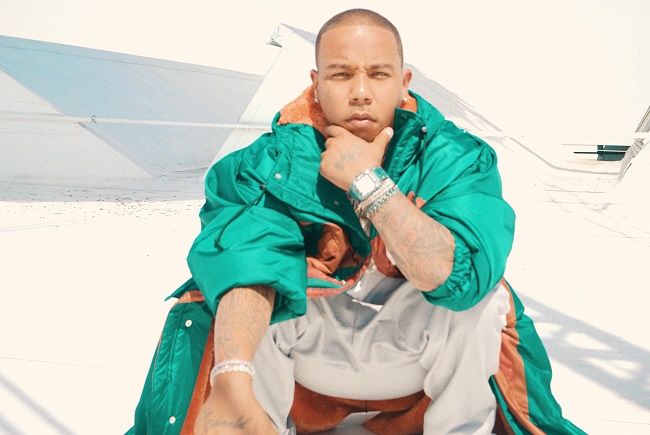 Nothing really surprises us in the music industry, but we were definitely shocked when we found out that Yung Berg went from being a a rapper from the 2000's to one of the biggest R&B producers in the game. The artist Yung Berg decided to throw in the towel a few years ago and put his focus into producing and songwriting for others which has led to a bunch of hit records for the likes of Chris Brown, Big Sean and Jeremih. YouKnowIGotSoul had a chance to talk to Berg (now known simply as Hitmaka) about his transition from artist to producer. We also talk about his role as VP of A&R at Atlantic Records as well as his creative process in the studio.
YouKnowIGotSoul: A lot of people don't know that you've produced some of the biggest R&B songs on Urban radio over the last year. What are some R&B albums that inspired you growing up?
Hitmaka: Anita Baker's "Rapture", Jodeci's "Diary Of A Mad Band" and Donell Jones "Where I Wanna Be" just to name a few.
YouKnowIGotSoul: We know you as the artist Yung Berg, but you're now the biggest producer on Urban Radio with a lot of number one records. How did you make that transition?
Hitmaka: I really have just been putting in work for the last five years. I've been making my way up on the charts. Over the past three years, I've had multiple number one records. I think my first number one was Big Sean's "Bounce Back" and then the next one was "Party" by Chris Brown. Then I had "Dangerous" by Meek Mill and I have a lot of different number ones. Then I got my gig at Atlantic Records and I've always worked heavily with Jeremih. Then I started working with Ty Dolla $ign and here we are now.
YouKnowIGotSoul: You're currently the VP of A&R at Atlantic Records. What made you want to go into the executive side of the music business?
Hitmaka: I've always wanted to be an executive from the beginning. What that being said, I was able to get those records we spoke about. Having those records, I was able to meet Craig Kallman and Julie Greenwald. They brought me into Atlantic and over the last couple of two years, we've sold 15 million records. It's just blessing to be with people who have the same energy and goals that I have and they're able to put me in a lot of good places and I was able to capitalize on it.
YouKnowIGotSoul: Take me through your creative process when creating an R&B song.
Hitmaka: We just go in and shoot melodies. I write lyrics with my partner. He's like one of the best with the melodies that I've ever worked with in my whole career. We come up with these records and then people like Jeremih or Ty come in the studio and they cut all the records. I'll have a plethora of records. We'll probably do ten a night and they'll keep three or fourth of them. Then I'll have seven to move around and shop and the process will just continue and turn into songs that are on the radio now that somebody may have passed on. Then someone will have new records for themselves.
YouKnowIGotSoul: You brought Tinashe into a new direction with some of the records you guys have done together. How do you bring an artist on board with what you want to do?
Hitmaka: The hits. *Laughs* I think people have grown accustomed to trust what my taste level is. So artists are reaching out to me and we're collectively coming up with the ideas. They'll tell us "This works for me and this doesn't work for me" and it's just that type of process. It's not more so like we go in and cut from scratch. I'll go through the archives or a record and we have or some beats that may be fitting, we'll just do it on the spot and the artist will be like "I love this" and we'll cut it.
YouKnowIGotSoul: How do you choose what to sample from the 2000's era because you're probably one the first to do it?
Hitmaka: They're just songs that I love and grew up on. It's not like an artist is coming to me and saying "Hey, can you re-do this song to me?". Most of the time, they're just songs I collaborated on with my Paul Cabbin and Cardiak. We're just like "I want to do this" and I trust them. We'll take it from there and create a record.
YouKnowIGotSoul: Your records are actually being played on radio. A lot of people don't put the emphasis on that anymore, but being that you're an executive on a major label, is radio still important?
Hitmaka: Radio is the most important thing to me because I grew up as a radio baby. I love radio and I also do love streaming for what it does for your career and what goes on. For the most part though, radio is the most important thing that just captivated me growing up and my creation of these records. I always wanted to be on radio. I love streaming and that platform too. I've done a billion streams with songs I've written or produced, but I definitely have an affinity and love for radio.
YouKnowIGotSoul: How important is it for you to get the first single on a project?
Hitmaka: It's the most important thing. I probably won't do it unless I have the first single unless I'm doing multiple songs on the project. That's not from a cocky perspective, it's more so like I have the pulse on what's going on in the music industry. I think it's best in an artist's best interest and mine for us to jump off and have a crazy record springboard and be the first single off the project. I aim for that at all times.
YouKnowIGotSoul: Talk about creating the Teyana Taylor record "How You Want It?".
Hitmaka: I came up with the idea with my guy Boogz and then we produced the record with Cardiak. We chopped up the sample and Paul Cabbin re-played everything. Then I got with Teyana and Eric Bellinger. They wrote that song actually, I just co-produced it.
YouKnowIGotSoul: You also did Chris Brown's "Come Together" with H.E.R. How did that one happen?
Hitmaka: That was a demo by myself and my artist Rocky. It was something we had that we were cooking up. I actually went to Chris' house to see him because we're frequent collaborators. Even on the last album before "Indigo", we did like 20 songs on that album. He ended up cutting 20 records on this one and he hit me back and told me H.E.R. was on this one. We mixed that record and that's one of my favorite ones as well.
YouKnowIGotSoul: What do you have coming up?
Hitmaka: My new single is called "Thot Box" with Meek Mill, 2 Chainz, Tyga, A Boogie Wit da Hoodie and YBN Nahmir. The next single is on the way and my artist is on one of the singles. I'm just loading up for the project. What else to be aware of is that I probably have 14 more singles from artists in the game. I'm just preparing for the rest of the year and putting in the work to dominate 2020. I'm also working on new Ty Dolla $ign and Jeremih. I also did half of Trey Songz's new album.