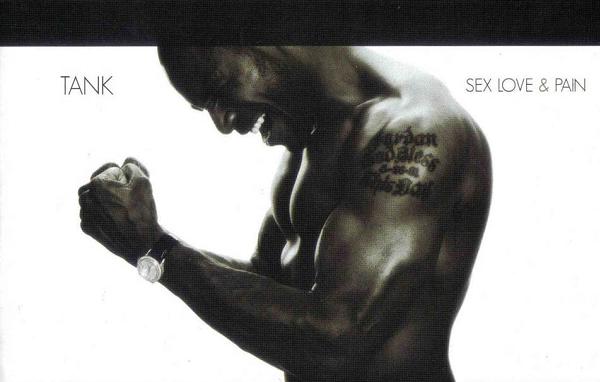 R&B star Tank is preparing for the release of his seventh solo album, set for release on January 22nd, and he's boldly decided to title it "Sex, Love & Pain 2" or "SLP2" for short. As many will realize, this is the sequel to what many consider his best album, the classic "Sex, Love & Pain" which he released in 2007. Although he's released three albums since (not included with TGT), none have managed to reach the heights he achieved on that body of work. Ironically, he was set to release an album called "Sex, Love & Pain 2: The All Night Experience" following the original, but most of the material from the album leaked and he was forced to scrap it. Now as Tank prepares to release this very important album to his career, we take a look back at the original and see what he can learn from the original to make this one a classic as well. First things first, he must….
Be Tank Again
He spent his past three albums experimenting, and it's time to get back to what defines Tank. On "Now or Never" it was the uptempo "Sex Music" and Drake collab as singles. On "This is How I Feel" it was the progressive sounds. On "Stronger" it was the whole happy, dance vibe. Not bad music at all, but maybe not what his fans were expecting. One thing they'd surely like for him to do is…
Get Back to Sharing His Pain
Tank has always been at his best when he's been vulnerable on a song, and perhaps the best example of that is "Please Don't Go" from "Sex, Love & Pain". In fact it was Tank's honesty in admitting to his fault that Tank originally built a fan base out of starting with his debut single "Maybe I Deserve". That same passion and pain were embedded all over the original. Tank needs to get back to that raw emotion on "Sex, Love & Pain 2", and to do that, it would be advisable for him to…
Bring Lonny Bereal and Luke James Back on Board as Writers
Tank is a highly accomplished writer in his own right, penning hits for himself and others across r&b. However, he was at his best on "Sex, Love & Pain" when bouncing ideas off of young and hungry writers (and now artists themselves) Luke James and Lonny Bereal. Although Tank could write an album himself, successfully working as part of a team once again will surely add to the dialog. With the vibrant lyrics in place, Tank must also make sure…
Song Sequencing and Cohesion Are On Point
Part of the brilliance of "Sex, Love & Pain" was that it essentially covered all facets of a relationship as each song progressed. The catchy interludes and song intros really served to tie the whole album together, giving it a cohesive feel. Next, to give the album a sonic that vibes throughout, Tank must…
Link Back up With Producers The Underdogs
The Underdogs handled the bulk of the production on "Sex, Love & Pain" so it was no surprise that the project had one streamlined sound from start to finish. Following the release, Tank would only collaborate with Harvey Mason Jr., Damon Thomas and the rest of the crew on rare occasions. You really got the feel that everyone involved in the creation of their project was locked in, and in their prime. Producers aren't the only thing Tank should be stingy about on the new album, he should probably also…
Avoid Guest Features
Although Tank chose Wale as a featured guest on "You Don't Know", the first single from "Sex, Love & Pain 2", he really doesn't need any to shine. In fact when it comes to singers, there aren't many who Tank couldn't outclass on a duet. The original "Sex, Love & Pain" had no featured guests, and allowed the listener to completely indulge in Tank's lush vocals. And for the final step…
Sign Back With Blackground Records…
Just kidding of course, as Atlantic Records is a great home for Tank. "Sex, Love & Pain" was his final album release on the now defunct Blackground and he's gone to new heights since. However, what he can learn from the release was that going big with the first single really drove the album. "Please Don't Go" became a #1 single and opened the doors for the album to become a big hit. Finding that magic again and pushing it is something that could work again.
The truth is, there are very few artists in r&b who have the ability to create timeless music like Tank can. We highly anticipate the new album "Sex, Love & Pain 2", and whichever directions he plans to go in, we'll be there to fully support.