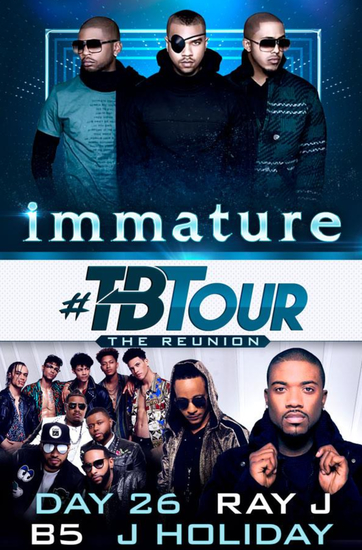 On the heels of the wildly successful Millenium Tour headlined by the reunion of B2K, it appears we have another exciting tour on our hands. The #TBTour features the reunion of Immature (Marques "Batman" Houston, Jerome "Romeo" Jones and Kelton "LDB" Kessee) with special guests Ray J, B5, Day 26, and J Holiday.
Although dates for the tour have not been announced yet, venues are currently being secured behind the scenes. The show is being put together by the producer and creator of "The Millennium Tour", G-Squared Events, and is set to kick off this fall.
This is not the first reunion for Immature aka IMx. The group came together back in 2014 to release the return EP "Remember", but have been quiet since. In case you missed it, we interviewed the group at the time of the release to discuss that reunion.
Stay tuned for the dates for this exciting tour!