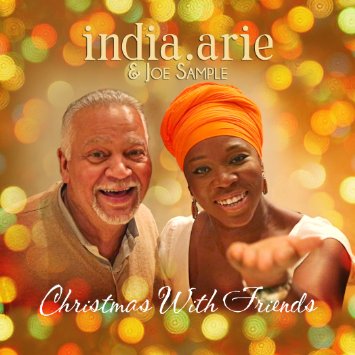 India Arie has just released her first holiday album, "Christmas with Friends". The project is a collaboration between the Grammy Award Winner and Jazz Legend Joe Sample along with producer Aaron Lindsey. Included in the 10 song set are special guest appearances from r&B stars Brandy, Kem, Michael McDonald, Tori Kelly, Dave Koz, Trombone Shorty, Kirk Whalum and more.
The album first came to life when Arie first met Sample back in 2012 at the Curaceo Jazz Festival and got the courage to ask him to collaborate. Christmas wasn't on her mind at the time – but two years later, the pair decided to take the advice of their families, who had been hounding each of them to record a holiday album.
"The sound of Joe's piano and his special chord voicings always struck the perfect balance of peace and inspiration for me," says India.Arie, who dedicated the "Christmas With Friends" album to Sample. "I wanted to use my voice in new ways that would complement his aesthetic."
The two began recording "Christmas With Friends" in February 2014, led by producer Aaron Lindsey. Together, they created a bright and breezy take on album opener "Let It Snow" and a stripped-down edition of "The Christmas Song." They were met in the studio by Brandy, whose powerful backing harmonies bring a fresh touch to the traditional carol "Silent Night," and fellow Motown standout KEM, who duets with India.Arie on an ultra-romantic rendition of "Have Yourself a Merry Little Christmas." Sample passed away before the album was completed, but the four songs that he played on set the mood for a holiday album that is packed with with natural spontaneity and unexpected pairings.
The album is available for purchase here
Christmas With Friends Album Track Listing
1. Let It Snow feat. Joe Sample
2. Favorite Time of Year feat. Tori Kelly
3. Silent Night feat. Joe Sample & Brandy
4. Have Yourself A Merry Little Christmas feat. Joe Sample & KEM
5. Merry Christmas Baby feat. Michael McDonald
6. I've Got My Love To Keep Me Warm feat. Dave Koz & Trombone Shorty
7. The Christmas Song feat. Joe Sample
8. God Rest Ye Merry Gentlemen feat. Khristian Dentley of Take 6
9. Mary, Did You Know? Feat. Gene Moore
10. Auld Lang Syne feat. Kirk Whalum