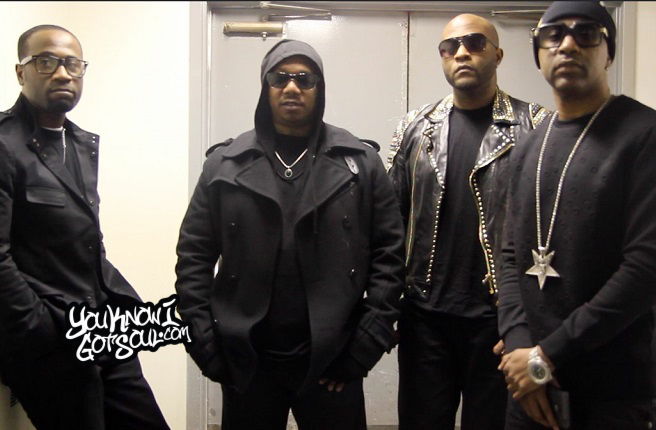 You may have seen 112 at a city near you as they're currently touring the world to perform hits from their catalog. Judging from the amount of people who are attending these shows, you would think that 112 has been putting out music. However the reality is that 112 hasn't put out an album in nearly a decade. So the fact that they're still packing shows is quite remarkable but it isn't surprising at all if you look at the impact that the former Bad Boy artists have had on R&B. They were one of the top male R&B groups in the late 90's and their legacy is as strong as ever. YouKnowIGotSoul had a chance to talk to 112 about their reunion tour and their plans for new music in the future.
YouKnowIGotSoul: You guys have been on tour for a couple of years now. Talk about the tour and how it all came together.
Mike: The tour has been amazing and the crowd has been amazing. Everything, for lack of a better word, has been amazing. We're taking the time to really listen to the fans and see exactly what they want. They want to keep 112 alive, so this is for the fans.
YouKnowIGotSoul: When I talked to you guys at the Essence Festival last year, you mentioned how you wanted to be touring like New Edition. How does touring help the legacy of 112?
Slim: It's all about consistency. One you've already laid down the foundation like we already have, we've sold over 20 million records, it's amazing. We just keep it moving and the fans are rooting for us.
YouKnowIGotSoul: Is the touring going to lead up to new music in the future?
Slim: Never say never. This is the best foundation right here and 112 doesn't do things just because. When we do something it's going to be a problem.
YouKnowIGotSoul: Your last album came out in 2005. Let's say that "Pleasure & Pain" was the last 112 album, would you guys have been happy ending it off with that CD?
Slim: Yeah, we would be the only group that sold platinum every album. If you're talking about a legacy, that's one of them.
YouKnowIGotSoul: Each member has gone on to do some solo projects. How helpful are those solo projects for the 112 legacy? Does it strengthen the brand?
Slim: I can definitely speak for that because that's definitely the case. To have a top 5 record and if you've noticed, every time we come out, it's always Slim of 112. The brand is always there, so like "So Fly" was a top 5 record in the US and the album was top 10, that's still 112. The legacy still continues, we don't lose.
YouKnowIGotSoul: All of you guys had such different sounds on your albums. How does it work when you guys all come back as 112 and what's the chemistry like to make sure everyone is happy with the sound?
Mike: I think the 112 sound is still the 112 sound. The reason why we ended up doing solo projects is to see if we could do our own thing, but the 112 sound is the 112 sound. If we stick to that, we'll be alright.
YouKnowIGotSoul: You guys reunited with Diddy last week in New York. Back in the early 2000's, you guys transitioned from Bad Boy to Def Jam. Looking back at that now, do you wish you would have done anything differently?
Slim: Absolutely not. At the end of the day, that was the direction of 112 as a brand and it let you know the businessmen we were.
YouKnowIGotSoul: Anything you'd like to add?
Mike: I'd like to thank the fans for still being with us after 20 years. Be looking out for music in 20 years hopefully and you can definitely see us touring.