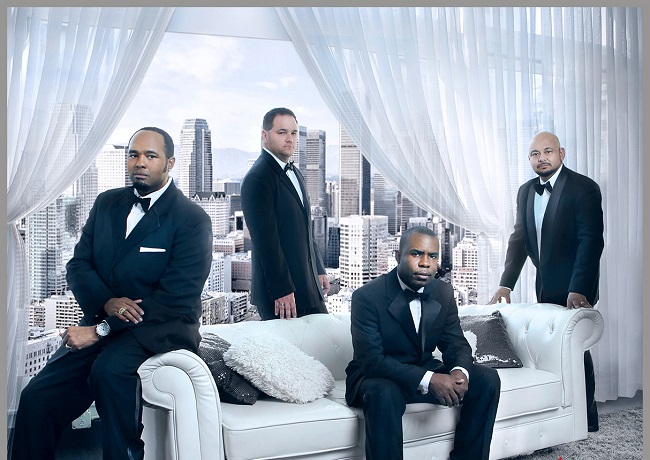 The 90's represented a time in music where it was all about great ballads and All-4-One's hit single "I Swear" may have been the cream of the crop. The John Michael Montgomery cover record was a mega success and will go down as one of the biggest hits of the 90's. Almost two decades later, the group known as All-4-One still stands tall. The group is set to celebrate their 20 years in the music industry by putting out a new project. YouKnowIGotSoul had a chance to talk to the group about their upcoming album, their journey in the industry and we also touched on some of their most memorable projects including the Space Jam soundtrack.
YouKnowIGotSoul: Last album "No Regrets" was released in 2009, so bring us up to date with what you guys have been working on.
Delious Kennedy: Since the last album in 2009, we've been working on our 20th anniversary album which is due out this year. We're really excited to share it with the fans.
YouKnowIGotSoul: "No Regrets" was your first album on an independent label, what was that transition like going from a major to an independent?
Jamie Jones: The main difference is control. When you're on a major, there's a lot more compromising you have to make. When you want to do the things you feel are necessary for you and do the things that are necessary for your career, being independent means you're the boss. We make the decisions as far as ultimately what happens with our music.
YouKnowIGotSoul: You're ready to celebrate your 20th year in the industry. Talk about the journey and what it's been like for you guys.
Jamie Jones: It's been pretty crazy. There's been a lot of ups, some downs and also sideways. We've hung in there and we've persevered. It's amazing and it seems like yesterday that it was 1993 and here we are in 2015. We're still together and we're still going strong. We're still having a lot of support from a lot of wonderful people around the world. It's great.
YouKnowIGotSoul: What's the goal for you guys nowadays when it comes to putting out new music?
Tony Borowiak: We've always said that once it stops being fun, we're going to be done. We just want it to be fun and we just want to bring joy to the world.
Delious Kennedy: We're very easy laid back people and easy to get along with. The second that's no longer happening, it'll be time to hang it up. We'll do it on our terms though
YouKnowIGotSoul: With the new music, are you guys looking to find new fans or are you just trying to keep your core audience happen?
Jamie Jones: Sure! Music is something that you share and there are lots of different times in our lives. There's usually no age limit. We just want to go out and have great music that make people feel good no matter what age they are.
YouKnowIGotSoul: You guys have had a lot of success in the US, but you guys have also been touring overseas. What's the difference you've found with the North American fans versus the fans in other countries?
Delious Kennedy: I'm not sure what the major difference is. I think when they come to our concerts, they come for one specific reason which is to have a good time and hear the songs in our catalog. We do have a heavy Asian following though. I don't know why, but I'm very thankful that we're able to go over to Asia. Even when we have concerts in the States, half of the people are Asian so it's great.
Jamie Jones: All our fans around the world are very supportive. It's definitely a blessing.
YouKnowIGotSoul: You guys first came out 20 years ago and R&B has changed so much since then. What's the biggest difference that you've noticed?
Jamie Jones: The subject matter. Back in our days, it was okay to say "I love you" and be true to your feelings. Now everybody is a pimp or a player. Lyrically, when we were doing it, you had to be Snoop Dogg to say the things that R&B singers are saying now.
YouKnowIGotSoul: The progression of R&B isn't an overnight thing, so when you guys were coming up in the 90's and 2000's, was it a struggle for you guys to adapt to the changes that were going on in music?
Delious Kennedy: I don't know if it was a struggle to adapt to that. When you try to become something that you're not known for, people will see it through as you being fake. We've tried to remain true to ourselves and what it is that we did and know that the audience will find us.
YouKnowIGotSoul: You guys have stuck together all these years with the same members. What's been the key for you guys?
Delious Kennedy: They owe me money and until they give me back my money, they ain't going nowhere. *Laughs*
Tony Borowiak: We're friends. We all grew up with the same values and everything. We've kept it that way and that's the key.
YouKnowIGotSoul: All the 90's R&B groups are coming back now, so what do you think your legacy will be?
Jamie Jones: Hopefully it'll just be that people know us for great music and music that has been something that they could pass down to their children. So far that's been the case. Also we're truly friends and when you genuinely care about people and you do the same thing together, you'll hopefully be an inspiration to singers and let them know that it can work.
YouKnowIGotSoul: "I Swear" is one of the biggest singles of the 90's. Do you think that song could work in today's industry?
Delious Kennedy: Yeah, I think the song will find its place. "I Swear" was written 10 years before we recorded it and everyone passed on it. We recorded it and people connected an emotion to it. It's about the lyrics and when the lyrics can connect to an emotion and have people saying "Oh, I remember when I first heard this", that's the key.
YouKnowIGotSoul: You guys were part of that Space Jam soundtrack. What do you remember about that soundtrack?
Jamie Jones: We thought it was a lot of fun. We love basketball and we grew up with the Looney Tunes. But bigger than that, it was our first time working with Diane Warren and Jimmy Jam & Terry Lewis. We were super excited about that. We flew out to Minnesota to work with them. They were known for Janet Jackson and all kinds of amazing records. We have very fond memories of that.
Delious Kennedy: My memory of that one is that I had vocal surgery and I was on vocal silence for 2 months when this came in. I was supposed to be on vocal silence for another month and then the song and soundtrack came in. I saw Jimmy Jam and I wrote something on a piece of paper that said "There's no way I'm not singing this. I will shut up until we get to this studio, but I am singing!"
YouKnowIGotSoul: Anything you'd like to add?
Jamie Jones: When this new album comes out this year, I hope everyone picks it up and enjoy it. It's a new album and we also recorded a lot of our hits live. We did a duet version of "I Swear" with John Michael Montgomery who recorded the original. Just check us our website all-4-one.com.