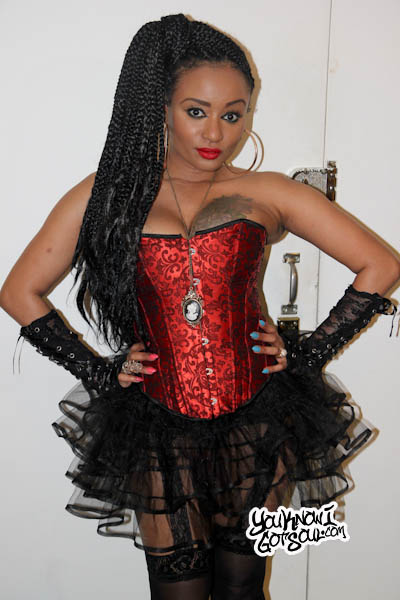 You may remember the girl group Isyss who were signed to Arista in the early 00's and were together for one album that produced the hits "Day and Night" and "Single for the Rest of my Life". Following the album however, the group disbanded and and none of the members have really been heard from since. That will change with the re-emergence of lead singer Qui Qui Martin as she prepares for the release of her solo debut. Always very strong vocally, she will finally be able to let her true talents shine with her debut album "A Melodic Seduction" which is due out later this year. YouKnowIGotSoul caught up with her for this interview and discussed Isyss' debut album, the fate of the group after their debut, Qui Qui transitioning into a solo artist, her new label deal, why we don't see many girl groups anymore, and much more.
YouKnowIGotSoul: Take me back to Isyss' debut album "The Way We Do" and what you remember about recording it.
Qui Qui Martin: I remember it being a very exciting time because first off, it was our first major record deal. It was all very surreal initially. When we got into the studio, beforehand we had recorded a demo and we never actually recorded an album, so this was the first time we went in the studio to make and create an album. It was very exciting, but at the same time it was a lot of pressure on me personally because I was the lead singer of the group. So I had to spend more time in the studio than the other girls and we were young at the time, so I remember feeling frustrated because I wanted to go out with them and hang out, but I had to be in the studio to make sure the record was getting completed. It was still an exciting time, I can definitely say it was exciting, but overwhelming in some aspects.
YouKnowIGotSoul: My favorite song off that album is "Message 2 U". What do you remember about recording that song?
Qui Qui Martin: "Message 2 U" is actually one of my favorite songs on the album as well. Tyrese Jones I believe was the producer for that song and I remember when they initially played the song, I fell in love with it instantly. We ended up recording it maybe like two days after that. Yeah, everybody loves that song. That's actually a lot of people's favorite.
YouKnowIGotSoul: With that album, what was the overall sound that you guys were trying to go for?
Qui Qui Martin: At the time, the youngest member of the group LeTecia was I believe 17 at the time, I was 19 at the time, so we were fairly young. Initially when L.A. Reid signed us to Arista records, he wanted to definitely have us appeal to a younger audience so we made sure we did songs that were going to appeal to that specific type of audience. We made sure we touched on issues that girls our age would be able to relate to, so we were definitely going for a younger audience at the time.
YouKnowIGotSoul: Unfortunately the album didn't make the impact that some may have hoped for. What do you think could have been done better to promote the album?
Qui Qui Martin: I think that we could have had a better promotion team. I think that the marketing strategy could have been a little more competent. I think we could have even had management at the time. Our management company was good, but I think we could have made better decisions in picking management for sure, definitely just a better promo team because I think promotion is the most important thing for any new artist because it's especially hard for new artists to come out and for people to be respected if there's not enough promotion behind it. I think that's what really lacked.
YouKnowIGotSoul: After the first album, we didn't really too much about the group. Were you guys in the process of recording a second album?
Qui Qui Martin: Actually, surprisingly we recorded an entire second album. We did the album with Bryan-Michael Cox who is an amazing producer and it was supposed to be released. Around that time, Arista was doing the whole merger thing and L.A. Reid went over to Def Jam and the major artists that were signed to the same label we were on like Usher, Pink and Avril Lavigne, they went over to Jive and J Records. Arista folded and most of the smaller acts were dropped from the label. Right after that, we felt like we wanted to continue to pursue being in a group together, but Ardena, who was one of our members, she had a change of heart and she wanted to go into politics. So because of that, that was another reason why we had to call it quits.
YouKnowIGotSoul: I noticed your name in the writing credits for the album. What is your writing process like?
Qui Qui Martin: Well I love to write music. I feel like an artist, we should always be involved in the writing aspect of the project because it's just part of your artistry. Usually when I write, I listen to the track first and I'm basically moved by the music. Some people make up a concept beforehand like "I want to talk about this!" but it's usually the music that leads me to talk about what I'm going to talk about. I have to hear the music first and then the concept comes after for me. Sometimes it's so crazy because most people do it the other way but for me, the music is really what drives me to think of a concept and to figure out the feel of the music to know exactly what I want to write about. That's how I did it on our album too.
YouKnowIGotSoul: You went out to pursue a solo career after the group disbanded. We heard a couple of the songs on the internet and I also read that you were working on an album at the time. What happened with that album?
Qui Qui Martin: Well with that album, that's something that I put together myself. I wasn't signed to a major label or an independent company, I was just basically going to put together an album and try to get it shopped to a label, but unfortunately since I didn't have a backing behind me, it was impossible to put the record out. That's why it never actually came out, which is different from now because I'm now signed to an independent company Fontana/Universal, so I'm really excited to be actually recording the album now because I know I have a machine behind me that will be able to put the record out.
YouKnowIGotSoul: Talk to me about the transition from being in a group to being a solo artist.
Qui Qui Martin: When I go on tour and when I'm away performing, that's probably when I'm going to miss being in a group most. We did a European tour and we did a tour in Japan and it was so much fun because we had each other. I was just thinking the other day like "Wow when I go on tour again in Europe, it's just going to be me now!" I feel like that is definitely a transition that I'm going to have to get used to, but at the same time on the positive end, being by yourself is easier because you can make all your decisions creatively and you don't have to worry about if two of the other girls are late. You only have to worry about yourself and that part is definitely better to me and that I can be just as creative as I want to be and make all the decisions on my own terms. So that's the good thing about being a solo artist. I think the transition has its pros and cons.
YouKnowIGotSoul: Why is now the right time for you?
Qui Qui Martin: I feel like now is the right time because I'm much older now. I'm a seasoned artist and I know exactly what I want. Initially when you start out in the business and you're so young, you don't really know what you want as an artist and you really don't know what type of artist you want to be because you're already young and trying to figure out who you are in the first place, so usually when you come out when you're that young, the label and the management are basically trying to mold you and sculpt you into what they think you should be for the consumer. I feel like now that I'm older and I've been in the business for so long, I know exactly what I want, the lane I want to go in, the type of music I want to record and the sound I want to cultivate. I think that's what makes it that much easier now for me to come out because it's so important to know who you stand as an artist and I know that now so I feel like that's the best thing.
YouKnowIGotSoul: With a lot of female groups, it seems the public focuses more on the image rather what they can do vocally. While you were a part of the group, I noticed you could really sing. What's the overall sound of the material you're going to be doing now?
Qui Qui Martin: The name of the album is going to be called "A Melodic Seduction". The sound is very sexy and it's feel good music. I, for sure, will have a time to really sing my heart out on it and you'll really get to hear me showcase my vocal ability and at the same time, it's mood music as well. The music feels really nice and it's very sexy. It's amazing, I'm really excited about it.
YouKnowIGotSoul: Who have you worked with on this album so far?
Qui Qui Martin: I've worked with Kwame who is a great producer who has done some stuff on Fantasia, Faith Evans. I'm working with Kendrick Dean who has done a lot of things on Mariah and Beyonce. I'm going in with Tony Dixon, he's a partner with Babyface. He actually wrote Beyonce's single "Best Thing I Never Had". I'm very excited to be starting with him, I met with him yesterday and we went over the sound and everything. I'm also going in with Makeba Riddick who is a huge songwriter. She wrote for "Rude Boy" for Rihanna and "Upgrade U" for Beyonce. I'm really excited that I have so many talented people that I'm able to work with on this album.
YouKnowIGotSoul: Will you be using any of the material from that previous album that never came out?
Qui Qui Martin: Actually yes. It's funny you mention that because the album has a particular sound and a lot of people loved two of the songs from the other album: "Warmest Place" and "Oh". So I'm actually going to re-mix those two and add them on the album, so I will be.
YouKnowIGotSoul: The group's came out nearly a decade ago. How do you plan on reintroducing yourself to the listeners?
Qui Qui Martin: I think how I would do that is basically being myself and being an artist, I think it's about standing for something different and really putting yourself out there in a confident way and making sure that your music has something refreshing and new. On top of that, I recently wrote a book with Makeba and the book actually coincides with the album. The book is called "The Mean Girls Handbook of Etiquette". We're shopping for a book deal right now. I'm very serious about branding myself. You have to do more than just be an artist, so I want to create a brand of who I am and what I stand for as an artist and my book is definitely going to help me with that. Look out for both of them.
YouKnowIGotSoul: As far as singles, can we expect anything from you in the near future?
Qui Qui Martin: I have a mixtape that will be coming out this summer before the single drops. The single will be dropping November of this year and the second single will be dropping Janaury 15th of 2013. The album will be out February. You can expect some material from me this summer for sure.
YouKnowIGotSoul: Like I said, the group's first album came out 10 years ago. Have you noticed your fans finding you again?
Qui Qui Martin: Absolutely and you know what? That reminds me of why I do what I do because when I see that I still have fans that supported Isyss and that are still rooting for me, it makes it that much better. I've run into many of my fans on Facebook, Twitter and YouTube. It feels really good to know that people are waiting for me put out material.
YouKnowIGotSoul: Right now in the music industry, there aren't a lot of female groups. Why do you think that is?
Qui Qui Martin: It's really hard for female groups to come out and make an impact. You can count on one hand how many successful female groups we've had. Destiny's Child of course being the last and then probably before them, it was En Vogue. It's hard for female groups to really stick and make an impact. Female groups do have a bad name because it's hard for them to really stay together because you have so many different personalities and the breakup stigma. That is definitely a negative problem towards female groups and I don't know, it's a hard thing. I hope to see a female group soon because I think that the music industry definitely is ready for one and one is needed. Hopefully if women can be able to get along better and stay together and actually work through the little problems, I think it'll be easier for groups to stay together.
YouKnowIGotSoul: Anything you'd like to add?
Qui Qui Martin: You can follow me on @QuiQuiMartin for updates.