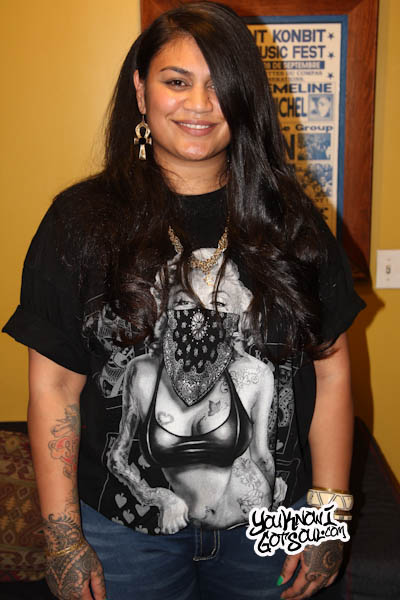 Aaradhna is definitely a unique individual. When you meet her in person, she's so quiet, polite and reserved, but when she gets behind a microphone, that's when all of her personality comes out. In fact, looking at her, you'd probably never expect to hear the beautiful brand of retro soul music she produces. But each of these qualities is part of what makes her one of the fresh new faces in the next generation of r&b/soul. Her music is going to make you reminisce about something you've heard years before but with a current flavor mixed in. When we had her perform at our Sol Village show last month, we were so impressed not only by her booming vocals on stage, but how composed she was. With the potential to reach an audience spanning a wide demographic, her potential is limitless. We sat down with her prior to that Sol Village show and discussed what influenced her growing up in New Zealand, how she originally got signed to Universal/Republic, her current single "Wake Up", and much more.
YouKnowIGotSoul: Growing up in New Zealand, talk about your influences and what drew you to soul music.
Aaradhna: Growing up, my mom and dad both sang. I kinda grew up on that kind of music until I was 9 or 10 and I started getting into music that everyone at school was playing, the pop and r&b stuff. I was also given The Beatles Anthology for my birthday when I was 12 and I listened to that a lot. I also listened to a whole mixture of 90's r&b.
YouKnowIGotSoul: I was reading that you call your style of music "Retro Metro". Can you define that for us?
Aaradhna: That's just like because I'm into old school music. I try to mix up all of the modern lyrics with old rhythm and blues flavor to create my sound.
YouKnowIGotSoul: You had been making music for awhile, but at one point you almost gave up and went away from it. What drew you back in and made you start with it again?
Aaradhna: It was when I was in Romania and supporting my partner who was playing basketball. I was just kinda bumming around and I made this YouTube page under this really random name. I put up little snippets of songs that I was writing at the time and I noticed that there were still people asking about when I was going to put out some new music and stuff. Then it was just that which made me want to get back into it.
YouKnowIGotSoul: I read your single "Wake Up" came from feelings you were having around that time. I know that you're able to express yourself through your music in that way. Talk about how you're able to do that?
Aaradhna: I'm not really good with talking and expressing myself that way, like right now! *Laughs* That's how I like to say everything I want to say, it's like my diary. That's just the easiest way for me.
YouKnowIGotSoul: Talk about your deal with Universal/Republic and how that came about.
Aaradhna: It was when "Wake Up" came out in New Zealand, which was last year. The song was doing pretty good at the time and everybody was getting the retro vibe and they wanted to listen to the whole album. They got the whole album and listened to it and doors opened after that.
YouKnowIGotSoul: You've recently released the video for "Great Man". What does that song mean to you?
Aaradhna: It was just me showing my appreciation for my partner. He stuck it out in bad times and good times. I was a real bitch to him at times *Laughs* but he still stuck with me. That's just me just showing my appreciation.
YouKnowIGotSoul: Talk about the current project you're working on.
Aaradhna: I'm still writing, I never stop writing, it's just my way of not going insane. *Laughs* I'm just writing and whatever I feel comes out good will be for the next album. I don't really like to plan my albums before they come together. *Laughs*
YouKnowIGotSoul: Anything you'd like to add?
Aaradhna: Just thank you for having me for the interview and doing the show!