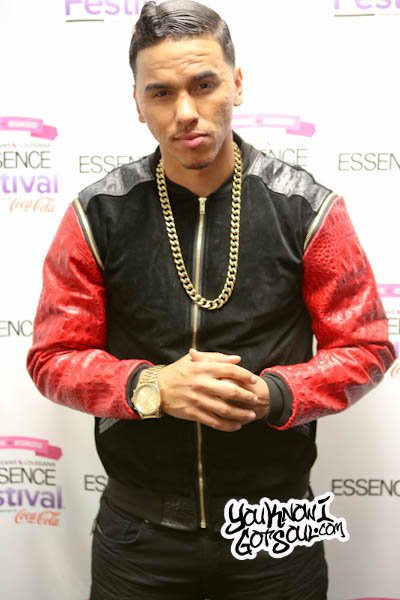 Since his introduction from Raphael Saadiq a few years ago, Adrian Marcel has been one of the new generation of r&b artists we pull for the hardest. Masterfully meshing the sounds of generations before his with the progressive sounds of modern r&b, his talents can't be denied. He got to put those talents on display at this year's Essence Music Festival, where we sat down with him after he hit the stage. We discussed his upcoming debut album "#GMFU", his artistic growth, his Reloaded version of the "Weak After Next" mixtape, lessons learned in the industry, and more.
YouKnowIGotSoul: Talk about the decision to release the Reloaded version of the "Weak After Next" mixtape.
Adrian Marcel: I felt like "Weak After Next" had the full push that we wanted it to. I think everything was going on with "2 AM" at the time and I just wanted to give it another shot. The feedback I was getting was that they didn't feel after hearing "7 Days of Weak". We wanted to mix it up and show them that the feeling wasn't lost. It was kind of like a true mixture between the two mixtapes.
YouKnowIGotSoul: You included "Timeless" on here, a personal favorite of ours, after putting out a video for it a few years back. Tell us about the song.
Adrian Marcel: "Timeless" is one of my favorite records. It happened so effortlessly when we wrote it. We put it out as a video first and I wasn't sure if I ever wanted to give it out as a song at all. I think that I was kinda forced to with this mixtape. I felt like it needed to have that on there, that was the soul of the tape. I put out a snippet on "Weak After Next" which was the interlude to that. Just kinda playing with the audience and my fans to just give them tasteful treats and things like that. Just keeping them coming back.
YouKnowIGotSoul: As you've released these singles and mixtapes over the years, how have you grown?
Adrian Marcel: I'm definitely more confident now. The moves that I make, especially with recording, even though I hate it, I do a lot of it all day. I think that I've grown in just being fearless in what I'm doing and just having a good time and not taking everything so seriously. When you're a new artist, everything is serious. Now at this point in my career, I'm just like "Nah, I'm gonna just do me, because it's what's working."
YouKnowIGotSoul: Tell us about your upcoming debut album.
Adrian Marcel: #GMFU. I feel like I haven't gone this deep yet. You guys have had songs that are deep of course from me in content, but this project is actually a story of what I've been through. More of the important moments in my life. I talk about a lot of moments. You have a lot of relationships in your life. Some are an experience and you move on, and some are detrimental. I think we saved these stories for this project. I think it will allow people to be closer and understand why I'm so honest and why this is the way I have to do things.
YouKnowIGotSoul: What's the toughest thing you've had to learn in this industry so far?
Adrian Marcel: I think just having patience. When you understand what you have and you understand the level of what you have and what you want to do and how to go about it. You can plan, but what happens is totally different sometimes. It's all about understanding that your time will come, it's all in God's time and I'm having fun with it. That's another thing in the progression in my career that I've learned. Stop wanting things to happen the way that I've envisioned them to and just enjoy the journey, enjoy the climbing. When you understand your destiny, you understand what you can do, you've just got to believe and have faith and let things flow. I think that's where I'm at in my career, just letting things flow and having a good time enjoying the climb rather than worrying about what's at the top.
YouKnowIGotSoul: Anything you'd like to add?
Adrian Marcel: I just want to thank you guys for always rocking with me. I want to thank all of the fans for rocking with me, that are always supporting and hitting me up on Twitter and Instagram. It means a lot and I'm always responding because it means a lot to me. Thank you guys for rocking and appreciating what I do, we work really hard at it. It's for you guys. From me, thank yall.