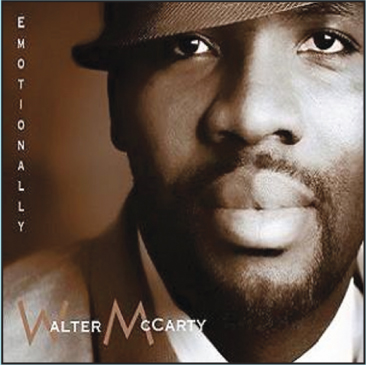 If you're a fan of the NBA, you may remember Walter McCarty from his successful run as a player with the Knicks, Celtics, Suns and Clippers. More specifically, you may remember him making big play after big play for Boston which usually prompted Celtics announcer Tommy Heinsohn to yell out "I Love Waltah!" He originally released a debut album as a singer back in 2003 while still playing in the NBA, but now retired, he's back with a new album which should prove he's equally as gifted in music. In this exclusive interview, we talk about what you can expect to hear on his new album "Emotionally", growth he's experienced as an artist since his last album, how he linked up with Harvey Mason Jr. and the Underdogs, singing the national anthem during the All-Star Weekend, if he gets a bigger rush on the court or on the stage, his thoughts on the NBA lockout, and much more.
YouKnowIGotSoul: Your new album "Emotionally" will be releasing soon. What can we expect to find on there?
Walter McCarty: Really just some relaxing music. Music that I know I grew up listening to with real instruments and stuff that's really real r&b music. Not a lot of digital effects or voices. It's just really good strong music. It's something that I had fun recording and writing, but I think this is a strong project.
YKIGS: You released your debut album back in 2003. What type of growth have you experienced in that time period as an artist?
WM: I think in the gap recording between both albums, I think I just really learned the tricks and the trade of mixing and how to record and better ways to write and be successful. Also, going out to L.A. and having the experience of writing with other writers; going out and writing with Harvey Mason Jr., and Tank and guys who have been doing this for awhile. I think just working with them really helped me to learn how to write songs better, how to create songs, how to come up with different ideas, and how to put those ideas on the cd.
YKIGS: You released your first album while you were still playing in the NBA. Do you think this one will be more solid just due to the fact you're no longer playing and you had more time to focus strictly on music?
WM: Definitely. I think that's the biggest thing with this album. The first album "Moment for Love" was pretty much a trial run. I had fun recording it and writing music to it, but once basketball started, I was into basketball, there was no promotion and nothing to really push the project. Now for "Emotionally", the thought behind it was push this project and get it out there and let it ride. I think that's the difference with both albums. With "Emotionally" I matured so much vocally and just really learning and being confident in the vocal booth and trusting my abilities and creativity.
YKIGS: Take me through your origins as a singer. When did you originally start singing and when did you realize you wanted to do an album and have a career as a singer?
WM: I grew up singing in the church. I remember my great aunt helping us sing in church services at the age of four and five; going around singing with my brothers and sisters and cousins. I always grew up singing in the church and singing in concert choir in school. I grew up listening to a lot of Michael Jackson, Stevie Wonder, Donny Hatahway, then into the Boyz II Men and Jodeci era, and Brian McKnight. I think after high school I really started to experience writing, I knew at this point at some point in my life I wanted to do music. It was different because I was a pretty darn good basketball player. So obviously that was what opened up the window to everything else. Once I got into basketball, it allowed me to purchase the instruments and purchase the recording stuff and equipment and put myself into a situation where I could record and put an album out.
YKIGS: Earlier you mentioned working with Harvey Mason Jr. of the Underdogs and Tank out in L.A. How did you originally link up with them and what was the experience like working with them?
WM: Being a basketball player, they always say musicians want to be basketball players, or basketball players want to be musicians. Well Harvey Mason was a basketball player, he played at the University of Arizona. When I was with the Los Angeles Clippers, he was always at our practices because he would work out at that gym. So I just ran into him there, him and Justin Timberlake were there shooting around at our practice. I was asking around like "Who is this guy who is here every day, he's at all of our games, who is he?" So I went up and spoke to him and introduced myself and we started talking about music and the next thing you know he invited me to the studio and we were in a writing session together. So we've been friends ever since and that's how it started. It was just at a basketball practice and I went up and introduced myself and it just took off from there.
YKIGS: I know you worked with him and the Underdogs on the song "Come Back to my Shawty" for Tyrese. Give me some background on how that song came together.
WM: Steve Russell who is part of the Underdogs, he was the lead singer in Troop, he actually started the song out. It was one of those songs where I was like "Hey man that sounds good, I really like that." I just really started collaborating on it and the next thing you know, Tyrese is in the studio the next day recording it. It was awesome. We would just all go to Harvey's studio around 12 o'clock or 2 o'clock, and we would just start writing something. It was crazy because artists would just come through there all day, and if they liked it, they would record it. That's what we were doing every day.
YKIGS: Talk about when you sang the National Anthem for All-Star Saturday Night back in 2006. What was that feeling like?
WM: It was awesome. Just being able to get up there and be asked to do it. They were doing something with all of the basketball players and using their talents for the All-Star weekend. Fortunately it wasn't my first time doing it, I had done it at the University of Kentucky at Rupp Arena with a packed house of over 25,000. I did the first WNBA game at Madison Square Garden, I've done it twice in Madison Square Garden. Just to have those opportunities to do it at those places was awesome. I think at the All-Star Game was the most star studded group of people. It was cool because some guys didn't know I did that, just walking off of the stage and walking past so many guys, like Tim Duncan said "Hey I didn't even know you sung!" Just getting those funny reactions was kinda cool.
YKIGS: What would you say is the bigger rush, getting on stage in front of a crowd and performing as a singer or getting on the court playing basketball in front of the fans?
WM: I think the bigger rush is getting out there and performing. When you're singing music, you have a band behind you and you're able to touch people in a different way. People go to watch basketball and get excited when people dunk or make tough shots, I don't think people get emotionally involved though like they do if you go to a concert and you listen to some of your favorite songs or listen to an artist who can touch you emotionally or take you someplace you've never been before and you really feel what that artist is singing.
YKIGS: Do you ever encounter people who say things like "Oh he's just a basketball player and now he wants to be a singer, he can't really sing"?
WM: Not in front of my face. *Laughs* I'm pretty sure on paper or on blog or certain articles or somebody did a story on it. You're always going to have those people and 90% of the time those people haven't listened to your music or really checked it out. They're going off of seeing me doing the national anthem or thinking I'm an athlete who's just doing this as a hobby or as a joke. They haven't really studied what I've done and who I've worked with and the things I've done in this business. They're going to say what they want. I think if you really listen to the music and sat down and give it a chance, you'll come away with a different opinion.
YKIGS: You mentioned a lot of people, especially players in the NBA, didn't even realize that you sang. Are there other players you've encountered that can actually sing that people don't know about?
WM: There are a couple of guys. There is an NBA Legends band out with some older guys who sing. I'm not really sure with the new crop coming in. I know there are a lot of guys who are musically gifted like Grant Hill playing piano and producing songs and things of that nature. I'm not sure how many actual crooners there are.
YKIGS: What do you see next for yourself? I know you'd been doing some assistant coaching and now you're doing this album. Do you see yourself focusing strictly on music going into the future?
WM: I'm going to be focusing on music. I think I waited long enough and this is a genuine passion of mine. I want to go out and perform, I want to get on stage as a performer and let my music be heard. Right now we're trying to get this thing off of the ground, we're doing a fantastic job of starting to move into radio and the next thing is to put a promo tour together and go out and perform.
YKIGS: I know you're no longer playing, but do you have any opinion on the current NBA lockout?
WM: Not really because I'm not doing anything with basketball. It's a part of the business, everybody has strikes and layoffs and things of that nature because there's just so much money involved. Hopefully it's something they can work out and we'll see what happens. I'm concentrating on music *Laughs* I'm not even thinking about basketball right now.
YKIGS: Anything you'd like to add?
WM: We're just really excited about the music and we can't wait for people to hear it and to get on the smooth jazz charts. People can check out my website WalterMcCarty.com and our Facebook page and our Twitter @WalterMcCarty. I just want to get our music out and get everybody involved and hopefully perform across the U.S. for everybody.