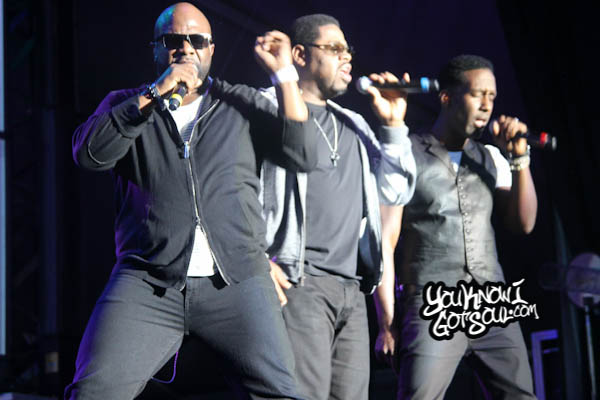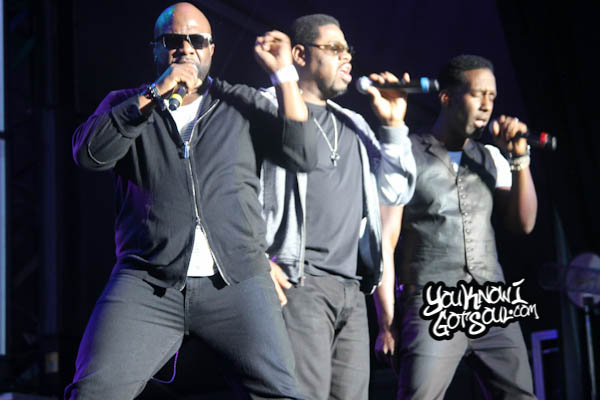 Known globally as the most successful r&b group of all time, Boyz II Men's legacy was already solidified even if they had never decided to release another project again. For the past decade or so, the group has found success in releasing a string of cover albums and also touring the globe performing for packed venues. To commemorate the twentieth anniversary of their debut album "CooleyHighHarmony", the group came together to record "Twenty", a project of original material as well as a collection of their greatest hits re-recorded. YouKnowIGotSoul had a chance to talk to Shawn Stockman of the group to discuss how their fans have received the new project, the decision to release the album in Japan before the U.S., how they knew it was time to record new material again, the biggest challenge of remaining together as a group, what's next for Boyz II Men, and much more.
YouKnowIGotSoul: I want to start talking about the new album "Twenty" that you released in October. How's it been received so far?
Boyz II Men (Shawn Stockman): So far so good. Those who know that the album is out, they love it. They love the new music and they love how we twisted the old music. It's been a good response so far. We're at the point now where we're going to get more people involved. That's it. So far, so good. We're getting good reviews. It's all good. We got another good product out there.
YouKnowIGotSoul: Tell me about the first single "More Than You'll Ever Know" with Charlie Wilson. How was the song created?
Boyz II Men (Shawn Stockman): Actually the song was written by Charlie. He came to us with the idea of doing the record. He thought it would be a cool duet for us to do. First off, we were huge fans and lovers of Charlie's music. We grew up on his music thanks to our parents with the GAP Band to just Charlie. He's been off the hook for a very long time. When he came up with the idea of us doing the record, we thought it was off the hook. He gave us the song and we instantly fell in love with and the whole purpose behind it. It's just a nice, beautiful, standard love record that people especially our fans would get open up to. It's one of those records, when we recorded it and he laid our vocals to it, it was magic and a beautiful song. We loved it. We loved the fact people enjoy it and appreciate it for what it is.
YouKnowIGotSoul: I read you released this album in Japan a couple weeks before releasing it in the US. Talk about the fan base in the Japan and how it compares to the fan base in the U.S.
Boyz II Men (Shawn Stockman): Japan is a special place for Boyz II Men because it's always been the same. It's never wavered or changed or wavered with the times. It's one of those places where whenever we go, it's always the same as far as the love, respect and admiration of our music. Even when U.S. was going through its crisis as far as music and monetary things in music, it was just a great safe haven for us to be able to go to Japan and receive that love and support we needed while we were still working out the kinks with the U.S. It's always been there for us and in turn, we'll always be there for Japan.
YouKnowIGotSoul: On this album, you got A-List producers on there like Babyface, Jimmy Jam and Terry Lewis, Teddy Riley. Because of the group's legacy, do you find the big names are anxious to work with Boyz II Men?
Boyz II Men (Shawn Stockman): It was a surprise to be very honest. Jam and Lewis and Babyface are who they are and we were just excited that they were in support of the album and that they wanted to be a part of it. It was almost an instant yes. When we told them that we were doing it and the type of album it was, they instantly climbed on board. It was just another great feeling as far as the whole record and the process of recording it. This is the way a record should be recorded. There was no stress, no malice, no ego, no nothing. There was nothing negative, nothing derogatory, nothing crazy, nothing going on that we hear so many horror stories about when it comes to recording sometimes. Nothing happened with this record and it was such an easy flowing process especially considering that we had a somewhat of the deadline with the project. It made it that much simpler because everyone was on board and ready to work. Everybody brought their A game and brought beautiful tracks for us to write or sing to. It was a win-win all around. It was a really great experience and I was so happy that it happened with the 20th anniversary album the way that it did.
YouKnowIGotSoul: For years, you guys have been doing mostly cover albums. How did you know it was time to record original material again?
Boyz II Men (Shawn Stockman): We didn't to be quite honest. One thing that I've learned just by growing up and experiencing life, a lot of times being patient and sitting back and waiting for things to formulate, is a lot of the times the best way to get the answer as far as "When is the right time to do something." We never had a date or a time, it was just that we wanted it and we had in the back of our head. In the meantime, we still worked and we were diligent as far as what we had to do as far as touring and keeping ourselves out with cover albums. We hoped that everything would fall in place the way that they did and we were fortunate enough that they did. I can't take the credit in that we planned this whole thing. We didn't. There were certain things that we did naturally and other things fell into place the way that we hoped and that was it.
YouKnowIGotSoul: The album is called "Twenty" and it's celebrating the 20th anniversary of your first album "Cooleyhighharmony". What do you remember about the release of that debut album?
Boyz II Men (Shawn Stockman): How excited we were just to be a recording artist. To have the ability to say that we're on a legendary label like Motown. The world was opening up to us. Our eyes were so wide as far as everything that we were hoping to experience, and more that we ended up experiencing. There are so many things that transpired in that time because everything was just so amazing and a blessing. We didn't know where we were going to go, but we were just going to ride with it. We were going to work hard at it and we were going to sing and do whatever it took. We were going to go and make it a career once we realized that this was something we could do for a long time. Yeah, we were just some kids and we were just excited that we were living our dream.
YouKnowIGotSoul: Twenty years is such a great accomplishment considering a lot of R&B groups that came after you have come and gone. Although you've lost one member, you've managed to stay together through all these years. What's the biggest challenge of surviving as a group together?
Boyz II Men (Shawn Stockman): Being in a group is just like being in any type of relationship. You experience individual growing, changing and developing into the other people and us being able to have the respect the growth of each individual. A lot of times, what breaks a lot of groups up is the disagreements. The way that people tend to grow apart from each other and they are not able to find some common ground. We've always found a common ground even with us changing and wanting to do things and prioritizing things a lot different than when we were a lot younger. That's what it is. The main thing is to just learning how to respect each other's growing into the men that we are and still fitting it into the blueprint of Boyz II Men and finding a way to make sure that's always staying intact.
YouKnowIGotSoul: You currently have a role on NBC's "The Sing-Off". Talk about that opportunity and how that's going.
Boyz II Men (Shawn Stockman): The "Sing-Off" is going really well. We're on our third season. We just finished it. It's just another part of my brain that I'm able to exercise. It's still related to music, but just on a different level. To be able to judge, help and develop in a roundabout way. Younger acts that are coming up that want to get their shot and being an integral part in it is a wonderful thing. That's something that I personally always wanted to do. It's a natural progression as far as not just being an artist, but eventually being a mentor to up and comers and young cats who want to do the same thing that I'm doing. I'm able to give them that advice on the show and some of that council. It's fun. I love it and I enjoy doing it. Again, it's our third season and it's gotten better and better each year. I love co-judges Ben and Sara, and all the contestants this year. It's just been a wonderful experience for me. Something that I didn't expect, something that I never thought I would even do. I'm glad I'm doing it.
YouKnowIGotSoul: What can fans of Boyz II Men expect from the group going into the future?
Boyz II Men (Shawn Stockman): Just different entities that we're trying to embark on; philanthropy type things as well as business ventures. The guys and I just finally established our nonprofit organization called the Boyz II Men House which is basically an organization that helps those who are in need. It doesn't specify one particular cause but it helps many and as many as it needs to help. We're happy about that and we're excited about putting together our first charity event. We did our first charity event September 17th in Philadelphia, we performed with the local orchestra of Philadelphia and we raised a lot of money there. We're going to try to do it an annual performance and even to support the charity. We're also doing other ventures outside of our label. We're trying to look for other acts as well to sign under our company. We're also coming out with a new sparkling wine called "4 Seasons" that will start actually selling on our website BoyzIIMen.com and then later on at your local liquor stores. There's a lot of other things popping off too, some are still pending. For anyone who wants more information, they can log onto BoyzIIMen.com and get the scoop on what we're doing next.
YouKnowIGotSoul: Anything you'd like to add?
Boyz II Men (Shawn Stockman): Follow us on Twitter @BoyzIIMen or you can follow me @ShawnStockman. Just look forward to the future of 2012. A lot of people are not expecting us as a group or individuals half of the stuff that we plan on doing next year. I love it. It's gonna come out of nowhere and it's going to be a pleasant surprise to everybody. I'm looking forward to the future.