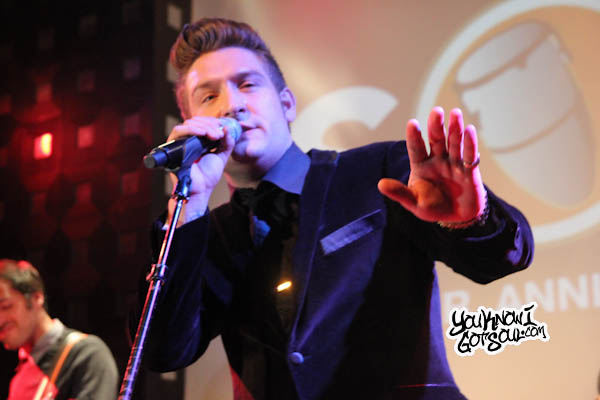 When you discover a new artist that's recently signed to a label, there's always a sense of excitement around their music and exactly what fresh sound we will be presented with. Alex Boyd isn't a new artist per say, he was actually signed to RCA for a few years now, but he's currently gearing up to release his debut on the label fueled by the smash hit "I Wish I Knew". His musical journey hasn't been a smooth as a lot of other artists, hitting a few snags and experimenting with different sounds along the way. What we have from him now is a sound that's basically incomparable; a throwback soul sound from the 70s mixed with a little bit of r&b and pop. As his journey reaches a new chapter with the release of his debut on RCA, YouKnowIGotSoul is definitely getting behind this talent as early supporters. We caught up with him recently prior to a show in NYC and discussed how he was discovered by RCA, how he would try and define his sound, what to expect on his debut, capturing the feeling in the music, and much more.
YouKnowIGotSoul: I was reading in your bio about your musical journey and how you got to where you are now. I know there's been a lot of ups and downs for you. What's the journey been like so far?
Alex Boyd: Somebody asked me one time, "How would describe your music as a movie?" I said it would be a combination of "Big Fish" and "Inception" because it's been a lot of different places. I feel looking back on my creative identities, I feel like I've been a lot of different artists over the years. I think that's a necessary thing for somebody that's trying to find their own sound. How do you find that you emulate people that you love? Thankfully I had such a wide variety in terms of tastes that are really committed at different points in my life to trying to different types and genres of music. I think when I finally met Andy Rose in 2008, he's the guy that produced "Commit Me", he was such an open minded producer. He was more interested in creating something unique than creating something that sold. I had the opportunity to take my favorite pieces of all of the different genres that I've dabbled in and put them in one. It's been a gnarly trip.
YouKnowIGotSoul: I was listening to the album sampler you've got out, and usually when I listen to an artist for the first time, I try to think who I can compare them to. When it comes to your music, I can't really compare you to anyone, you've got such a unique sound. How would you describe the sound of where you're at currently?
Alex Boyd: You said it, You Know I Got Soul.com, that's what it is. *Laughs* Soul music is I think really broadly defined. I think many of the records that the Beatles did can be considered soul music. I think that many of the records Queen did can be considered soul music. Soul music is not just D'Angelo and Musiq Soulchild. I guess I would have to call it soul music of its very own. It certainly comes from a traditional 60s/70's soul kind of direction in terms of the bottom and when you listen to the drums and bass. I don't have a better answer for you.
YouKnowIGotSoul: Talk about how you originally signed with Jive/RCA and how they discovered you.
Alex Boyd: Originally I had done a shopping tour, Andy Rose's attorney had lined up a number of meetings with most of the major labels when we first started working together; and everybody passed. We were put in a position where we were like "Damn we missed our big opportunity for the dream bidding war where everybody is saying they'll pay more". So we said "We're either going to close up shop and walk away from this or do it on our own terms". I started submitting my music to different blogs and getting people to write about it and getting all of my social networks and sites set up so that they looked like a product that maybe a major label could pick up and sell. I had one or two songs on the site, great imagery, everything is connected, easy to click from one site to the next, free downloads, people writing about it. Out of nowhere, a friend of mine who's a clothing stylist was styling Maxwell, he heard "Light Up Tonight" and liked it and wanted to send it to his managers. I met them on a Tuesday and it was like a week later the next Tuesday I was in New York signed to Jive. It happened really fast. The journey didn't happen fast! *Laugh* They say it's about knowing the right people, but you've also got to have the music to meet the right people. It all starts with great material. If you've got great material, the people that can make things happen will listen to it.
YouKnowIGotSoul: So now here you are with RCA Records, you've got out the great single "I Wish I Knew" and we love that song. It was produced by Carvin & Ivan, so how did you guys create it?
Alex Boyd: The label felt like they needed one more song on the album, something that maybe could be considered a little more radio friendly. A lot of the records are Avante Garde and we've been taking submissions from R. Kelly and Diane Warren and getting great songs, but it never felt like there was one that really fit into the puzzle that we had created without sticking out like it was obviously done by somebody else. We wanted there to be this cohesive nature about it. We heard the Carvin & Ivan track and I loved it. First of all, I love Musiq Souchild, I love Jill Scott, I can't even tell you how many hours I've had their records on repeat. Besides that, the song just really spoke to me. I think it fit into the general narrative of relationships and how they grow and fall apart that you find across the record. I had to do it.
YouKnowIGotSoul: Talk about the album you've been working on. What can we expect on there?
Alex Boyd: There's another song called "Between the Lines" which features a verse from Common. It's an interesting track because I wrote it back when I was like 19 years old, right when I got to Los Angeles. It had a strange format, it was like verse chorus bridge chorus. It had no second verse, but everybody still loved the track when I played it acoustically. So we really wanted to keep the song because we felt it had some kind of magic, but it needed a little bit more formatting. We had paid homage to a number of different favorites artists on the other songs on the album, but we hadn't really had that hip hop influence yet. So we felt like that would be a great opportunity to get Common to come in and do the second verse. Then there's another song called "Commit Me" which is also interesting because we recorded it live start to finish. Obviously most songs are done with a tempo click. It was me, it was Ethan Phillips and our drummer Pete and we just played this thing start to finish live, I was playing keys, and then just built the track around it. We used lots of blazing horns and strings and a really exciting arrangement.
YouKnowIGotSoul: I know you do a lot of writing yourself and did a lot of writing on this project. What's your process like as a writer?
Alex Boyd: It can start with a hook melody that I hear while watching a movie in a movie theater. I'll jump out of the theater and go record it on my phone so I remember it and then go take it to Andy and he says "Oh I like this chord progression". Or maybe I'll hear a guitar riff when I'm just fucking around with the guitar. One thing that I always keep in the back of my mind is what I think John Lennon said, "When you want to write a great song, come up with the best hook you can come up with, and make it your verse, then write another hook." So I keep that in mind when going through it.
YouKnowIGotSoul: A quote that really stood out to me in your bio was "Things really changed when I stopped listening to the way I sounded in the headphones, and started listening to the way I felt." What does that mean to you?
Alex Boyd: I think vocalists have a really hard time when they first get into the studio because you record with headphones and all you hear is yourself. You're constantly critiquing everything in your voice that to another listener could be exactly what your character is as a singer. To you, it blares as a fault of some sort. So I had to stop listening to every single note and start feeling every single note as I was performing it in the studio. If you're listening to yourself and correcting your delivery as you're delivering it, you're never giving an honest delivery. I believe that it's the honest delivery that's going to touch people the most.
YouKnowIGotSoul: You're a triple threat as a singer, dancer and writer. Which is the hardest for you?
Alex Boyd: Well I haven't danced in a long time. *Laughs* I'm not sure I'd call it the hardest, I would say it's probably the most foreign for me because it's never been a major part of my career except for the years that I was working with Debbie Allen. Obviously she's all about dancing and every one of the productions we did with her involved a lot of really serious high level dancing. Who knows, maybe we'll incorporate something down the line! *Laughs*
YouKnowIGotSoul: Anything you'd like to add?
Alex Boyd: Just thank you to everybody for supporting "I Wish I Knew" and supporting this little dream I've had for so long. It really touches me to hear from you guys and know that the music is touching you. It brightens my day, so please don't hesitate to reach out and say what's up!