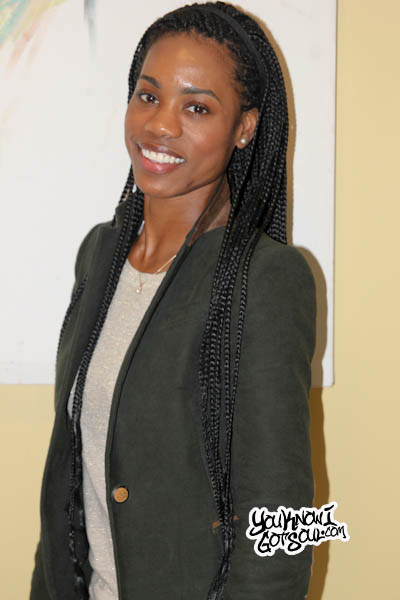 Guess who's back? It's been nearly five years since her critically acclaimed debut album "Purpose", but Algebra is now ready to released her upcoming sophomore effort later this summer. Of course she wasn't really gone, she gave us the appetizer mixtape "Dessert Before Dinner" and also successfully collaborated with Anthony David on "4evermore" and Esperanza Spalding on "Black Gold". She's now ready to spread her wings and show her growth on this new album, allowing her writing to take us on a journey of where she's been through the years. But most of all, her vocals will for sure continue to shine. YouKnowIGotSoul sat down with her prior to her recent performance for Sol Village in NYC and discussed how she originally linked up with Dallas Austin and Kedar Massenburg, memories of creating her debut album "Purpose", her collaboration with Anthony David on the #1 single "4Evermore", what to expect on her new album, and more.
YouKnowIGotSoul: I want to start with your origins in music. I read you originally did background vocals for Monica and Bilal and a few others. How did you originally get those opportunities?
Algebra: I was right out of college and I signed a record deal with Dallas Austin. Of course over there you meet these great writers and producers and musicians. I met Monica and everybody, so in the midst of me creating my album and my sound at the time, we would work with each other. I went out on the road with Monica, I wrote records for other artists, I did background and studio work with them. You just kinda get in where you fit in.
YouKnowIGotSoul: Eventually you linked up with Kedar Massenburg and Kedar Entertainment. How did you meet with him originally?
Algebra: From the Dallas Austin days which were very pivotal in my growth, school had been traveling, had been more writing and doing background work. I stumbled upon writing a song for India Arie. From that, Motown Records got wind of me so we did a deal with Motown. From there, Kedar was head over there and after he left, at that point his height was Erykah Badu, India Arie and D'Angelo. Then Kedar Entertainment happened and I was there. It's just been a good journey with valleys and peaks.
YouKnowIGotSoul: Next you released your debut "Purpose", what do you remember about creating that project?
Algebra: A lot of good times. That album was a melting pot of everything that I had gone through up until that point. From the first song I ever wrote on the guitar to eventually meeting some of my favorite musicians and being able to work with them, that album embodied everything about me at that time. It wasn't a theme album, it was just "Ok I clearly need to put a record out, this is my purpose, this is what I do, this is what I have to get out."
YouKnowIGotSoul: A couple of years back you had the #1 single "4Evermore" with Anthony David. Love that song, what went into making it?
Algebra: Anthony David, of course you know brilliant writer, he called and was like "Algebra, I have this song!" and I was like "Anthony, that's good!" I heard it and at that time he had already written his part, I listened to the song and it sounded wonderful. I just started writing and finishing it, it was produced by Shannon Sanders and DJ Kemit. The song I think it got released a year or two years after we had completed the song. I don't know that the world was ready for it, but we released it and it did very well.
YouKnowIGotSoul: Last year you had the great collaboration with Esperanza Spalding on "Black Gold". Talk about that one.
Algebra: That was created by Esperanza and myself, we had known each other for quite a while, and decided we should work together. We worked on that album and "Black Gold" came out and blew up big in New York. We just started writing and creating and that happened and a couple of other songs on that album.
YouKnowIGotSoul: Talk about the mixtape "Dessert Before Dinner" you had planned to release last year.
Algebra: You've been doing your research here! Wait a minute, do you know my social security number? *Laughs* "Purpose" came out in 2008 and it was a long time before any new music came out for me, so I decided to do that album. I was recording and writing songs, but I didn't feel like I would ever put those songs on an album of mine, but I felt it coming out. Instead of creating an alter ego, I thought I'd just do these and why let them sit. I like them. That's how "Dessert Before Dinner" came about, just having fun in the studio and staying consistent with creativity. It was like "I love these songs, I wanna put them out, let's see if people like them. If they do they do, if they don't, they don't." In the meantime I was working on my album that is set to come out soon and it just kinda happened.
YouKnowIGotSoul: Talk about this upcoming album.
Algebra: This album is definitely a testimony of the next move my left foot should make, and then the next move my right foot should make. We're working with some of the same producers from the first album and the writing is definitely more story telling. It's just kinda evolving more and more and giving another side of myself and sharing it.
YouKnowIGotSoul: Talk about your new single "Nobody But You".
Algebra: It was produced by Shannon Sanders and it's a song about wanting no one else but that person that you want. No matter if I'm away from home, I'm still thinking about you. It's a love song but it's a bit more up tempo.
YouKnowIGotSoul: What type of growth do you think we'll hear on this new album since "Purpose" came out nearly 5 years ago?
Algebra: More focused on what it is that I want to say. A bit more vulnerable, life kinda speaks as you grow and as you age, so it is a reflection of what I've gone through since 2008 from changing record labels to having more experiences in my life to just even vocally finding another voice within myself to use to convey the message that I want to convey.
YouKnowIGotSoul: Anything you'd like to add?
Algebra: I wish I knew more about you so that I could ask you questions and we turn the camera around!
YouKnowIGotSoul: *Laughs* It's all about you Algebra!
Algebra: I have a Twitter page, @YesItsAlgebra. Facebook.com/AlgebraBlessett. Just kinda stay tuned and find out where I'll be. I'm going to do my best to come see you. I look forward to this project and having another interview after you hear the single and the album and I wanna know what you think!
YouKnowIGotSoul: Look forward to it!