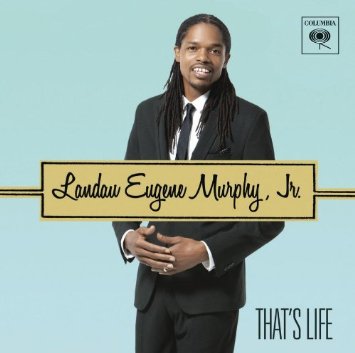 Landau Eugene Murphy Jr. was on his last legs. After the split of his r&b group put a big dent into his music dreams, he was robbed of everything he owned and struggling to get by and support his family. With nothing to lose, the West Virginia native decided America's Got Talent would be a great place to showcase his talents. Now less than a year later, he's been crowned the winner of the competition and his whole life has turned around. With his unique style combined with singing Frank Sinatra and other Rat Pack hits, it is easy to see why Landau Eugene Murphy was quickly endeared by millions of Americans. In this exclusive interview, he discusses with YouKnowIGotSoul recording his debut album "That's Life", having his own lane in singing this style of music, how winning the show has changed his life, the difficulty for a singer to win a talent show like America's Got Talent, people stereotyping him based on his image, and much more.
YouKnowIGotSoul: Congratulations on winning the 6th Season of America's Got Talent. Well deserved.
Landau Eugene Murphy Jr.: Thank you so much.
YKIGS: You've just released your album "That's Life". What can listeners expect to find on there?
LEM: You can expect to find everything that you've seen on the show. If you loved me on the show, you're going to love my cd. I've got a nice mix of the American Songbook on there, so it's going to be more than what you've seen on the show.
YKIGS: I read that you recorded Rat Pack hits from 60's, 70's and 80's. What made you want to go in that direction and record those songs?
LEM: Because it doesn't degrade anybody. *Laughs* I just wanted to keep it family orientated and clean and wholesome. I picked that sound because it makes me feel good. It's blue sky, puffy cloud music and it doesn't degrade women or discriminate against anybody. It was a lane that I could have all to myself. It's so many rappers out here, there are so many blues singers, there are so many r&b singers. I just wanted to step outside the box and be somewhere by myself.
YKIGS: You worked on the album with Grammy Award winning producer Steve Tyrell. How was it working with him and how did you link up with him?
LEM: It was great working with him. He basically let me do exactly what I wanted to do on the tracks. He introduced me to arrangers like Cole Porter. I hooked up with him through Sony because Sony had an agreement for the winner who gets a contract through Sony/Columbia. He was part of the team and he's like a person who sings out of the American Songbook too. He has a Grammy, he's produced for people like Diana Ross and a lot of other people like Rod Stewart. For him to take out the time to produce my album it was something very overwhelming for me.
YKIGS: I was reading that earlier in your life you were part of an r&b group. After the group disbanded, did you still have dreams of performing music again someday?
LEM: Yes. I've always had a dream of performing. The blues and soul band that I had was called Top Shelf and I really didn't want to do it because I was always doing my crooner thing for charity. They needed a singer for their group so they asked me to give them a year. I did that, and then it got so big that we were right at the door of the entertainment world where we had fans and all of that stuff but the bass player ended up quitting. He tore my whole website off of the internet because he was mad at the guy who helped me put the band together. I was back to nothing. I just decided to step back and do what I had been doing by myself. I picked [America's Got Talent] to help me do that.
YKIGS: Speaking of America's Got Talent, how did you originally decide to audition?
LEM: Well it came about because like I said I had the band and the solo part, so my mother in law's dad ended up passing away and I had to go stay with her for awhile and help her out. When I went back to my house, someone had robbed me and they just took everything I owned. With the band falling apart and then being robbed, I had nothing to lose. I needed to get on a bigger stage, I needed to let people know what I do around the world, really, really fast. So television was the way of doing that and AGT was a place that allowed me to just be myself. So that's why I picked them.
YKIGS: At what point did you realize out of all of the contestants you might have a shot to win the whole thing?
LEM: About the time I made it to the final four. Other than that, I was just trying to come to New York and sing Frank Sinatra without getting booed. *Laughs* I just wanted to let everybody know that there's an African American kid out here singing Frank Sinatra songs really well.
YKIGS: I read that at one point you were homeless, and now you've been working at a car wash for a point in time, and you mentioned some of the other hardships you've been through recently. How has winning this contest changed your life?
LEM: It changed my life tremendously. I'm very, very busy now. People are pulling me left and right to go do interviews and talk shows and go sing here and there. I've got a lot of fans around the world. When I won I was the number one tweeted person on Twitter, it was like over a million tweets about me when I won. Going to normal places, I can't do it anymore, like going out to restaurants to eat. A lot of people interrupt my meals. It's something that I signed up for so I take it all as a tremendous blessing. I asked God for a little bit and he blessed me with so much more.
YKIGS: Part of the prize you got for winning was a contract to headline at Caesar's Palace in Las Vegas. Talk about that.
LEM: That was amazing. I went out to Vegas for three nights and I sold out for three nights at the Coliseum at Caesar's Palace. A lot of my fans came from my home state to support me out there. When I got on stage and I did my first song, I remember saying "Hello Vegas" and everybody went crazy, and then I went "What's up West Virginia, I know yall out here!" and the place just exploded! It was like half of the audience was from West Virginia. Then they had a hospitality room for me where I could go sit and meet and greet all of the people that came out to support me. It was wonderful. Then to get back together with some of the contestants that made the final four with me on AGT, it was wonderful too. I got to hang out with POPLYFE again, team iLuminate, and the Silhouettes. It was just so much fun.
YKIGS: Do you think it's more of a challenge for a singer to win on a show like America's Got Talent compared to some other shows that are strictly singing like American Idol? America's Got Talent has diverse types of talents you're going up against. How do you feel about that?
LEM: Yes, it's very hard to win as a singer on there. A lot of people on there have different talents. It's a variety of different talents on that show. If you've got American Idol, everybody is a singer, so obviously the winner is going to be a singer. Even on this show, I didn't expect to win because the last couple of seasons has been singers as winners. I felt that it was time for Team iLuminate or the Silhouettes or somebody like that to win. I was thinking POPLYFE was going to win. But you know, America just accepted me for being myself, I was being 100% myself. I brought back a version of music that's been missed throughout the world. It's going to bring back memories for all of our elders and create memories for generations to come.
YKIGS: You mention you got your own lane and you mentioned this type of music is missing right now. Do you feel like people have really been waiting for this type of music to come back?
LEM: Oh definitely. When you look at people like Bruno Mars, you see how he dresses and the hairstyle that he wears, it's all 50's. That's 40's and 50's style. They're touching it but they are not really actually doing it totally in the pop world. I just wanted to go straight to that genre and bring it back 100%. Then with my look and my size and all of that stuff, it just adds a little twist to it; different type of flavor but the same.
YKIGS: I've heard people say when they look at you, they don't really expect that voice to be coming from you with the image you portray. How do you respond to that?
LEM: I laugh at them! *Laughs* That's what they get. If you're going to judge me by my color, then that's what you get. That's how I feel about that. I try not to judge anybody until I hear the words that came out of their mouth and that's the way they should do for me when I walk out there. A lot of people look at you and say "Ok this guy can't do anything" but you may be the brilliant person on the planet. But they'll never know it until they get a chance to know you.
YKIGS: Anything you'd like to add?
LEM: I'd just like to add to anybody out here who's listening, just never give up and never let nobody tell you that you can't do anything. Just always follow your gut and stay true to yourself. Always be humble and remember where you come from.