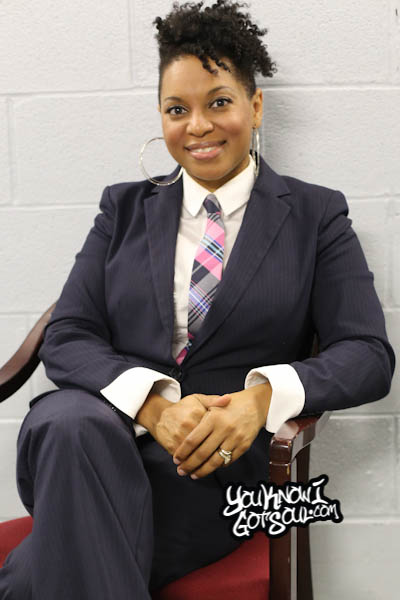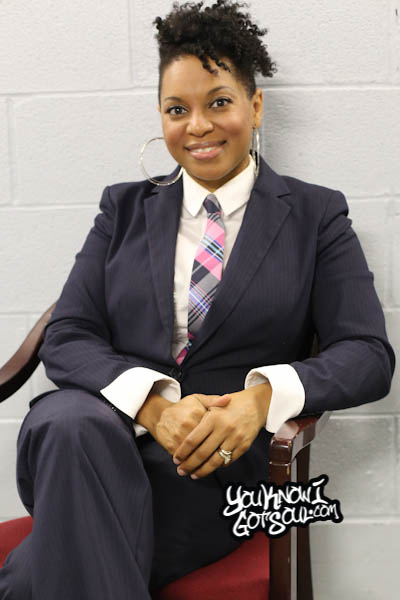 In an era of female iconography that celebrates sex tapes with fame, rewards gold-digging with television shows, and delivers lucrative endorsement deals to cat fighters rocking Jimmie Choos, Angela Johnson is the antidote to the ceaseless media messaging of who Black women are supposed to be and presents an image of who the consummate Black woman really is. Representing bold and confident women of substance who can still have fun and command all eyes in a room with her undeniable spirit more than her undeniable cleavage, the New York native stands up for women rarely acknowledged in the media or the music. As a R&B and dance artist, Johnson has used her considerable musical gifts for nearly 20 years to elevate the status of that every day superwoman, the one holding down the home, the office, the kids, her man and their community with grace and more than a little moxie. All that talent and fierceness is on full display on her fifth solo project in a decade and seventh since her days with the Cooly's Hot Box, Revised, Edited & Flipped, is Johnson's first, much anticipated remix project. YouKnowIGotSoul caught up with Angela and discussed her new project, keys to her success as she celebrates 10 years in the business, thoughts on urban radio, plans for her future, and much more.
YouKnowIGotSoul: You'll be releasing your new project "Revised, Edited, & Flipped" which are new versions of some of your best songs. What was your inspiration for this concept?
Angela Johnson: I wanted to showcase my songs in a different light. I strive to make timeless lyrics and melodies. To have my songs remixed and rearranged in an entirely different style, it shows that my songs could possibly transcend time! Do I sound a little too confidant? *Laughs* I'm really enjoying hearing my songs remixed!
YouKnowIGotSoul: Talk about some of the producers you linked up with to create these new versions and how the collaborations came about.
Angela Johnson: Wow…a few of the featured producers, I had established working relationships with such as DJ Kemit, Salah Ananse, MasSheen, DJ Spinna, that date back to the early 90's. I have great respect for them as producers, musicians, and DJs. I have some great remixes from two amazing groups from Japan, JABBERLOOP and Blu-Swing, who took a different approach to the remixes by incorporating lots of live instrumentation. I had met them while on tour in Japan. Italy is definitely being represented on this project! I connected with two awesome House music producers, Micky More and SoulDynamic, over the Internet. It's amazing how it all came together to have an 'album-like' vibe instead of it sounding like a compilation of different remixes.
YouKnowIGotSoul: In putting a new touch on some of your best songs, were there any you found yourself enjoying more than the original?
Angela Johnson: Honestly, I can't compare, because the new versions had taken on a new life. They have a new personality which is refreshing to me. I feel strongly about the remixes as much as I do the originals. The only change for me would be that some of the down tempo songs have become more danceable. I'm rockin' to it!
YouKnowIGotSoul: You're celebrating your 10th year as a solo recording artist. Looking back, what's been your key to remaining in this industry?
Angela Johnson: I think there are many factors that play an important part in my sustainability. First and foremost, I have a strong management team and label (Purpose Music Group) behind me. They are very knowledgeable about the music business and they're steadfast about getting GREAT music into the hands and ears of those who appreciate real music. I also think the fact that many people have yet to learn about me or my music, it keeps me fresh in the game. It's a steady pace I've been taking and I'm still moving strong! Now, I'm ready to take it up another notch.
YouKnowIGotSoul: Knowing that you have such a strong following overseas at this point in your career, do you find yourself ever catering your music to their interests? Or do you feel you can continue to be you and they accept you for who you are?
Angela Johnson: As a producer, sometimes I feel the need to adjust or cater to the current trend or my perception of what it may be, especially, if I'm working with that type of artist. As an artist myself, I have to stay true to who I am and what I'd like to hear. If my supporters are really into me, I would think that they're into the artistry of me. They are accepting of my growth and evolution as an artist.
YouKnowIGotSoul: What's the biggest challenge of being an independent artist in this industry and trying to compete with mainstream artists and find success?
Angela Johnson: Mainly commercial radio. You have to spend soooo much money to promote and work a song at commercial radio and there's no guarantee that your single will take off! Can we just go back to the times when radio programmers play a song because they like it and the listeners are requesting it? There's more to it, but so many artist are creating some of the finest music out there and masses of people will not get to hear it. If that's so, they don't know how or where to look for it. To them, it doesn't exist. So, when indie artists like myself have a platform to speak from, maybe at a performance opening for a major artist, we should take the opportunity to tell people where to find our music. Share the news about Internet radio and give them the support we've been getting from them. Tell them about the great websites that support indie soul music. If you can do it all in 3 minutes before you're rushed off the stage…LOL…it would help the movement a great deal!
YouKnowIGotSoul: How do you feel about syndicated radio and its impact or lack of impact?
Angela Johnson: Syndicated radio has not given us much support. It's unfortunate. I hear so many complaints about the programming and lack of variety. Those who do know better are going to search for music elsewhere. The thought of a very few people being in control of the fate of these radio stations, is uneasy. It should be about giving what the listeners want. How would they exist without us?
YouKnowIGotSoul: What are your thoughts about the NY Urban AC radio situation?
Angela Johnson: Hmmm…I'm not sure, because the music that's considered Urban AC is a little blurred. I hear Beyonce and Trey Songz right along with Kem and Jill Scott. I'm not taking shots at any of the artists, but it doesn't make sense when the styles are obviously different. Yeah, back in the day you could hear funk, rock, soul all on one station. It was an amazing time for radio when we were all exposed to great music, but now, we're not hearing all that could be heard. Only a handful of artists' music stay in rotation.
All that to say, it just makes it more difficult to get true independent soul and R&B music on commercial radio. We're not giving up!
YouKnowIGotSoul: Could you tell us a current artist that my readers should check out that you admire and respect that you feel is not getting their just due or recognition yet. I realize that there are many including yourself but I want you to give me just one. Ok you can give me two.
Angela Johnson: You're putting me on the spot, here! :) I have many friends in the biz that deserve so much attention. I'll give you one… DARIEN (DEAN) out Mt Vernon, NY. I've worked with him on my previous CD, "It's Personal." He's poetic and is very creative with his lyrics. His music is conscious and thought provoking. I value that in an artist and people should look for his last CD, "If These Walls Could Talk!" He's currently working on his sophomore album, which I'm hoping to be a part of. I must give a shout out to my label mate, MONET, who puts makes beautiful music and has such a great spirit. That positive energy flows through her music! So please look for her 2 CDs, "Essence" and "Lifesize Mirror!"
YouKnowIGotSoul: What are your plans for your next album of new material and when can we expect it ?
Angela Johnson: I'm working on new ideas for my next solo project. It will be released later on this year!
YouKnowIGotSoul: What do you see for yourself into the future as an artist?
Angela Johnson: I'm a fan of many different kinds of music and I am constantly learning and growing in this career of mine. I hope to continue writing and producing for other artists of all styles of music, but as an artist, I want continue making good music and touring with my projects. I'm living a dream! I've been blessed.
YouKnowIGotSoul: Anything you'd like to add?
Angela Johnson: I'd love to hear from people! You can visit my website at: www.angelajohnson.com. You can always reach me on Twitter: @AngelaJohnson_1. I also have a new Facebook page, the other is filled up www.facebook.com/AngelaJohnsonToo. Thank you for the opportunity to be interviewed! I truly appreciate the support!