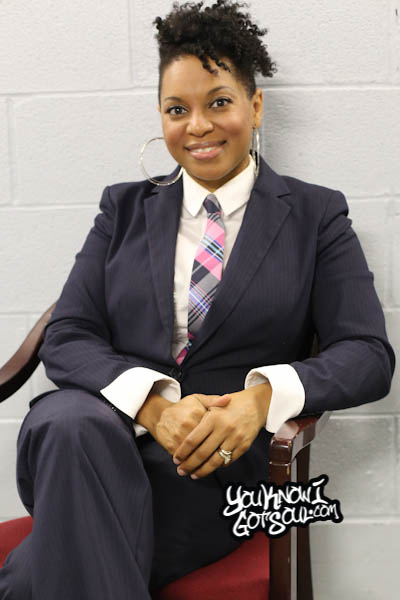 If you were to open a dictionary and look up the term "independent artist", you may easily stumble upon a picture of Angela Johnson. After all, she truly embodies all that is good about the indie music movement and has been successful at if or well over a decade now. Starting her career with the group Cooly's Hot Box in the early 00's, she then embarked on a journey which would put her in a class of very few among the industry; a female songwriter, producer, and performer. Her latest release is "Naturally Me" and is one she's calling her masterpiece because it's everything she ever wanted to create on an album. She wrote and produced 9 out of the 10 songs, with the lone exception being her stunning cover of Teena Marie's "Deja Vu (I've Been Here Before)". The quality of her work is currently being validated by NYC r&b station WBLS who has her single "I Don't Mind" in rotation. YouKnowIGotSoul sat down with Angela after a recent performance in NYC and discussed what went into creating this masterpiece, how she did it all herself, covering Teena Marie, what she loves about being independent, and much more.
Click Here for the "Naturally Me" on iTunes
YouKnowIGotSoul: Your sixth album "Naturally Made" is out now. You've considered this one your masterpiece, so what went into creating it?
Angela Johnson: I think I came to a point in my career where I felt I needed to do something that was very close to my heart and very dear to me. Naturally, I went into this record knowing that I wanted to create a sound that you would hear in movies, film and TV. I wanted to have a big sound, so I thought of the 60's and 70's music. I thought of Motown and many artists like The Supremes and Al Green. I thought of all those people that have music that continues to live. It still sounds great for commercials and it's perfect for everything. I wanted to create a record that you could hear on TV and in film. I think I came close to it.
YouKnowIGotSoul: What inspired you to go outside the box especially with your writing?
Angela Johnson: Lyrically, I felt compelled to talk about things that are happening in my community as well as in the world. I had never taken a political stance before where I wouldn't let people know my views or opinions. This time around, I felt like I was very sure about myself and confident in speaking about things that concern me. It's not necessarily to raise any eyebrows. I'm talking about things that are being talked about in the community, but I'm just trying to elongate the conversation and have a different point of view on certain things. I think lyrically, I stepped up to the late and I feel comfortable about what I did.
YouKnowIGotSoul: You wrote, produced and composed 9 out of the 10 songs on the album. What does it take to do the whole thing yourself?
Angela Johnson: A lot of blood, sweat and tears. I've been doing it for so long and I didn't go into this project thinking I was going to do it by myself because I would love to incorporate other producers, but timing wise I needed to work with myself and get this job done. In the long run, I think it's beneficial for me and I can create more work, avenues and be able to put myself in different positions as a songwriter, producer and arranger. It's a good thing that I did this myself and I accomplished something that you don't hear a lot of women do.
YouKnowIGotSoul: The one song you didn't write is the cover of the Teena Marie song "Deja Vu". What inspired you to cover that song?
Angela Johnson: Well I have been singing the song live and a lot of people come up to me and ask if I would record the song. I would tell them "No, there's no way" because first of all, I think if you're going to attack a song that was so well done in its original form, then it's perfect the way it is. I didn't take on the pressure to make the song as great as the first, it was going to be quite a task. Teena Marie as a vocalist, she's definitely someone you have to study and you have to sing it with the range that she sings it in and I was a little nervous about that. I think I brought something really special to the song. I arranged it to where the strings really took the song and carried the song through for me to the end. I think that worked for the song and I've got a lot of great reviews. I'm very happy about it.
YouKnowIGotSoul: You've got 6 solo albums in 12 years and I think you really represent what an independent artist is all about. You're with Purpose Records right now and you just have this whole movement. What do you love most about being an independent artist?
Angela Johnson: There's so many things, but most importantly I am able to evolve in the pace that I'm evolving in as an artist and producer. I can take my time and study my art, so that I can be the type of artist that I am today. It's fortunate and a blessing to be able to grow in the pace I've been able to grow, so I think that's most important to me. Of course, I have a very supportive team like George Littlejohn and Russell Johnson. They've been so integral in the part of me becoming this successful artist and musician that I am. They're very supportive and very encouraging. They're also very straight forward with me. You need honesty and what's the real deal, so that you're not on cloud nine thinking everything is gravy and cool. To keep smart people like they are around you and help you understand the business better, it's a beautiful thing to have that. I only get that being on an independent label. I think that's the best thing for me.
YouKnowIGotSoul: The single is currently in rotation on WBLS which is a big thing for an independent artist. What does it mean for them to support the indie movement? There aren't too many outlets that will do that these days.
Angela Johnson: It means a lot. Not just a major or indie artist, we all just want same thing. We want to expose our music to the world and travel. We want to play our music and be an artist. We want to be creative people and be able to change minds and bring feelings and emotions. This is all from the art. It's important that the artists are getting airplay to expose our music and take it to the next level. It's a wonderful thing and it's important that I support the internet radio because they've been an integral part of my success and my career. I have to give them a shout out and the independent stores as well. It's important that we're all working together to take music to the next level. I am grateful for any avenues will allow for exposure.