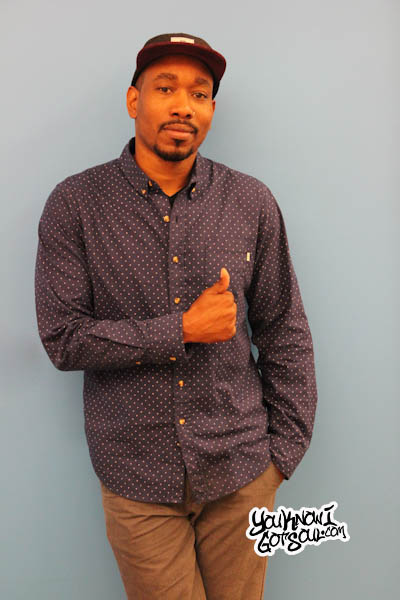 If you've been to an Anthony David show, you've surely heard him boast about arguably his biggest accolade to date; President Obama and the First Lady are fans of his music. If you followed his career, this shouldn't be a shocker at all, as he's been able to create his own unique niche in r&b/soul and consistently create quality music. That culminated on his last album "As Above So Below" with his most successful single "4EverMore", a song that showed his growth from his early days of more acoustic music. Now Anthony is looking to build on that momentum with the release of his new project "Love Out Loud" which is set to display his continued musical growth. YouKnowIGotSoul sat down with him during a recent promo run in NYC and discussed what to expect on "Love out Loud", his influences this time around, the current landscape of r&b music, President Obama being a fan, and much more.
YouKnowIGotSoul: Your "Love out Loud" album is out now. Introduce us to the album.
Anthony David: I'm releasing my fourth studio album "Love out Loud" which is really just an expression. I'm just showing love, that's what music is to me, it's "Love out Loud". It's empathizing with your pain and empathizing with your pleasure and your joy, all of that stuff. For me, it's a little more of an experimental album. My first three albums, I felt like I got a lot of the stuff out of the way in terms of what I wanted to say. Now I'm in this phase where it's like "Ok, let me listen and see what I like". It's kinda liberating.
YouKnowIGotSoul: You're known for your lyrical content on previous albums. What influenced you this time around?
Anthony David: I'm a big podcast listener, so I listen to Joe Rogan, I like him a lot. A lot of podcasts, The Infinite Monkey Cage is another one I like. *Laughs* That's what I kinda listen to, other singer/songwriters from the past, and then production wise, I got into Alan Parsons Project, Stephen Bishop, just songwriters from any era. I have a playlist on my Spotify on Grooves that I like. That's kinda where the inspiration came from, just kinda each zone that would come from talking and the mood that would come from things that I heard in conversation or from podcast or watching somebody lecture something, to the moods that I heard from classic songs. I just kinda touched them up and approached each song that way.
YouKnowIGotSoul: I read on this album you were backed by your band The Do-Gooders in the studio for the first time. Did that help to create a different type of sound for you?
Anthony David: We were on the road pretty heavy on the record, and we've got a solid band, it's not really interchanging parts out. I was taking in some of their influences. There was some rock influence from my guitar player, he kinda lends his ear to that kinda thing. My drummer is pretty solid, so I like to get his feel on grooves that I might write, I like to see how he might do it. I worked heavy with them, even if I brought in a track, they would flesh it out more. You can feel their groove throughout.
YouKnowIGotSoul: I saw in your bio you said that this album is a blend of "Where you started and where you've evolved". Where has this journey taken you to?
Anthony David: I started out acoustically and as a songwriter I just use the tools that are at my access. The first tool was the guitar, so three quarters of "The Truth" was all acoustic. With touring and everything, I loved it, but it wasn't the whole mood I wanted to have. I would be sitting on a stool like "Ok, when do I get up?" *Laughs* Adding a band to it and getting to know my band and them getting to know me, I was able to blend the acoustic world and the other world I wanted to bring into it. When you know what you're doing and you're synchronized with the people you're working with, you can take people to these worlds really subtly rather than "Ok, I'm about to get up now!" *Laughs* I think music wise and genre wise I could kinda go into those things more easily now which I really did on this one.
YouKnowIGotSoul: You've got out the single "Sweet Pain". Talk about the creation of the song.
Anthony David: "Sweet Pain" is a perfect example of what I'm saying of inspiration from different grooves. You have The Isley Brothers type of beat, and then some of the melodic techniques that Marvin Gaye would employ or something like that. So you have a blend of those worlds and then something I would bring into it lyrically. It's just kinda listening to classic stuff and going "Man, I like that groove, how did they do it?" It's being a student.
YouKnowIGotSoul: You've found this unique niche is r&b in the landscape of things. Do you think that's something that's more a testament to what you've achieved or kinda the way things are shifting?
Anthony David: I think it's more the way things are shifting. I guess in terms of where I play in it, I embrace it and want to push it. I listen to even "Somebody That I Used to Know" by Gotye, everyone knows that song, and there's some lyrical and poetic value to it. In that genre of music, people are ok with that. Even with a Foo Fighters song, lots of people in other genres will peep out what they say. They're not penned down to certain topics all of the time and they can definitely be more abstract. In r&b, it used to be more of that, and it definitely can, the fans of it act like that's not what they want. Other people who are fans of the shallow part of it or don't like it at all, say "No, it's gotta be shallow". To me, it's like it can everything those other things are because it was. I listen to whatever has some content that shakes me up. It could be from anything.
YouKnowIGotSoul: A quote from your bio that really jumped out at me was where you said "Music is becoming adults pretending to be children". Not to call out anyone, but as an artist, what do you see as the appeal making music that way?
Anthony David: People are trying to accept that urban music is strictly for escapism. Strictly to go to the clubs or pretend that you're rich and pretend that all of you are in V.I.P. Escapism has a place in music, but it shouldn't be just that. Obviously, if you get those types of people, those are the type of people who are willing to frivolously spend. That's a good thing, but if you deal with just that type of consumer, then you short change them and you kinda underestimate them. I know the classic songs throughout history including the great Pop songs that had some content to them. I think there's no big deal, people can check that out and still have the same kinda silly fun. You don't have to be mad at something that somebody sticks to strictly. I know you can have the same kinda fun as long as it's easy. That's what I'm trying to do.
YouKnowIGotSoul: You've had huge accolades from the President and First Lady saying they're fans of your music. What does that mean to you?
Anthony David: Oh man, it's a milestone for me. I don't know how many people can say that, and I use that in each one of my shows. That's what I'm saying about that's the type of listener I want. I'm thinking like "What kind of stuff does this guy listen to during the day?" I'd like to think that if he's averse to silly stuff all day, if he wants somebody to challenge him a little bit, that I'm honored that he would not listen to my lyrics and think it's silly. *Laughs* You think a person like that is serious more than most people, so it's just something that's confirmation of what I'm talking about.
YouKnowIGotSoul: Talk to me about this "A.W.O.L." program you're a part of, your role in it, and how it's impacted you.
Anthony David: "A.W.O.L." stands for "All Walks of Life", it's a nonprofit program started in Savannah, Georgia by my cousin. I'm from Savannah but I lived in Atlanta. The neighborhood I live in, although it's being gentrified and stuff, there's a lot of drug dealing kids that I would see and talk to and be like "Stop doing that!" but I would have no alternative. I wasn't really that invested in their life so I felt kinda dumb saying that. Going to Savannah and doing benefits for this program, I saw it develop. One day we were at the studio a couple of years ago like "This is the thing that I wish I knew how to do". I saw it working, I saw it changing kid's lives. So me being in the bigger city of Georgia, that was a goal of hers to bring it there and nationwide. I sat with her and watched documentaries and really saw her business plan for everywhere she wanted to take it. This is how I feel like I could help those kids. It's not something that I came up with because I'm an artist, it's something I want to be involved in because it's a nonprofit that works. Business is taken care of, it's not a scam. The work is evident, and I'm proud to be a part of that. I look forward to using whatever influence I have to take it whatever it can go.
YouKnowIGotSoul: You've had the opportunity to travel the world and perform worldwide. What's been your favorite place to perform?
Anthony David: Kenya right now. Of course I love performing in Atlanta, that's where I'm from. Everybody has been watching me grow. People come, a lot of good friends, I see friends in the crowd. I can do a lot of stuff that I can't do in other places. They know everything! Nairobi, Kenya, I had a great time there last year, I went twice and they embraced me there. A lot of places, but that place right now, I can't wait to get back there!