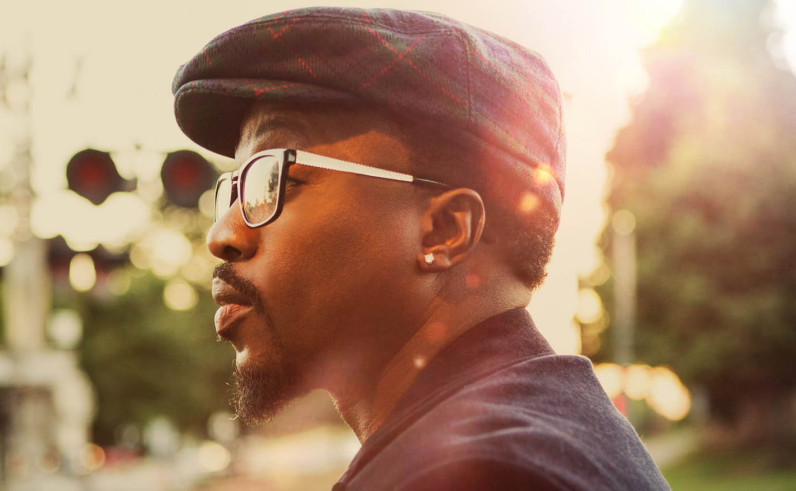 When you think of Anthony Hamilton, you have to think of him as one of the best of his generation in r&b. Although he hit some complications early in his career, he's been up an upward trend for the past decade and can seem to do no wrong. After all, it was only until his fifth and sixth albums that he got Grammy nominated. He's already one of the best performers, but the music just seems to get better and better. There's been a wait for a new project since he released "Back to Love" in 2011, but his recently released "Home for the Holidays" album should be enough to hold fans over until next year. YouKnowIGotSoul interviewed Anthony Hamilton and discussed the creation of his first holiday album, his plans for his next album, the possibility of recording a country music album, and much more.
YouKnowIGotSoul: Let's talk about the holiday album you just put out. I read you wrote six original songs for it. What inspired those?
Anthony Hamilton: You go through your life hearing all of these great songs. Being a songwriter you always pray that you could write a song just as good as them or better. That was the whole motivation behind writing great classic songs. I actually had help from two of my band members and one of my background singers. They wrote an amazing song.
YouKnowIGotSoul: I was reading your approach to your album wasn't any different from any of your normal r&b albums, which you also contribute the writing to. What's your writing process like?
Anthony Hamilton: It all varies. You hear music sometimes before you get the lyric and sometimes you get the lyric before the music. It always varies, it really depends on the song and where you are in terms of the process. If you are around musicians, just creating the music, or if somebody sent you a track.
YouKnowIGotSoul: Talk about your collaboration with Chaka Khan on this album.
Anthony Hamilton: Oh man, Chaka is amazing to have on this project. It's "The Christmas Song". The rendition I did was kind of a jazzy, Nat King Cole kind of delivery. Chaka has been known to get jazzy so I felt she was perfect.
YouKnowIGotSoul: It's nearly three years since "Back to Love" came out. What made you want to do a holiday album as opposed to a new r&b album?
Anthony Hamilton: Well the holiday album had to be done first. The new project I've been working on for the past two years, I missed the mark last year, it just wasn't ready last year for me. But this year I wanted to make sure I got an album because I told people it was coming and I didn't want to let people down. In terms of the regular r&b album, probably around the second quarter and the beginning of next year I'll be recording really hard. It's coming.
YouKnowIGotSoul: Looking back at your "Back to Love" album, some would consider it your best work. It was certainly more uptempo and showed a rejuvenated spirit in yourself. How do you view that body of work?
Anthony Hamilton: I felt like it was a really good album. Solid body of work. This next album I want to really dig deep and just really give the people something special.
YouKnowIGotSoul: Since you began as an artist in the mid 90's, you immediately attracted a particular fan base and have been able to consistently keep them satisfied over the years. How much do you factor in your fans when creating music?
Anthony Hamilton: It's all about the fans. I'm a musician and I'm a fan as well of good music. If I feel I have good taste and a diverse playlist. I keep my ear to the streets and my ear to the people to the crowd. In the grocery store and when I'm riding by, I pay attention. At the end of the day, you don't want to make an album just for yourself. You want to have someone listen to it.
YouKnowIGotSoul: Over the course of your career you've collaborated frequently with some great producers from Jermaine Dupri to Babyface to Mark Batson to Dre & Vidal. Who is your favorite collaboration partner?
Anthony Hamilton: I really love working with Mark Batson. Jarius Mozee is really great too.
YouKnowIGotSoul: When I look back at your career and talk to music fans, a lot of them don't even realize your "XTC" album exists from the mid 90's before "Comin From Where I'm From". What do you remember about that album?
Anthony Hamilton: It was one of the best creative processes ever, I was on fire! I could do no wrong. Working with Tone & Poke was one of the best experiences ever. It was a good time. Everybody was looking and waiting from Andre Harrell to Russell Simmons to Puff. The whole Uptown Family. The album never really came out, wasn't ever really released.
YouKnowIGotSoul: After that album, was it frustrating for you? I know it took some time before you were eventually able to breakthrough and become a star. Did you ever want to walk away from the industry?
Anthony Hamilton: That first fall through, it didn't really upset me too bad because I had so much faith in where I was and my destiny being what it is. It didn't really shake me that time. I think by the 2nd and 3rd time that it happened, it started to make me feel like "Dang, what's going to happen?" I got frustrated after that. I never really wanted to walk away from it, I just wanted it to be different.
YouKnowIGotSoul: A lot of people were introduced to you on the song "Po Folks". What impact did you see it having on your career?
Anthony Hamilton: That song put the face and the voice out there for the people. I was a southern boy who had struggled through hard times but was still happy. I felt like it was a true moment. With those guys, we all shared a common thread. We had prayers and hopes for something better and music was our way out of it.
YouKnowIGotSoul: We've covered many live r&b shows before, and yours is one of the best we've seen. You've got so much energy, even on the ballads. Is it tough performing some of your somber songs on stage? Does it take a lot out of you?
Anthony Hamilton: Nah. I think the performance is where you live and breathe the music. That's what I was born to do. It's art for me. I really go to another place. I'm not even a physical performer a lot of times, I go to a whole nother place.
YouKnowIGotSoul: You've collaborated with some country artists in the past. Would you ever record a country album?
Anthony Hamilton: Oh yea. I have a playlist that I've put together of songs that I've already written. There is a blues one as well that I've been working on for years. It's getting the right timing.
YouKnowIGotSoul: Anything you'd like to add?
Anthony Hamilton: I'm just excited. I hope the holiday album is something the people can find a song or two they like.