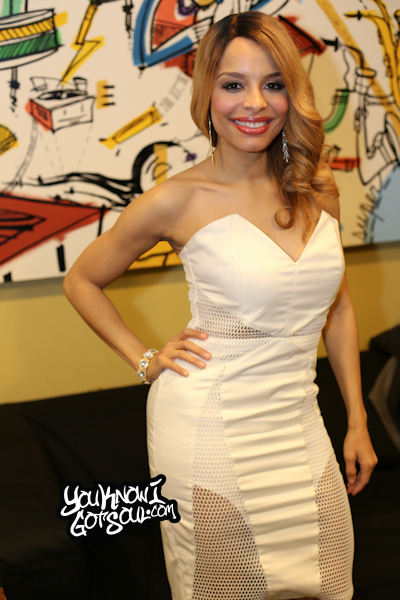 Even in 2015, being an "indie" artist still sometimes comes with a negative connotation. However, those who embrace the title can even find themselves having just as much success as major label artists. Antonique Smith is a great example of one of those artists, and her 2015 Grammy Nomination makes her one of the few indie artists chosen for the honor. Running with the slogan "The Little Indie that Could", her music career is taking off as she's working towards the release of her debut album. Already established as an actor, she's now chasing her true passion in music and finding that she can be even more successful here. What's most important is that she's not chasing radio trends; and the Grammy Nominated "Hold Up Wait a Minute" is proof of that. YouKnowIGotSoul sat down once again with Antonique in NYC and discussed her Grammy Nomination, what to expect on her debut album "Love is Everything", succeeding as an indie, and much more.
YouKnowIGotSoul: Your song "Hold Up Wait a Minute" has been nominated for a Grammy Award this year. Talk about how you found out you were nominated.
Antonique Smith: First of all, I found out on Twitter which is crazy because in 2015, that's how we find out about everything like world news and Grammy nominations. I was trying to find out through the Grammy's website and I couldn't get it to work. It was showing me the 2013 list and then little Twitter things started popping up on my phone. I went on my Twitter and I saw words like "Grammy", "Nomination" and "Congratulations". It was all a blur after that and I was just screaming. I couldn't hold the phone and I was trying to hit my manager to tell him because I knew he was on the plane at the time. After I hit him, I hit my parents. It was unreal. I've been dreaming about that moment since I was a little girl.
YouKnowIGotSoul: With "Hold Up Wait a Minute", you originally released it in 2013, but it's been gaining momentum only recently. What was your plan for rolling out the song?
Antonique Smith: My whole music career started with a kick starter. I believe I'm the first person to go from kick starter to the Grammy's. It's just been incredible just the amount of support we've been able to get since the beginning. That is why you felt like there was kind of a gap because we didn't have the major label and all of that stuff. There wasn't anyone pushing it to the world type of thing. It was a really grassroots type of thing and it was more like a "Yes we can" type of thing. It's just been incredible with the response and the people who have been moved by the song and inspired by not only the song, but by the journey. Just how it's all happening and it's just been a blessing. Thank you to everybody.
YouKnowIGotSoul: Talk about your debut album "Love is Everything".
Antonique Smith: I'm so excited about it. We're still working on it, we're not quite done yet. That's what's so awesome is that I got nominated for my first single and I don't even have an album out yet. It's just crazy. It's about the love experience. There are a lot of difference types of love from whatever the situation is. "Love s Everything" will talk about other parts of love like "He's scared to commit, what do I do?" That could possibly be my second single called "Higher" where it's dropping a little bit of a jewel for the ladies to tell them what to say to the guy to get him to come forward. That's really what we want. We don't want to chase you guys away, I've had that experience. I'm absolutely just dropping jewels about things I've learned that I hope will help people. There's that love that just won't work and you have to let it go. There's that love where we just sit through it and cry. I'm going to have a song where we can all sit and cry together. Then there's just that universal love where we're all just searching for love and that's our journey in life. We're just trying to get love. Even where money comes in, that also has to do with some form of trying to get love from people. People want to attain money because they want to be loved. Love is everything and I honestly believe if there was more love in this world then a lot of the crazy issues in the world, they wouldn't even exist. I'm trying to share and spread love. I'm trying to empower people and drop some of the jewels about experiences I've had that will hopefully help people.
YouKnowIGotSoul: Who did you get a chance to work with on this project?
Antonique Smith: It's been crazy. First of all, my manager/label/everything produced "Hold Up Wait A Minute" so he's on the album. Jukebox who did "Whip My Hair" by Willow Smith, Toby Gad who did "If I Were a Boy" by Bayonne, Danjahandz and Dr. Dre. I'm still working, we're not done yet. There's going to be a few more people to add to the list.
YouKnowIGotSoul: Something we noticed with the first single is that you didn't follow radio trends, but came with a fresh, soulful sound. Many new artists try and match what is popular at radio. What is your plan?
Antonique Smith: That was definitely something that was suggested by people especially earlier on. They were throwing out names that were on the radio like "If you had a joint like this". So we ended up doing a kick starter because we didn't want it to be like "We want a joint like", we wanted to figure out what my sound is. That's the inspiration behind the kick starter. It was like "You guys help us pull some money together so we can create my sound and have control over what that is". I probably demoed a song or two that was trying to do that like such and such was doing. It wasn't authentic and honestly, I believe when you're not authentic and you're not putting something out there is going to speak to people, if it's not real or it's not coming from me, you won't like it. You might like the one song and then that will be it for me. Nobody has time for that, so I wanted to reveal who I was and I wanted to touch people. God gave me a gift with my voice. When I was a little girl, I just wanted to sound like Whitney Houston. I don't think I sound quite like her because I think she's the best ever, but he gave me a pretty good voice. I believe I'm supposed to be sharing my gift with the world. It's just been awesome and in doing that, I've always wanted to be true to who I was and not follow trends. I want to set some trends!
YouKnowIGotSoul: What's the sound of your album?
Antonique Smith: Sonically, I like to call my sound Pop/Soul with a Hip Hop appeal to it. Like I said, Whitney was the initial inspiration for music and life. She's a hometown hero and I loved Celine Dion, Mariah Carey and Aretha Franklin. I loved the big voice divas. That's who I gravitated to as a little girl and I sang in church. That was the pop soul and then Mary J. Blige was such a huge influence. Her music, I'm not even sure why, she captured me so much. She created a new genre with the Hip Hop soul and it spoke to me so much. I may have been singing to Whitney Houston, but I was bumping to Mary. That's where the fusion in my music comes from. I'd say "Hold Up Wait a Minute" definitely has those elements in there. You have the 808s but it's a little retro fresh. That's the sound of my music altogether. You'll hear those elements in everything.
YouKnowIGotSoul: Will you looking for a major label deal soon or are you happy being independent?
Antonique Smith: I really want to stay independent. I'm so proud of what we're doing and I really am. It's kind of like a power to the people thing. I'm really grateful, but there's a situation where we may do the joint venture thing. We'd still be independent and still do our thing but with a label. We're thinking about that kind of thing, but we haven't decided on anything like that right now. We are just focusing on "Hold on Wait a Minute" and the Grammy's. We're trying to get the second single ready and the album. Labels aren't really a discussion right now. I'm not saying that it will never happen, but it'll have to be in a way that will keep us going.
YouKnowIGotSoul: Talk about focusing on music versus acting. You originally had success in acting but now your music has taken the forefront.
Antonique Smith: I'm so excited because my first love is music. I've been wanting to do that and that's how I started acting. An agent heard me singing. It's not like I didn't want to do it, I always saw myself as a young Barbara Streisand, Whitney Houston or Dianna Ross where they were touring and doing music. Barbara was doing everything, so I always wanted to do that. I always wanted to do music first though. The agent heard me sing first and she sent me out to Broadway, movies and all of these things. I kept leaving to do music and came back because it wasn't the time or the right team. It was a blessing to play Faith Evans because I find actors who find singers and play them well like Jamie Foxx and Jennifer Lopez when she played Selena, they were able to transition from acting to singing because we saw them in such a light as a singer. So it was a blessing to play Faith because that really set me up for people to see me in that light. They heard me sing a little bit even though I was singing like her, but it really showed her "Okay I can see her being a singer". When I put out the song, it wasn't weird. If Brad Pitt put out an album, it might be a little weird. Thankfully it wasn't weird for me. *Laughs* I'll go back to acting though! But music is the focus right now though.

YouKnowIGotSoul: Anything you'd like to add?
Antonique Smith: I'm on an album called "HOME: Healing Ourselves & Mother Earth". It's about the climate change movement. When I was a kid, I was the one who got Martin King Luther Jr's birthday off because my school didn't have that as a day off. I was like "Whoa!". I've always been fighting for the underdog and fighting for issues. Climate changes is something that people don't realize is an issue. Our earth couldn't not be our earth anymore and we'd all be gone. I think it makes no sense because a lot of it is over money. What are you going to do with that money when there is no earth? I think it's an awesome project.